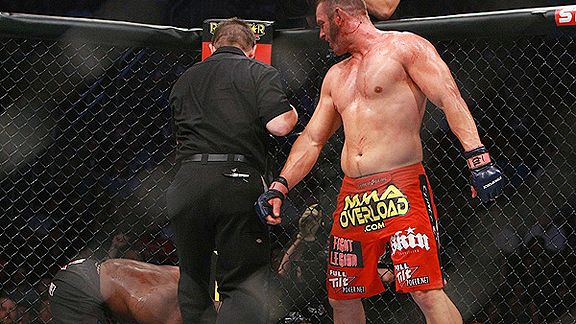 The history of mixed martial arts is littered with stories of wrestlers who have been on the mat since they were five, or jiu-jitsu practitioners who learned how to grapple before they could walk.
Chad Griggs is neither of those things.
There was no calling towards the martial arts or bad childhood that drove Griggs to fight. He simply was a big, strong guy from Arizona who was a fan of "old school UFC".
"It was just this awesome stuff I watched" said Griggs, referring to the UFC. "I was always a big guy, and my friends convinced me I should give it a shot. A long time hero of mine, Don Frye, was training at a gym near my place."
As you might expect, being a training partner for Don Frye was no easy task. Griggs joined the gym in 2003 and helped prepare Frye for PRIDE bouts against Mark Coleman and Gary Goodridge.
"Don beat on me over and over, but I learned a lot from," said Griggs. Comparing their styles, it seems almost obvious the two were connected. Toughness and durability, more so than any other assets, define their characters, and it's those assets Griggs is going to need come November 17.
At UFC 154, Griggs will compete at light-heavyweight for the first time in his career. Across the cage will stand French striker Cyrille Diabate.
The move to light-heavyweight is one Griggs has been pondering for years and, now fighting at the elite lever, he thought more necessary than ever.
"I feel really good heading into this fight. It's a good matchup for me," proclaimed Griggs. "I'm excited about this fight, other than the freezing weather in Quebec. I'm an Arizona guy. I'm used to the warm weather," he laughed.
Comparing styles, there's no question Diabate is the more accomplished striker. His leg kicks are paralyzing and if Griggs is not careful, could chop him down in no time.
"I'm a durable, well rounded fighter. My goal is to push the pace and take him out of his game," said Griggs. "I need to use dirty boxing and make it a battle. I know he's a very technical striker so I can't stand in front of him."
After being undefeated in Strikeforce, going 3-0 against the likes of Bobby Lashley, Gian Villante, and Valentijn Overeem, Griggs made his UFC debut in April against Travis Browne. The larger, younger, and more athletic Browne quickly took Griggs to the mat and submitted him.
"The heavyweight division is full of giants that are agile and fast. I was a small heavyweight. I only ever weighed around 230lb.'s," said Griggs. "Browne rocked me early in the fight, and I was never able to recover."
Whether it was octagon jitters or being undersized, Griggs knew something needed to change. At a walking weight of 230lb.'s, Griggs entered training camp no bigger than Forrest Griffin, Quinton Jackson, or any of the other light-heavyweights.
"It's really all about diet, conditioning, and cardio. I feel great," said Griggs. "We did a couple of dry runs that went well. I've got a nutritionist for the first time, and camp is going well. I'll be ready to fight."
We will find out soon whether or not the cut to 205lb.'s will pay off. UFC 154 takes place live from the Bell Centre in Montreal, Quebec on November 17, and is available on pay-per-view.