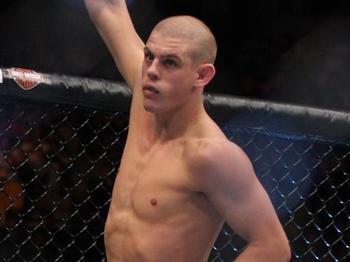 Fighters step inside the octagon hoping to win their respective bouts so they can get some bonus money and a hefty fight purse.
Joe Lauzon wasn't on this past Saturday's UFC on FOX 5 fight card, however he stepped inside the octagon and walked away with $6,000 in bonus money.
The Boston native was in Seattle, Washington to corner his training partner Joe Proctor, but prior to the FOX card he had an exhibition grappling match against Nick "The Tooth" who is a friend of UFC President Dana White. White offered Lauzon $1000 for every time he could submit Nick and Nick $2500 for every time he could submit Lauzon.
Lauzon explained the story on this weeks episode of MMASucka Radio.
"I got in a grappling match in the cage with Nick The Tooth. He's actually a friend of Dana's. It's actually going to be in one of Dana's video blogs coming up pretty quick here. Basically, the premise was that every time I submitted Nick, I got $1000 and if Nick could submit me then he got $2,500. So, I had three minutes to grapple with him and I banged out six submissions. So, I had a very good weekend."
Proctor didn't pick up the victory on Saturday night, but Lauzon came away a winner in Seattle.
Lauzon is set to take on Jim Miller on December 29 at UFC 155 in Las Vegas, Nevada.
You can listen to the entire Lauzon interview on this week's edition of MMASucka Radio.