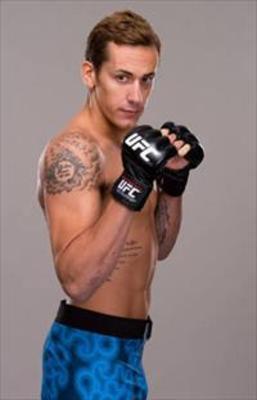 It wasn't the kind of performance anyone was expecting from Mike Ricci.
The 26-year-old Canadian striker, who trains at TriStar Gym in Montreal alongside his good friend Rory MacDonald, fought Colton Smith in the finals of "The Ultimate Fighter" season 16 on Saturday night and for three rounds was pushed around the cage by the bigger, stronger Smith en route to a lackluster unanimous decision loss, the judges scoring the bout 30-27, 30-27, 30-26.
Canadian Mike Ricci with work to do following TUF finale loss
The fight wasn't even close. For what seemed like an eternity, Smith took Ricci to the floor with ease and took back mount at multiple points, nearly submitting Ricci with a rear-naked choke on multiple occasions. Aside from an armbar attempt by Ricci in the waning minutes of the fight, the bout was all Smith, who deserved to win the six-figure contract and glass plaque — as well as the Harley Davidson motorcycle (which it seemed he didn't want) — that goes along with being the TUF winner. For Smith, it's on to bigger and better things, while for Ricci it's back to square one.
It's clear that Ricci is undersized for the UFC welterweight division, and he's already said in interviews that he plans on dropping down to lightweight. However, after such an awful performance in a co-main event slot, will the UFC even give him one more fight? I'd venture to say yes, but it's not out of the realm of possibility that they cut him altogether, as he showed little in redeeming qualities during this fight.
Regardless, it's clear Ricci will never be able to go anywhere in the UFC if he doesn't improve his takedown defence, whether it be welterweight or lightweight. Smith is a great grinder, but if Ricci has title aspirations like his sparring partner MacDonald does then he needs to work on that part of his game. We already know Ricci's a great striker, but if he can't stop the takedowns, then he'll never get to see his full potential realized as opponents will take him down and grind him out.
Ricci is a good fighter with some nice wins on his young resume but it's clear he was over-hyped coming into this fight with Smith. Already there were fans and media members making comparisons to MacDonald which were completely ridiculous as Ricci had lost both times he'd previously stepped up in competition, getting knocked out by Pat Curran and losing a decision to Daron Cruickshank. Now that he's lost to Smith, who is only 4-1 in pro MMA, it's time to put those MacDonald comparisons to rest and allow Ricci to become his own fighter.
He needs to get back in the gym as soon as possible and begin to work on the flaws in his game. He didn't take much damage in this fight, and unless he got injured during the fight and we didn't know about it there's no excuse not to be back at TriStar Monday morning working on stopping takedowns and keeping fights standing, because we have already seen that he will have trouble against bigger, stronger wrestlers unless he works on that aspect of his game.
The Canadian is a good prospect, but hype is one thing and delivery is another. And it's clear that, at least on this night, Ricci didn't deliver. He needs to go back and look at the tape of this fight with Smith and glean what he can from it and then hopefully come back a better fighter and unlock the potential he no doubt has. And with the world-class team he has supporting him at TriSrtar, there's no doubt in my mind he will.