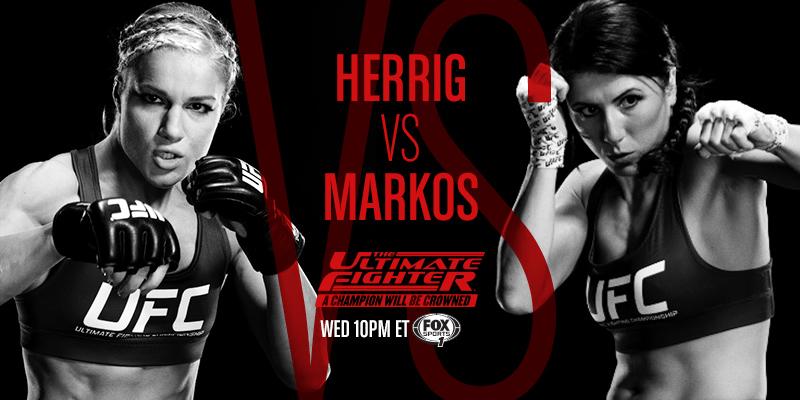 Tonight's episode was heavily previewed by The Ultimate Fighter as the one where 'team Pettis implodes". The show was certainly trying to build dramatic buzz around this episode and it did deliver on the drama, there is no doubt about it.
TUF 20 Ep. 9 recap
Team Pettis went through the preliminary round with an 7-1 record, meaning that only one of its advancing fighter, Joanne Calderwood, isn't facing a teammate. Some of the fighters were very uncomfortable with the idea of training in front of their next opponent and so a team meeting was held during training. Anthony Pettis didn't know what to do to resolve the situations but the fighters decided that they would split the team in half so that they could alternate their morning and evening training sessions. This solution thus means that they chose to only get 1 training session a day each instead of the usual 2.
Almost immediately, Randa Markos made it clear that she was unhappy with this turn of events. She felt cheated from half of her alloted training time and was one of the few that did not mind training in front of the other fighters she might face in the competition as well as her opponent, Herrig. Pettis went out of town right after they decided to start dividing the sessions and so Randa asked the team of coaches if she could come to the other practice and simply do some bag work by herself or some conditioning. The rules of the show say she is on team Pettis and is allowed two training sessions a day so the other coaches said she could.
Markos' decision became a huge problem as soon as she climbed into the bus to go to training with the other half of the team. Herrig, with her best friend Carla Esparza right by her side, go extremely angry and went to speak to Anthony Pettis right away. Both women then started explaining how much they suddenly disliked each other and could not wait to fight. While Markos decided to let her actions in the cage be proof of her dislike, Herrig vouched to do so as well but was also very vocal in front of everyone and even invented a game of pattycake with Esparza accompanied with a song about how annoyed they were at Markos. A few weeks ago team Melendez seemed like teenage girls from either high school or the beginning of college freshman year, this little act this week looked like it came out of elementary school.
It was high time the women get in the cage so they could stop saying they would shut each other up and actually do it. Felice's game plan was to defend Randa's takedowns to tire her out and then impose her will on the feet. Markos planned on taking Felice down and beating her there. It was a typical wrestler vs striker match-up.
As the first round started Markos predictably shot in for a takedown which Felice beautifully defended and they stayed in the clinch against the cage for a little bit. Herrig managed to defend Randa's next attempt as well and it became clear that she was very solid on her feet. Finally they hit the canvas and Herrig scrambled for a good position. She wanted the mount but was stuck in half guard and her stubborness allowed Randa the chance to stand back up. In the post fight interview Carla claimed that Felice got the next take down but it was a bit unclear as to who actually got it. Markos shot and Herrig defended and as they were clinched they fell, there was a slight shoulder move from Herrig but was she trying to take her opponent down or trying to keep her own balance was a bit unclear. In any case, they got back to the ground and as they both scrambled to try and gain control, Markos found herself in a head and arm position and moved herself quickly to elongate Felice's arm into a full extension making her opponent tap from the armbar.
Out of the cage, team Melendez finally got a second win in the coaches challenge. Melendez easily beat Pettis at UFC trivia winning himself 10 000$ and each of his team members 1 500$
Once again, number 14 Rankos shocked her fellow fighters by beating out number 6 Felice Herrig and Carla was begging to fight her by the end of the episode.
Next week, Jessica Penne and Aisling Daily square off