The highly-anticipated women's atomweight tournament has finally been announced by RIZIN Fighting Federation, and the fights are starting to be announced one by one.
The news was announced late Monday night.
---
Rena Kubota (4-0) vs. Andy Nguyen (5-3) 
Women's Atomweight Grand-Prix | Quarter-Final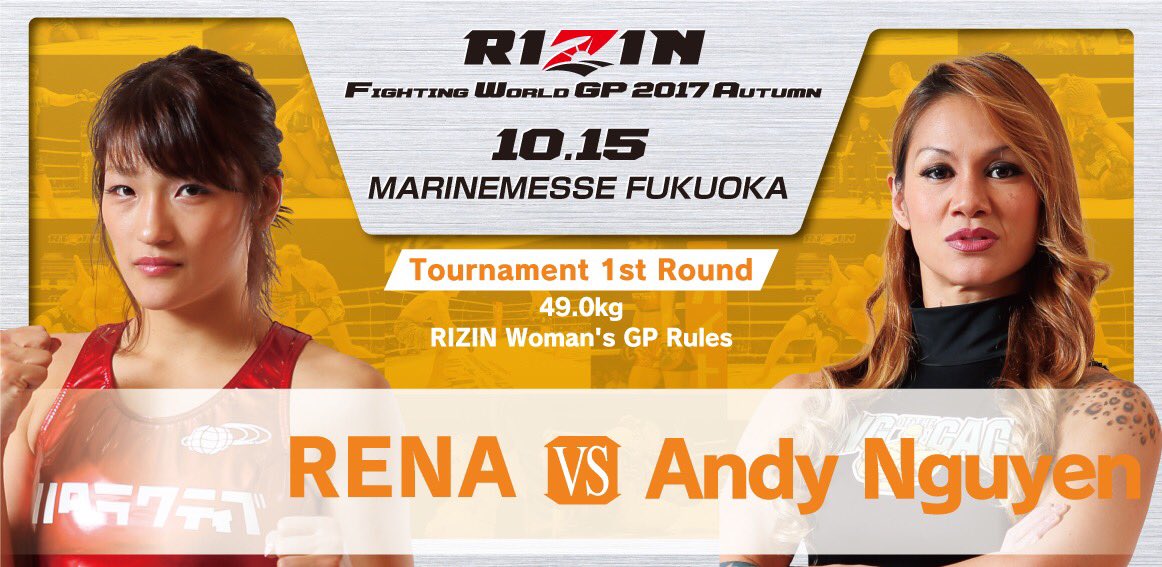 Rena finally receives a much-needed step up when she takes on KOTC Atomweight Champion; Andy Nguyen. The Japanese star has fought the entirety of her MMA career in RIZIN and has gone undefeated since making her debut in December of 2015. Her last MMA win came in April when she defeated XFCi strawweight tournament semi-finalist Dóra Perjés. Since then, she has fought shoot-boxing. Most notably taking out Jleana Valentino last month. Funnily enough, the Italian was also her first fight in RIZIN.
Nguyen is the defending KOTC Atomweight Champion and has two fights currently booked. Before she meets Rena under the RIZIN banner, she defends her KOTC title this upcoming weekend when she takes on Canada's Melissa Sophia Karagianis. That fight is interesting because Karagianis defeated Nguyen back in 2015. Despite the perfect 3-0 record in KOTC, Nguyen is also familiar with RIZIN, as she debuted for the promotion on December 31 of last year. She submitted fan-favorite Miyuu Yamamoto, which appeared to earn her that same "fan-favorite" status in the process.
---
RENA選手のグランプリ1回戦の対戦相手は、アンディ・ウィン選手に決まりました!KOTC王者でもあるアンディ選手は、間違い無く強敵です。1回戦からアンディ選手と闘う事を選択したRENA選手からは、グランプリへの覚悟と自信が伺えますね。ご期待ください。#rizinff pic.twitter.com/xHyHHM6k67

— NOBUYUKI SAKAKIBARA (@nobu_sakakibara) August 8, 2017
This fight, along with the other atomweight grand-prix quarterfinals, will take place on their October 15 card in Fukuoka, Japan.
At DEEP JEWELS 17 on August 26, a fight between Saori Ishioka (15-10) and Kanna Asakura (7-2) will determine another quarter-finalist, but they will not yet have an opponent. Miyuu Yamamoto (1-2) is also supposed to be in the tournament.
Also on this card; the second half of the RIZIN bantamweight tournament opening round is set to take place. Shintaro Ishiwatari (22-6-4) is scheduled to compete, but the Pancrase titleholder does not yet have an opponent.
Dan Henderson is set to return to Japan on this show as well when he takes on fellow-legend Kazushi Sakuraba in a grappling match.
________________
Follow Mike on Twitter (@MikeLovesTacosX), and keep up with the latest MMA news from MMASucka via Twitter (@MMASucka) and Facebook