Over the weekend at DEEP JEWELS 17, 19-year-old prospect Kanna Asakura took on WMMA veteran Saori Ishioka.
The winner of the bout was guaranteed a spot in the upcoming RIZIN Women's Atomweight Grand-Prix. The last spot in fact.
Asakura used her stellar grappling to defeat Ishioka by unanimous decision. Picking up the biggest win of her career to earn a spot in a massive upcoming tournament. She will take on 22-year-old Polish prospect Sylwia Juśkiewicz.
---
Kanna Asakura (8-2) vs. Sylwia Juśkiewicz (6-4)
[Atomweight Grand-Prix]
After a loss to Josh Barnett prodigy Alyssa Garcia in December, Asakura has since competed four times in 2017. Three of those are MMA fights under the RIZIN and DEEP JEWELS banners, with the other being a grappling match. She picked up a dominant win over Aleksandra Toncheva at RIZIN 2017 in Yokohama this past April. And, of course, picked up the big win over Saori Ishioka to earn her placement in the tournament over this past weekend.
Sylwia Juśkiewicz has won nine-straight fights since October of 2013. Five of those bouts were MMA contests while the other four were contested under kickboxing rules. Juśkiewicz also fought over the weekend. Taking out Brazil's Manoela Matos at Ladies Fight Night 6.
Sylwia Juśkiewicz (Poland) def. Manoela Matos (Brazil) by 3R TKO Ladies Fight Night 6 pic.twitter.com/A8KqCsZFrs

— Jolassanda (@Jolassanda) August 26, 2017
Atomweight Grand-Prix Bracket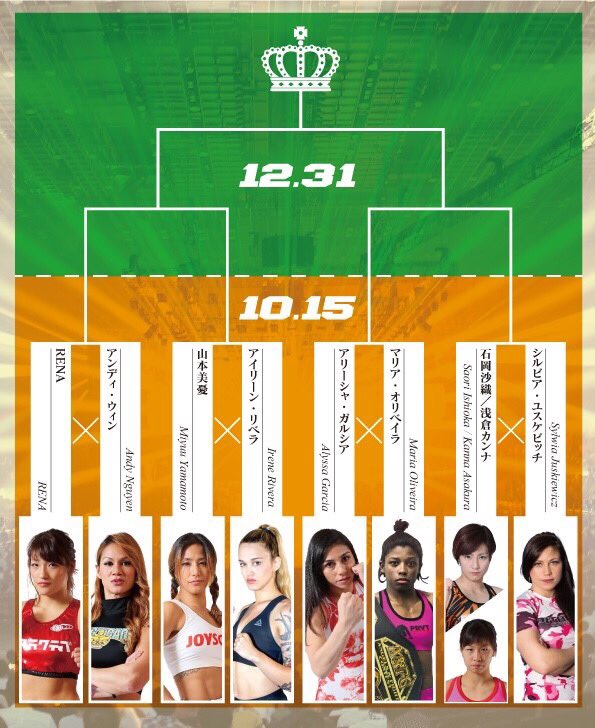 ---
RIZIN 2017: Fukuoka
Dan Henderson vs. Kazushi Sakuraba [Grappling]

Rena Kubota vs. Andy Nguyen

Shintaro Ishiwatari vs. Akhmed Musakaev 

Erson Yamamoto vs. Manel Kape 

Miyuu Yamamoto vs. Irene Cabello Rivera

Alyssa Garcia vs. Maria Oliveira

Kanna Asakura vs. Sylwia Juśkiewicz 

More Bouts TBA!
_______________
Follow Mike on Twitter (@MikeLovesTacosX)