Last night at a press conference hosted in Japan, RIZIN Fighting Federation announced the final touches to their October 15 card in Fukuoka.
A neck injury has forced Dan Henderson out of his grappling match with Japanese legend Kazushi Sakuraba. In his place will be none other than; the legendary Frank Shamrock!
Also added; K-1 legend Jerome Le Banner returns to MMA to take on a very legit Roque Martinez out of Guam. Rising star "KING" Reina returns to take on former football player Crystal Stokes.
---
Kazushi Sakuraba vs. Frank Shamrock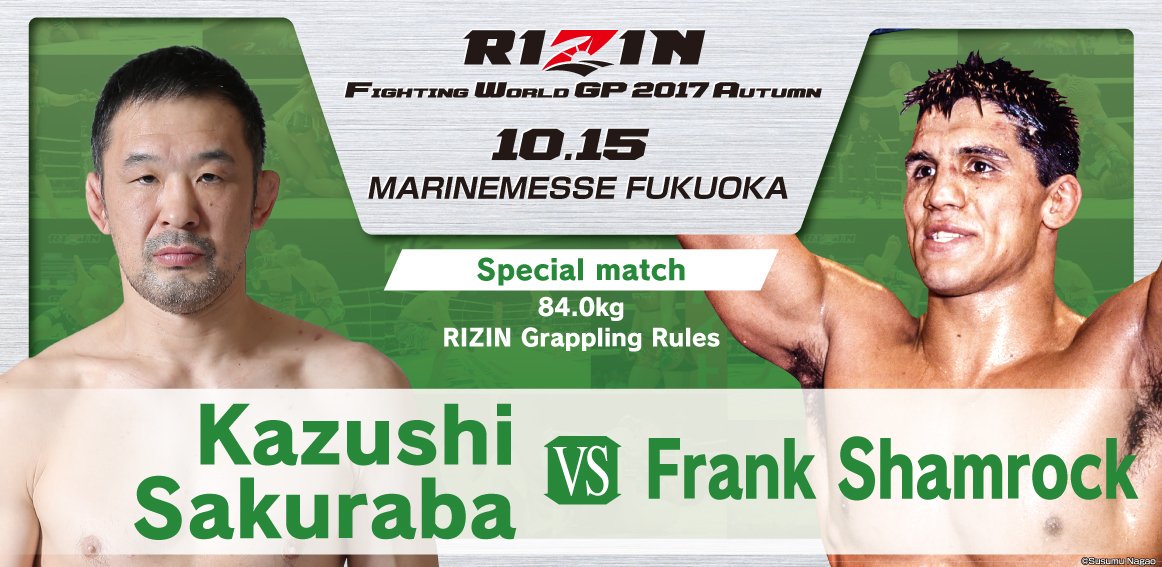 At one point in time, an MMA fight between these two was considered one of the biggest fights imaginable. It, of course, never happened. Now here we are almost two decades later and the two have agreed to get in a ring with one another under grappling rules.
At 48-years-old, Sakuraba has done a few high-profile grappling matches over the past couple years. Facing Renzo Gracie in 2014, and competing in an unusual tag-team grappling match last year under the RIZIN banner. Teaming with Hideo Tokoro versus Wanderlei Silva and Kiyoshi Tamura. Both of those ended in a DRAW.
Frank Shamrock last competed under grappling rules in 1997, where he coincidentally submitted the man he is replacing on 10/15; Dan Henderson.
When it comes to MMA, neither guy needs an introduction. Frank Shamrock was the first UFC Light Heavyweight Champion. After a few defenses, he left the promotion after defeating Tito Ortiz. Following a WEC title win, he went on to become the Strikeforce Middleweight Champion in 2007. He was one of the keys in putting Strikeforce on the map before losing to Nick Diaz in a 2009 catchweight bout. This was the last time we'd see the legend compete.
Sakuraba is one of the biggest stars in the history of Japanese MMA. Though never winning a major title aside from being the UFC Japan Heavyweight Tournament winner, Sakuraba's resume speaks for itself. He has faced everyone from Royce Gracie to Kevin Randleman and is tied with Antonio Rodrigo Nogueira for most submission wins in PRIDE history w/ 11.
It'll be a treat when true fans of MMA see these two deserved Hall of Famers collide, even if it is under a grappling ruleset.
Finally, after all these years Saku is mine. #wedohardstuff #shamrockway @rizin_PR @shamrockmma https://t.co/cH0VCmQyNh

— Frank Shamrock (@frankshamrock) September 29, 2017
---
Jerome Le Banner (3-2-1) vs. Roque Martinez (10-3-2)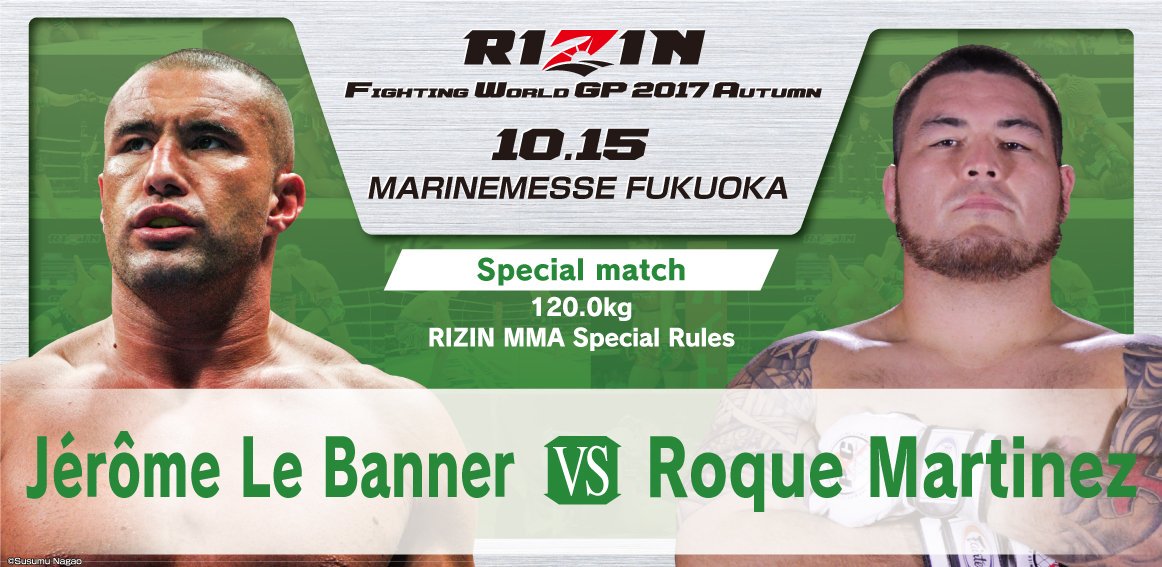 Le Banner is a K-1 legend who has not competed in MMA since a 2010 loss to Satoshi Ishii at Japan's year-end Dynamite!! show. Prior to that, he won three-straight under MMA rules, including KO wins over Jimmy Ambriz and Yoshihiro Akiyama. In August of 2015, he defeated current UFC light heavyweight Karl Roberson via unanimous decision under kickboxing rules.
JLB was briefly linked to a fight with Baruto at the 2015 year-end RIZIN show, but a deal was never finalized. He was also signed on to fight Marcin Różalski two different times under the KSW banner in 2012, but Le Banner was forced out both times due to injury.
Roque Martinez is a very tough outing from Guam. Unbeaten since 2011, Martinez most recently defeated former Fedor opponent Jaideep Singh to become the DEEP Openweight Champion in July.
---
"KING" Reina (6-0) vs. Crystal Stokes (0-0)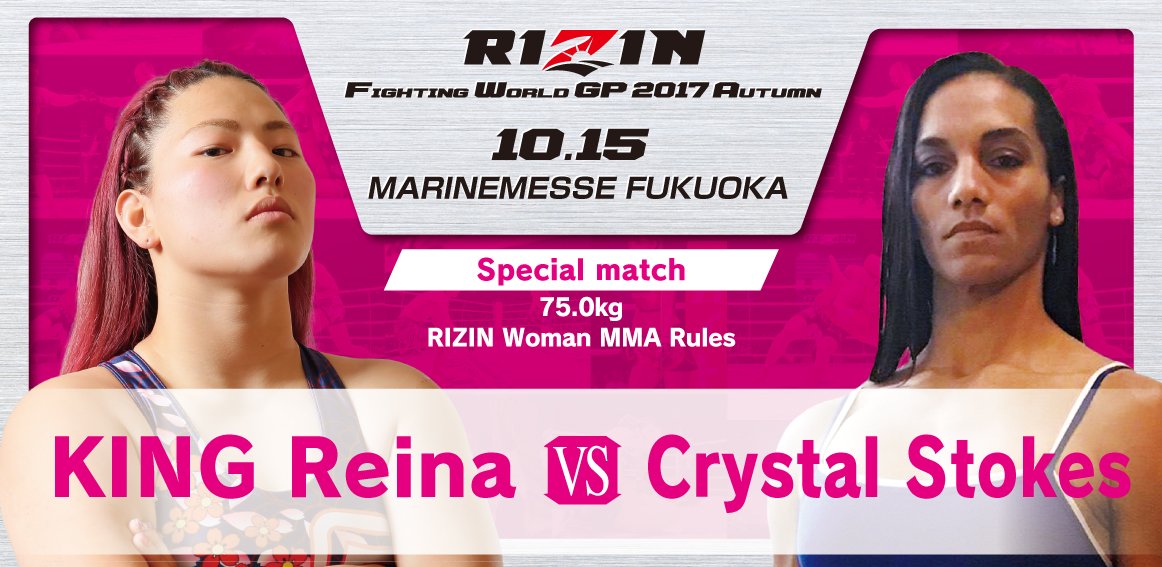 21-year-old "KING" Reina Miura is easily one of RIZIN's biggest and best stars. Despite making her MMA debut less than ten months ago, Reina is looking to make it 7-0 in her first year as a pro. In 2017, Miura competed twice under the RIZIN banner, beating professional wrestlers Lei'D Tapa and Jazzy Gabert. Also in 2017, she had three fights in DEEP, beating Young Ji Kim, Kristin Handel, and UFC-veteran Shayna Baszler. Despite being 5'3, Reina is used to competing against much larger women. And that won't change when she takes on 6'0 Crystal Stokes.
Not much is known about 38-year-old Stokes. She is a member of Team Cyborg and a former marine who also has a football background.
---
RIZIN 2017: Fukuoka
Frank Shamrock vs. Kazushi Sakuraba [Grappling]

Rena Kubota vs. Andy Nguyen

Shintaro Ishiwatari vs. Akhmed Musakaev 

Erson Yamamoto vs. Manel Kape 

Je Hoon Moon vs. Kevin Petshi

Tatsuya Kawajiri vs. Gabriel Oliviera

Andy Souwer vs. Akiyo Nishiura 

Miyuu Yamamoto vs. Irene Cabello Rivera

Alyssa Garcia vs. Maria Oliveira

Kanna Asakura vs. Sylwia Juśkiewicz 

Tenshin Nasukawa vs. Yamato Fujita [Special]

KING Reina vs. Crystal Stokes 

Jerome Le Banner vs. Roque Martinez

Issei Ishii vs. Jin Mandokoro

Yuki vs. Kurogi Darvish

Ryota RenseiGym vs. Yoshihisa Morimoto 

BOUT ORDER TBA
_____________
Follow Mike on Twitter! @MikeLovesTacosX