Japanese-based MMA promotion, RIZIN Fighting Federation, has announced the quarter-final match-ups for their bantamweight grand-prix – and amongst them are some barnburners.
The tournament has filled out completely with the addition of two wildcard fighters. Gabriel Oliveira joins the tournament, fresh off the victory over Kawajiri. UFC-veteran Ian McCall has also signed to compete in the tournament.
RIZIN Bantamweight Grand-Prix Quarter-Finals Announced
In the first round, fighters like Kyoji Horiguchi, Manel Kape, Shintaro Ishiwatari, and Khalid Taha won their first bouts all in impressive fashion to advance.
Check out the quarter-final match-ups below! Also announced; one grand-prix reserve bout featuring two fighters unsuccessful in the first round of the tournament.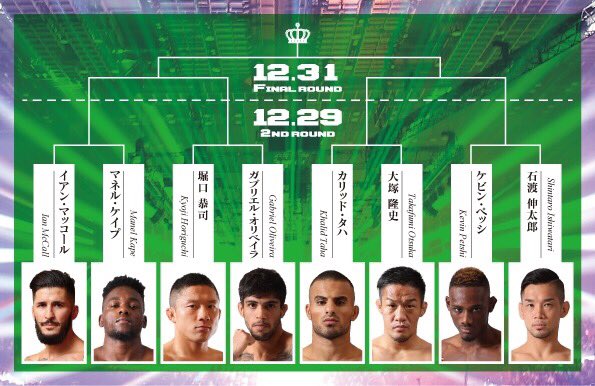 ---
Ian McCall (13-5-1) vs. Manel Kape (7-1)
Ian McCall enters the contest having not fought in just under three years. The last time we saw him in action, he went the distance with current bantamweight contender; John "Hands of Stone" Lineker. Since then, he has been scheduled to compete six times, but all six bouts fell through for one reason or another.
After parting ways with the UFC about two months ago, McCall wasted no time in announcing that he had joined Japan's RIZIN Fighting Federation as one of two wildcards in this bantamweight grand-prix. Ian McCall last tasted victory in July of 2014, when he bested veteran slugger Brad Pickett. In 2012, McCall famously had two hard-fought, competitive fights with Demetrious "Mighty Mouse" Johnson in the UFC's tournament to determine an inaugural flyweight champion, which Johnson, of course, went on to win – still holding the title today.
Prior to joining the UFC ranks, McCall was still relatively well-known amongst the more 'hardcore' MMA fans. As he was the Tachi Palace Flyweight Champion, having a fantastic fight and performance vs. Darrell Montague in his last fight before joining the UFC.
He takes on "Prodígio" Manel Kape. Fighting out of VS Team in Portugal, Kape had not fought for almost three years before making his RIZIN debut last month, and stunning Asen Yamamoto in the opening round of this bantamweight grand-prix.
The biggest win of his career prior to this, by far, is a 2014 win against Daniel Barez. In July of this year, Barez went on to become the BAMMA Flyweight Champion when he defeated Ryan Curtis.
---
Takafumi Otsuka (23-13-1) vs. Khalid Taha (11-0)
Prior to making his RIZIN debut in July, DEEP Bantamweight Champion Takafumi Otsuka had won four fights in-a-row under the DEEP banner. Picking up wins over Koichi Ishizuka and Toshiaki Kitada during that streak. Otsuka is primarily a grappler and has gone to decision 26 times in his lengthy career, most recently in the opening round of this bantamweight grand-prix.
Otsuka took on UFC-veteran Anthony Birchak in July to determine who would advance in the tournament. Otsuka survived an early punt to the dome and was virtually unphased. Throughout the fight, he and Birchak both landed some solid shots on one another, and takedowns were scored on both ends when they needed to be. The longtime DEEP Champion took home a narrow Split Decision win against Anthony Birchak.
Germany's Khalid Taha is an undefeated finisher fighting out of Dortmund, Germany. In his eleven wins, he has finished ten of his opponents. Taha primarily gets the job done with his vicious striking attack, but also has a few submission wins on his resume as well. Fair FC and Top Ten Champions are among the promotions where Taha has won a championship.
Taha took out Shooto Pacific Rim Champion, Keita Ishibashi, via first-round knockout in July. He finished the grappler with vicious grounded knees.
---
 Shintaro Ishiwatari (23-6-4) vs. Kevin Petshi (13-3)
Ishiwatari has won five-straight, and just over five months ago he decisively beat Rafael "Morcego" Silva to defend his bantamweight title before joining the RIZIN ranks.
Part of his current four-fight run includes a TKO win against fellow tournament competitor; Takafumi Otsuka. In 2013, Ishiwatari had a five round battle with Kyoji Horiguchi. He was eventually stopped in the fifth and final round. In October to advance in the grand-prix, Ishiwatari beat Fight Night Global's undefeated prospect Akhmed Musakaev.
Kevin "The Machine Gun" Petshi had won three-straight via finish prior to joining the RIZIN tournament. He followed up an October 2016 loss to Robert Whiteford by submitting Vando de Almeida in Belgium, Jason Cleveland in China, and Martin Akhtar in Sweden.
After the stellar finish streak, Petshi was announced as a participant in the RIZIN grand-prix. He took on battle-tested brawler; Je Hoon Moon. The fight was somewhat controversial, however. Petshi got into some solid positions on the ground, but he didn't do much with them. It was Moon who had the most success, particularly on the feet. Regardless; Kevin Petshi won by split decision to advance.
---
Kyoji Horiguchi (20-2) vs. Gabriel Oliveira (10-0)
In quite arguably the most intriguing quarter-final match-up; one of the best flyweight fighters in the world, Kyoji Horiguchi takes on Brazilian prospect; Gabriel Oliveira.
Following a fantastic 7-1 stint in the UFC, only losing to flyweight king Demetrious Johnson, Kyoji Horiguchi signed with RIZIN Fighting Federation in arguably their best signing to date. He took on another great Japanese flyweight in the form of Yuki Motoya back in April to debut in the promotion. Horiguchi looked fantastic and took home a unanimous decision.
It was then announced that Horiguchi would move up a division to join RIZIN's stacked bantamweight tournament. In the first round of the tournament, Horiguchi fought Japanese legend Hideo Tokoro. He needed less than two minutes to knock out the legend following a flurry of punches before some vicious ground-and-pound shots.
Gabriel Oliveira enters the contest with a more-than-stellar record of 10-0. Along with the spotless record, Oliveira is also the owner of many regional titles in Brazil. He holds featherweight titles in Curitiba Top Fight and X-Force MMA. He also traveled to Peru to take out Martin Mollinedo to win the Peru FC Featherweight Championship.
Oliveira made a massive impression in his RIZIN debut when he KO'd the legendary Tatsuya Kawajiri at a catchweight of 138-lbs. Entering the tournament as a relative unknown, Oliveira was the second wildcard announced for the tournament. And he has quite arguably the toughest fight of the bunch ahead of him.
---
Anthony Birchak (12-5) vs. Je Hoon Moon (10-10)
[Grand-Prix Reserve]
In the first reserve bout for the tournament, two losers from the first round get a chance at redemption.
Both fighters lost very close split decisions in the opening round of the tournament. Birchak to Takafumi Otsuka, and Moon to Kevin Petshi.
The loss to Otsuka was Birchak's second fight in RIZIN, bringing his promotional record to 0-2. Prior to this, he had a very tough debut in the form of Tatsuya Kawajiri. Moon made his RIZIN debut when he took on Petshi in the opening round. Prior to this, the South Korean veteran of ROAD FC finished 9-0 prospect Kai Asakura.
---
All of these fights will happen on December 29, with the grand-prix semi-finals and finals both taking place on December 31. Meaning the winner of the tournament, per usual, will fight – and win – three times in the span of two days.
_____________
Follow Mike on Twitter! @MikeLovesTacosX