I doubt many are surprised at the news regarding Gomi signing with Japanese promotion RIZIN Fighting Federation. His opposition seems to have surprised people, however.
No easy debut for Gomi as he enters the promotion on a huge slump. He gets fed right to the wolves when he takes on a streaking top-notch striker in the form of Yusuke Yachi.
Also announced; a mini four-man kickboxing tournament, the return of Seiichiro Ito, and another Gabi Garcia freakshow.
The fights were announced via RIZIN FF on Wednesday.
Takanori Gomi vs Yusuke Yachi #rizinff pic.twitter.com/3shoEsnjkO

— RIZIN FF English (@rizin_English) November 29, 2017
Takanori Gomi, Yusuke Yachi amongst newest additions to December RIZIN shows
"The Fireball Kid" Takanori Gomi (35-14, 1NC) returns to Japan having lost five-straight, all by first-round finish – four by KO. The former longtime PRIDE champion has not tasted victory since a 2014 unanimous decision win vs. JacksonWink's Isaac Vallie-Flagg.
Yusuke Yachi (18-6) is the polar-opposite as of late, however. The Krazy Bee fighter has won four-straight, entering the RIZIN ranks in December of last year as a former Shooto and PXC featherweight champion. Since joining RIZIN, he has gone a perfect 3-0 with 3 knockouts. Two of those KO wins were against UFC-veteran Daron Cruickshank and former DEEP champion, Japanese legend Satoru Kitaoka.
One of the best flyweights Japan has to offer, Seiichiro Ito (12-1-2) fights out of Reversal Gym Yokohama. He has won ten-straight, with his most recent win taking place at the April RIZIN show in Yokohama. That aforementioned win was a fantastic performance against Kizaemon Saiga. Last month, the former ZST champion took on Japanese legend Hideo Tokoro in a grappling match at GRANDSLAM 6. Ito picked up the win.
Opposite him will be former RINGS tournament winner and The Outsider champion; Kai Asakura (8-1). After starting his career a perfect 8-0 with 8 finishes, Asakura was most recently finished by RIZIN bantamweight grand-prix alternate; Je Hoon Moon at ROAD FC 39 in June.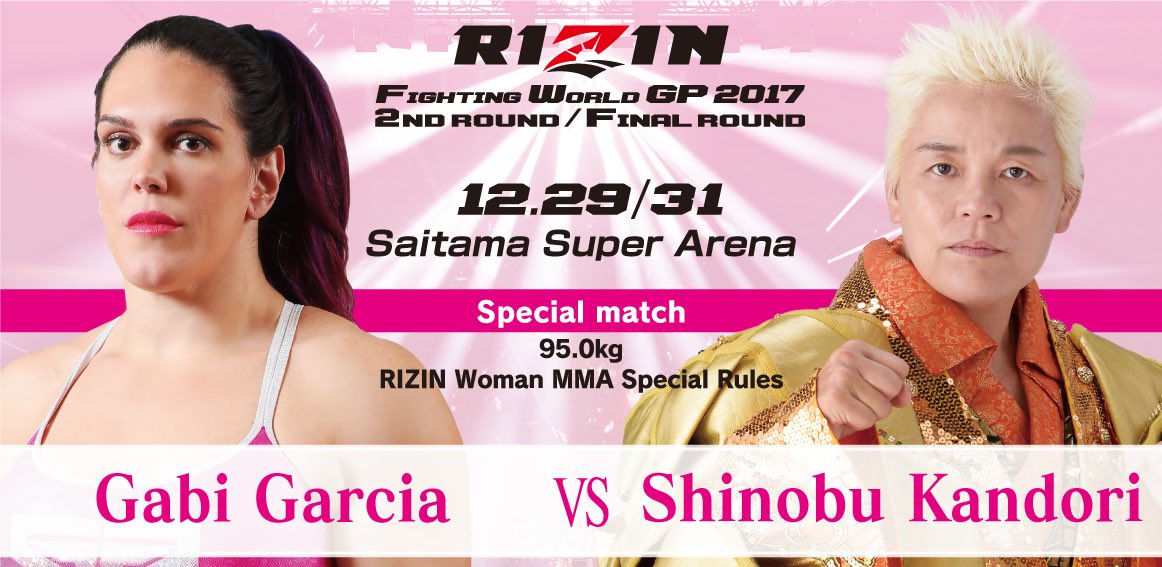 Not much to talk about here. Gabi Garcia (4-0, 1NC) will compete in another ridiculous freak show when she takes on 52-year-old pro wrestler; Shinobu Kandori (4-1).
Kandori has not fought in MMA since 2000. 17-years.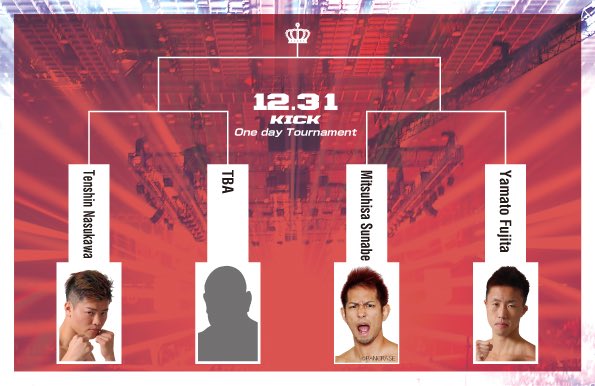 Also added; on December 31 a surprise one-night, four-man kickboxing tournament will take place. The tournament will feature Mitsuhisa Sunabe and Yamato Fujita – who will face each other, and Tenshin Nasukawa – who will face a yet-to-named opponent.
---
Both the December 29 and December 31 shows will take place at the Saitama Super Arena. The bout between Gomi and Yachi will take place on December 31, as will the one-night kickboxing tournament. The Ito/Asakura, Garcia/Kandori fights will take place on December 29.
The December 29 show will feature the men's bantamweight grand-prix quarter-finals, as well as the return of Jiri Prochazka and King Reina. The December 31 show will feature the semi-finals and finals of the men's bantamweight grand-prix as well as the women's atomweight grand-prix. Mirko Cro Cop also makes his return.
_________
Follow Mike on Twitter! @MikeLovesTacosX