Alexander Keshtov is a top prospect out of Russia and undefeated at 8-0. Training at a top camp in K-Dojo Warrior Tribe the man also known as "AK47" is the current Ring of Combat Bantamweight champion. Like many ROC fighters, they would end up going to the UFC and making their debut, Keshtov is looking to follow in those footsteps very soon.
Alexander Keshtov: A Huge Star in the Making!
MMASucka: First of all, how did you get into MMA? Did you have any background in other sports before you got into MMA?
Keshtov: I got into MMA by replacing a friend who got injured in training. I took his fight on short notice and I won, and then I realized that I could achieve a lot in MMA. Believe it or not, my grandmother introduced me to Combat Sports when I was in 3rd grade. She took me to a Kudo school, which was a very popular discipline back then in my state. It was a lot of fun…I really enjoyed it. Also, I wanted to train in Combat Sports in case of self-defence situations.
MMASucka: How did you get the nickname "AK-47"?
Keshtov: "The nickname AK-47" was given to me by my coach, Murat Keshtov. You can actually address that question to him … LOL
Coach Murat: Ok, so Alex's initials are A.K. (Alexander Keshtov) and as a coach, I've worked with a lot of high-level fighters, including many in UFC and Bellator, and I've never seen rapid-fire speed like Alexander has, seriously. And since Alexander is from Russia, and is also a Military Police Officer in the Russian Army. How can you NOT name him "AK-47" ?!
MMASucka: Is MMA your full-time job?
Keshtov: At the moment MMA is not my full-time job: I am also a Captain in the Russian Army Military Police Force.
MMASucka: I've seen you fought at Flyweight in the past, is there any desire to move back down in the future or is Bantamweight your weight class?
Keshtov: Yes, I did fight at flyweight in the past, in China for WSOF, and going forward I would like to continue to fight at flyweight, especially in UFC or for any high-level fights. But I also fight at bantamweight because a lot of time it's hard to find willing flyweight opponents, so I end up taking fights at 135 too. So far I've won two belts at that weight class in the USA.
MMASucka: You have fought in the United States, Russia, and China. Explain the experience to compete in three countries in such a young career?
Keshtov: Yes, I've fought mostly in Russia. Experience was great, each country brings something unique, each country has a unique way of doing things and also when you travel, you learn with how to deal with acclimating, local diet adjustments and stuff like that. But it was cool, I've had fun everywhere.
MMASucka: You are currently 8-0, which win would you consider your favorite and why?
Keshtov: All wins are good, but probably the last win I would consider my favorite because it was for the Ring Of Combat Championship belt!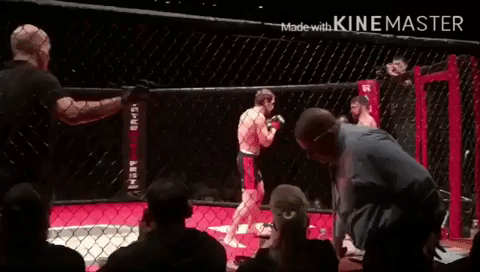 MMASucka: What is your favorite striking technique and favorite grappling technique?
Keshtov: I have a big arsenal of favorite techniques in both grappling and striking, but still prefer the stand up striking game, because it is more dynamic and exciting for the fans, and I really love putting on a good show for them.
MMASucka: You are considered a top prospect and ready to make the jump to the UFC. Have you ever been contacted by the UFC? And are you possibly looking at the UFC 220 card, which is happening in Boston, occurring pretty close to New Jersey where you have fought a few times?

Keshtov: Of course my big focus is on UFC; my coach Murat Keshtov and manager Brigitte Narcise are talking to the UFC right now, we will see what will happen.  I would love to get on UFC 220, right there near my NJ home-away-from-home K Dojo – or on any other card for that matter, anywhere, anytime!
MMASucka: You are the current Ring of Combat champion. How do you like fighting for a top organization like that?
Keshtov: Yes, I take a lot of pride in being a Ring Of Combat Champion! So many top UFC fighters have been ROC Champions, and Dana White still frequently scouts at their shows, so I know I am certainly on a great career path with them. It is an honor to wear that belt!
MMASucka: You train with camp K-Dojo Warrior tribe residing in New Jersey. Are you currently living in New Jersey? If so, do you think that move has improved you as a fighter?
Keshtov: I train at K Dojo Warrior Tribe as often as I can; usually 2-3 months at a time, several times per year, and especially before a scheduled fight. The individualized attention I get there and the pre-fight analysis and strategic training have made all the difference in my recent fights and have definitely made me a more dynamic and complete fighter.
MMASucka: Speaking of K-Dojo Warrior Tribe, it is becoming a top camp and has so many talented and up and coming fighters. Like yourself, who do you think is ready to make the jump to the big leagues like UFC or Bellator?
Keshtov: Yes, we have a lot of great up and coming fighters who are ready to make their mark on the big international fight scene: Aziz Pahrudinov who is 17-0-1 (155), Khusein Khaliev 17-1, (155/170) and my fellow ROC Champion (Middleweight) Ruslan Melikov 5-1 are definitely UFC or Bellator-ready, and K Dojo actually has been developing a formidable stable of hungry, young local fighters in recent years who are nearly ready to make big waves on the pro scene soon. I've had the pleasure of coaching and mentoring many of them and I'm really excited for the future of this team!
MMASucka: Last question, when are you looking to get back in the cage? Do you have a fight in the works?
Keshtov: If I don't get a shot at UFC before then, Ring of Combat is scheduling me for a title defense in February in Atlantic City, NJ, and I will be looking forward to another exciting show again in the USA!
Main Photo via youtube.