RIZIN 10 fight card is finalized with the addition of three new bouts.
The fights were all announced at a press conference in Japan early Thursday.
記者会見始まりました。#rizinff pic.twitter.com/R9JS8XdzST

— RIZIN FF English (@rizin_English) April 5, 2018
Ayaka Hamasaki (14-2) vs. Alyssa Garcia (3-4)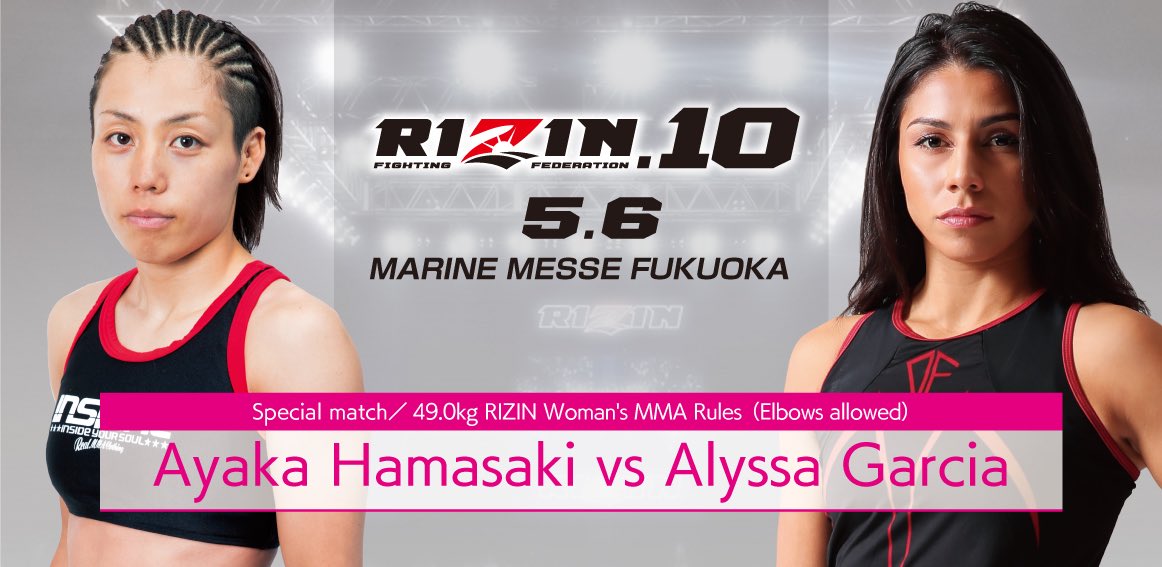 A former DEEP JEWELS champion; Ayaka Hamasaki brought her talents to North America under the Invicta FC banner in 2012. Eventually, after taking bouts in Invicta and DEEP, Hamasaki won the Invicta FC Atomweight Championship by defeating Herica Tiburcio in 2015. After multiple defenses, all via finish, Hamasaki took a risk and moved up a division to take on former strawweight champ Livia Renata Souza. She lost that bout in what was her most recent outing early last year.
"I'm very happy to be fighting in my home country again. I went to college in Fukuoka, so that also makes me happy. I am very grateful that Invicta CEO Shannon sent me back to Japan on good terms. I think the level of Women's MMA has been growing at an extremely high rate. I want to show the casual Japanese fans that there are still tough women out there, but again, I won't take anybody lightly."
Opposite Asakura, will be a tough American prospect in the form of Alyssa "Tiny Tim" Garcia. At just 24-years-old, Garcia trains under the likes of Josh Barnett. Do not let her 3-4 record fool you. She is only one of two women to defeat last year's atomweight grand-prix winner; Kanna Asakura. Doing so via unanimous decision in her RIZIN debut in 2016.
"Hamasaki will be my toughest fight yet, and like I said before I don't mind being fed to the wolves. I seem to do my best being the underdog, I was the underdog against Kanna and I came out with a win with the odds against me. Hamasaki has made a name for herself, she's tough and she's here to win these are the fights I want, I'm not scared of anyone or any name. I'm very excited."
---
Jairzinho Rozenstruik (4-0) vs. Andrey Kovalev (9-0)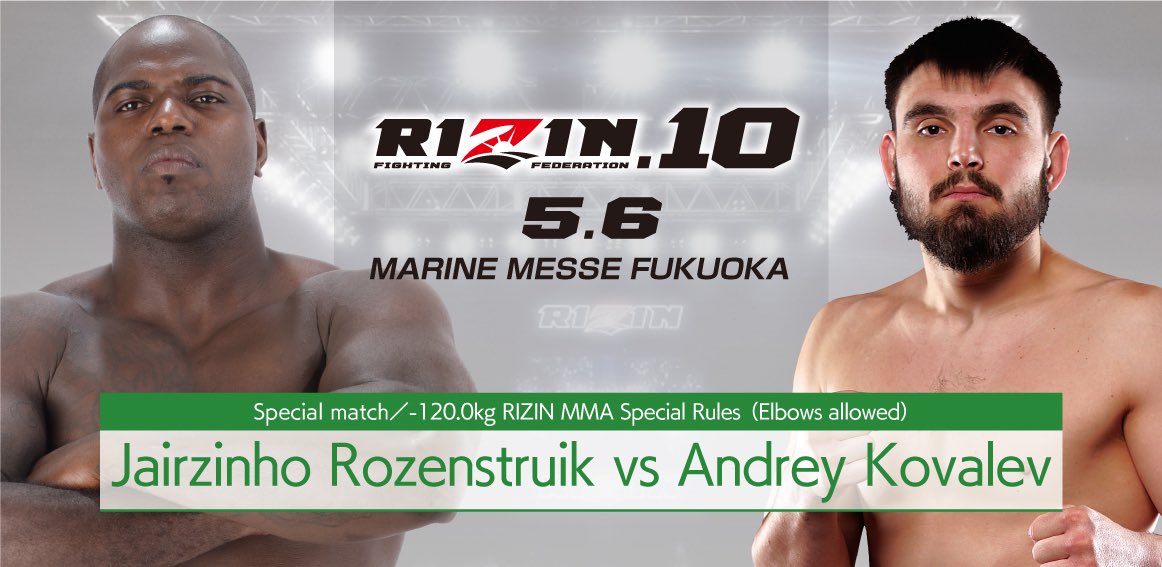 Fighting out of Holland, the 30-year-old Rozenstruik has finished all four of his previous opponents in the first round via knockout. After fighting the same Ukrainian twice in 2012 under Russia's Draka MMA promotion, Rozenstruik was MIA from the MMA scene for four years. He returned in 2017, picking up two KO wins on the Aruba and Suriname regional scenes.
"It is an honor for me to be fighting in RIZIN, in Japan. I am training very hard to win. My opponent is a Russian fighter Andrey Kovalev, so this will be a war between Russia and Suriname. I always fight to win, so my goal is to go in there and take out this guy. Please be ready, I will show you something that you have never seen before."
Despite Rozenstruik's belief that he is set to fight a Russian in May, that is not the case. Andrey Kovalev is a 6'3 24-year-old Ukrainian who has aspirations to match the greatest MMA fighter of all time to come out of his home country; Igor Vovchanchyn. Kovalev has spent the entirety of his career fighting under the MMA Pro Ukraine banner and is their current heavyweight champion. Notably picking up a TKO win over Romanian veteran Anatoli Ciumac.
"It is a great honor for me to compete in RIZIN this year. I will try to live up to the legacy my compatriot Igor Vovchanchyn left behind for me in Japan. Igor was arguably the greatest fighter on the planet earth in the late nineties and had many memorable wars inside the PRIDE ring. I want to continue that tradition by beating my opponents in a fast and effective manner. The goal for my upcoming fight is to finish him as quickly as possible. I want to challenge Mirko Cro Cop and send him into retirement!"
---
Tenshin Nasukawa vs. Yusaku Nakamura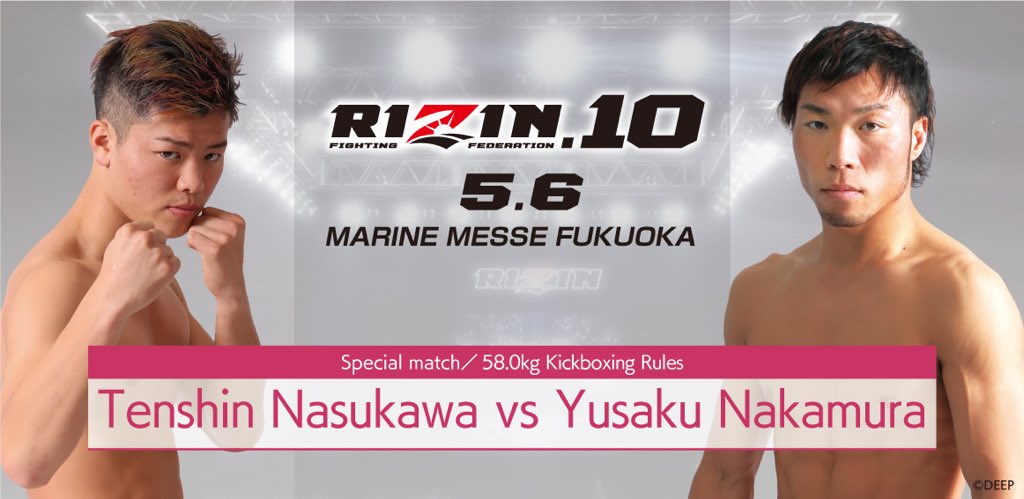 In a somewhat disappointing fight, striking phenom Tenshin Nasukawa will return to the RIZIN ring to take on another MMA fighter under kickboxing rules; former WSOF Global flyweight titleholder Yusaku Nakamura.
Tenshin had this to say about Nakamura:
"I think Nakamura is a very quick and effective striker. He blitz's in and out very well. But I am also quick and hit hard. The goal of this year is to extend my undefeated record and unify the sport. I don't care about the boundaries of organizations and Adults' politics. I just want to face the best guys out there and beat them."
Yusaku Nakamura promises to make a fun fight with Tenshin, and if his previous outings are any indication he should do just that.
"This will be my first shot at kickboxing rules, but the moment I got the offer to face the hottest prospect in Japan's combat sport, it was a no-brainer for me. I come from a traditional martial arts background and my style is mostly striking. My footwork is fast, unique and I hit very hard. I'm not very good at talking, but I promise you that I do deliver fun fights."
---
RIZIN 10 takes place on May 6, live from the Marine Messe Fukuoka in Fukuoka, Japan. The full card has been announced. Check out the card in its entirety, but know; the bout order has not been confirmed.
Kyoji Horiguchi vs. Ian McCall
Kanna Asakura vs. Melissa Karagianis
KAi Asakura vs. Manel Kape
Kanako Murata vs. Weili Zhang
Issei Ishii vs. Daishin Sakai
Ante Delija vs. Ricardo Prasel
Yusuke Yachi vs. Diego Nunes
Hironori Kurogi vs. Tomohiro Kitai
Daron Cruickshank vs. Koshi Matsumoto
Ayaka Hamasaki vs. Alyssa Garcia
Jairzinho Rozenstruik vs. Andrey Kovalev
Tenshin Nasukawa vs. Yusaku Nakamura
________
Follow Mike on Twitter! @MikeLovesTacosX