Although The Ultimate Fighter series continues its slow march to cancellation, there is still no shortage of talent produced by the show. The young Brazilian striker Vicente Luque (12-6-1 MMA, 5-2 UFC) has emerged as a future contender.
An integral part of the Blackzilians (RIP) team on Season 21, Luque has finished all five of his victories since making his UFC debut. At 26 years old, "The Silent Assassin" has faced all challengers with composure and fierce determination. Luque's relaxed, technical, and dangerous style of Dutch kickboxing and mastery of front chokes make him a must-watch action fighter.
By all accounts, Luque is a classy gentleman and a charismatic showman.
And yet, Saturday's Fox Sports 1 bout against Canada's Chad Laprise will be Vicente Luque's first main card appearance in his UFC career.
This is Fighter of Interest, where underrated fighters from an upcoming event are brought to light.
UFC Fight Night 129
Fighter of Interest: Vicente Luque
Born to a karate black belt, Luque had been around martial arts his entire life. Practicing jiu-jitsu and muay thai, Vicente was only 15 when he set his sights on prizefighting glory.
Luque found mixed results on the Brazilian regional circuit, compiling a record of 7-4-1. Noteworthy is his 2012 knockout victory over UFC middleweight standout Thiago "Marreta" Santos, who was 7-0 at the time.
Versatile Attacks
An extremely disciplined and well-trained athlete, the Henri Hooft protege will consistently throw volume, occasionally without neglecting his defense. On the outside, you'll see Luque working his low kicks, sometimes employing the fashionable low calf kick.
Range management is the key to his tireless pressure fighting. At his best, Luque is light on his feet, either moving forward aggressively or back just enough to avoid strikes. On advancing opponents, Luque loves the check hook, and less often the teep kick.
Luque's tight punching form is his most dangerous, dynamic weapon thus far. His commitment to a few fundamentals opens up sharp counter striking combinations, best employed when a desperate opponent is feeling pressured.
If all of that weren't enough, Vicente is a problem on the ground. Since he was first introduced to UFC fans, Luque has two wins via anaconda choke, and two by D'arce.
TUF: American Top Team vs. Blackzilians
The struggling Ultimate Fighter series looked to capitalize on the rivalry between South Florida power gyms in a unique season format.
Both gyms assembled a team of welterweights, abandoning the tournament format for a points-based system that raised the stakes as the season progressed. Blackzilians owner Glenn Robinson showed faith in Luque early on. "Vicente is a champion."
Luque was selected to fight a grizzled veteran and smothering wrestler in Nathan Coy. Coy was an All-American wrestler for Oregon State University, where he lost to UFC veteran Josh Koscheck to take 4th in 2002. Coy amassed an impressive 14-5 record in top promotions like Strikeforce (RIP) and Bellator.
Early on it was smooth sailing for Vicente Luque. While Coy is an experienced grinder, his striking was more so a means to an end. This approach left him unable to get past the hands and feet of Luque for a clean takedown entry.
However, when Luque slowed down in the second, Coy started to work his magic. Finally able to drive Vicente to the fence, Coy stuck to him like a leech. Luque struggled to create space and open up with his strikes as he did in the first.
All tied up, the judges called for a third round to settle the contest. After ten minutes of failed takedowns, Coy had finally slowed, while Luque seemed to have caught a second wind. Coy became sloppy, and one momentary lapse spelled doom for the seasoned grappler.
Coy was caught reaching for a leg with his neck out, and Vicente instinctually wrapped up the grip on his bicep for an anaconda choke. There was a struggle, but the choke became tighter as Luque adjusted his position, and Coy was forced to tap. 50 points for the Blackzilians.
"Holy sh*t, now that's a fight!" 
Although they were up seven wins to three, the Blackzilians needed to win the final, 100 point fight to secure the season title. American Top Team put forth their fiercest warrior, knockout artist Hayder Hassan. From the Blackzilians, it was Vicente Luque.
Surrounded by their teams with bragging rights, and a six-figure prize on the line, the stakes could not have been higher for the two young fighters.
In MMA the term "war" is used somewhat generously. Even in a figurative sense, war implies a grueling, hellish struggle. War implies maximum effort with everything to lose. The season closer between Hayder Hassan and Vicente Luque was an absolute war, and one of the best fights of the year.
GIFs would simply not do it justice.
The gym was roaring. Fanatical energy oozed from the fighters, the cornermen, their teammates, and the modest audience in attendance.
Luque's performance was fantastic. He was punching in combination, he was working the body, his defense was on point. Hassan stalked Vicente like a power-punching Michael Myers, showing off a stiff jab as well.
It was Luque's volume vs. Hassan's power, and the two drove onward at an exhausting pace. Once again a third round was forced, and both men found the strength for one last push. While both men landed their fair share, it was Luque who seemed to have stolen the fight with his takedowns and superior grappling position.
But it was Hassan whose hand was raised. For the American Top Team, it was a moment of absolute joy and triumph. Luque was assured he fought like a champion, and he gained a UFC spot, fighting in the finale.
Epilogue
In the finale, Hassan would go on to lose to Luque's teammate, Kamaru Usman. Vicente was matched with ATT's Michael Graves, a 5-0 wrestler who had narrowly lost to Usman himself.
Luque was uncharacteristically flat-footed, and it allowed Graves to dictate the fight with his takedowns and clinch game. It was a disappointing performance, but Vicente would soon erase that memory. Graves, on the other hand, would be cut from the UFC after being arrested for domestic violence.
Vengeance
The UFC saw promise in Luque, deciding to give him another shot, in a rematch. He would face none other than Hayder Hassan.
While Hayder had success in their first bout with his jab and assault of looping punches, he opened the rematch with a much more technical approach. Lighter on his feet, Hassan threw a variety of kicks to the legs and body of Luque.
Essentially, Hassan was trying to beat Luque at his own game. That was a mistake. Early in the first round, Vicente clipped Hassan with a right hand and turned him into a wrestler. Hayder lowered his head and extended his arms, begging Luque to choke him. He obliged. This would be Luque's second UFC anaconda choke, counting exhibitions.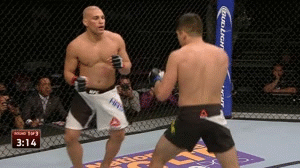 Moments later, Hassan was unconscious, twitching and foaming at the mouth. Some say the sequel is never as good as the original, but everyone loves a revenge story with a happy ending.
Enter Sandman
After quickly disposing of TUF: Latin America alum Álvaro Herrera via D'arce choke, Luque met the talented journeyman Hector Urbina.
A near 30-fight veteran, the former light heavyweight Urbina had turned the corner in his training since moving to the home of Luque's arch rivals, American Top Team.
Early on, Urbina attempted to use his reach advantage by keeping his arms outstretched and employing long kicks to the body. Luque's superior footwork put him inside of that reach, leaving him free to tee off. 
A spirited fighter, Urbina was eager to move his head and swing with his back to the fence. But Luque is an ice-cold technician, he saw the punches coming and found his spot. An overhand right dropped the veteran like a sack of potatoes in one of the best knockouts of the year. Vicente was awarded his second "Performance of the Night" bonus.
Next on the hit-list was the well-rounded Belal Muhammed. The Roufusport trained fighter put together a perfect 9-0 record on his way to winning the acclaimed Titan FC welterweight title over an excellent fighter in Steve Carl.
All fights start on the feet, naturally, there may be a minute or two of striking exchanges, regardless of your intended gameplan. But a trend was emerging, that is not a risk you want to take against Vicente Luque. Muhammed was willing to exchange with the far more dangerous striker, and that was the end.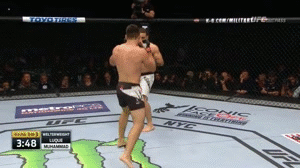 Luque's patented check left hook jawed Muhammed mid-combination. Belal is currently on a three-fight win streak over accomplished veterans like Tim Means and Jordan Mein.
Contenders Clash
A striker by trade, England's Leon "Rocky" Edwards has made an impression on the welterweight division with his surprisingly formidable wrestling and top control. A loss to the familiar Kamaru Usman seems to have been the catalyst for Edwards jumping levels.
Edwards had just begun a win streak, notching his second victory in a row by finishing the fantastic and violent Albert Tumenov. Although Luque is a smooth and consistent operator, he had a stiff test in a neutralizing fighter like Edwards.
The bout was marked by tension early, both a tad gunshy. In the first round when they did clash, it was Vicente Luque who had the upper hand.
In the second round, Edwards found a home for a deceptively swift and powerful rear body kick. Body work can empty the gas tank of even the most well-conditioned fighter, and Luque slowed considerably. Edwards took advantage, pressuring with his striking and at last finding success with his wrestling.
Late in the third, Luque summoned all of his strength and set out for the last minute comeback. Edwards had fatigued as well, and Vicente attacked his body mercilessly. The shovel hook to the liver was the most impressive technique he unleashed.
Alas, the final seconds ticked away and Leon Edwards was awarded the latter two rounds. Edwards is now riding a five-fight win streak and has just cracked the top 15.
LAST FIGHT: Def. Niko Price via Submission (D'arce Choke) at 4:08 of Round 2
When Luque returned seven months later, it was to face American Top Team's Niko Price.
After going 8-0 on the regional circuit with seven finishes, Price made his UFC debut against the once highly touted Brandon Thatch. Price impressed many with his overwhelming physicality and under the radar technical ability. After submitting Thatch, Price delivered a sickening knockout against a very impressive LFA champ in Alex Morono. He went on to upset the handsome muay thai specialist Alan Jouban.
Price had minor successes using his long frame to stick Luque with jabs, but he appeared largely out of his element on the feet.
Luque chopped away with low kicks, eventually forming a visible knot on the side of Price's calf. With his movement hindered, Price was a sitting duck for the pinpoint boxing of Vicente Luque.
Fearing the increasingly steep swing in momentum, Price became much more aggressive in the second round. But the damage was done. Every time Luque appeared to be initiating an attack, Niko planted his feet in anticipation of an incoming low kick. His situation only became more dire.
Unable to escape boxing range, Luque had free reign to unload on Niko Price. Luque let loose with a beautiful combination. A stunning overhand right was followed by a jab into an evil right uppercut to the body. The retreating Price left his head exposed and was dropped with a final left hook.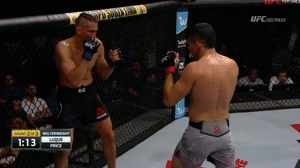 Luque took full advantage of the vulnerable Price, catching and rolling through a slick, deep D'arce choke. Price tapped immediately.
NEXT FIGHT: vs. Chad Laprise at UFC Fight Night 129
Chad Laprise is an incredible fighter and a massive challenge. As discussed last week with Elizeu Zaleski dos Santos, the UFC welterweight class is an embarrassment of unranked riches.
Laprise won TUF: Nations, a season comprised of two teams of duelists from Canada and Australia. In the finale, he defeated Olivier Aubin-Mercier, who recently broke out as a top lightweight. Chad Laprise has some of the slickest counter-striking in the division, which he used to knock out his last three opponents. Since returning to welterweight, he has been on a tear.
Training out of the Tristar gym in Montreal, there is no easy road to defeating Laprise. Vicente Luque is going to have to implement specific ranges and positions he feels are advantageous, there is no one point in the game of the Canadian to exploit.
One key might be low kicking the inside of the lead leg, as demonstrated by Ross Pearson. Chad's movement was badly hampered by consistent, stinging kicks. The winner of this matchup is positioned to shoot up the rankings. Both men are searching for the momentum to break through to stardom, and both are deserving.
It's a high stakes bout, you can catch it on Fox Sports 1 to kick off the main card at 10 PM EST. War Luque.
Main Photo
Embed from Getty Images