It's hard to believe the UFC isn't promoting Neymar Jr.'s bodyguard, but here we are. Despite the lack of fanfare, welterweight striker Nordine Taleb (14-4 MMA, 6-2 UFC) has quietly emerged as one of the most brilliant talents in the UFC ranks.
Taleb is graceful, stylish, and completely shredded. A brutal gentleman, quite frankly. To top it all off, he has an intimidating, prominent schnoz. To quote a member of Reddit's MMA subforum, "Taleb looks like somebody who'd be a foreign antagonist in a Liam Neeson film." Nordine the Nose, they'd call him.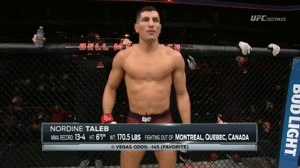 Get ready for a crash course in elegant violence. This is Fighter of Interest, where underrated fighters from an upcoming event are brought to light.
UFC Fight Night 130
Fighter of Interest: Nordine Taleb
A native of France, Nordine Taleb didn't begin training until he moved to Montreal. There he met Firas Zahabi, the mastermind behind elite Canadian fighters such as Georges St-Pierre. He convinced Nordine to come to the Tristar Gym, and the rest was history.
A muay thai practitioner by trade, Taleb has clearly picked up a few of the signature Tristar techniques. Most important are a springing, stiff jab and a comprehensive, powerful wrestling game. Nordine Taleb has also displayed fairly solid positional jiu jitsu, implementing butterfly guard and a leglock series to scramble and escape.
On the feet, Nordine is a persistent low kicker. Most coaches would tell you to first set up low kicks with your punches, which is certainly sound advice. Taleb prefers to time the steps of his opponent, landing when they plant their lead foot.
The Technician
Taleb is a careful striker, his patience allows him to pick his spots for the best opportunities to land. This quality has resulted in, statistically, some of the best striking in the UFC.
Continuing with the prelims, here's a first look at the numbers for Nordine Taleb (@TNT83MMA) and Claudio Silva.

Taleb has outstanding efficiency numbers across the board.#UFCLiverpool pic.twitter.com/RL4eXIhPZj

— MMA By The Numbers (@NumbersMMA) May 22, 2018
According to our friend MMA By the Numbers, Nordine is "top three among active UFC Welterweights in both significant strike accuracy and significant strike defense rates."
Most notably is the counter-fighting craft of the Frenchman. Taleb holds his hands by his chest, inviting the offense of his opponent. He will often lull them into a false sense of security by retreating backward in a straight line, before abruptly changing directions and launching a combination. We saw this early on, with his knockout of UFC veteran Pete Sell in the acclaimed Ring of Combat promotion.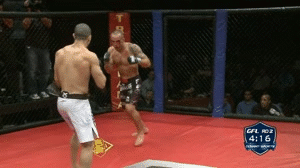 Over time Taleb has become more comfortable staying in mid-range, utilizing head movement and smaller, lateral maneuvers to get the best of his opponents.
Friends in High Places
After a 6-1 start capped off by the aforementioned Sell knockout, Taleb began a brief stint with Bellator MMA in 2012. He won his first two bouts before joining their Welterweight Contender tournament. He would lose a decision to a streaking DREAM and Strikeforce veteran, the dangerous Marius Zaromskis.
His strong performances and affiliation with the renowned Tristar Gym were enough to get Taleb a spot on The Ultimate Fighter Nations: Canada vs. Australia. A strong favorite to win the show, Nordine Taleb suffered a broken foot and was defeated by decision. In a rare turn, Taleb was quickly granted an opportunity but ultimately came up short to make it on The Ultimate Fighter 19.
Despite these setbacks, Nordine found himself in the finale of his season of TUF Nations against Team Australia's Vik Grujic.
A Clean Slate
A gritty, physical fighter, Vik Grujic relied on aggression and durability more so than finesse. It was a favorable stylistic matchup for the pinpoint counter striking of Nordine Taleb.
Indeed the wild, running combinations of Grujic hit nothing but air, more often than not.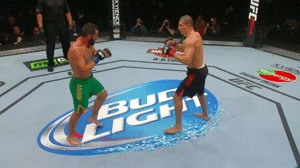 But after coming up short in his attempts at UFC success, Nordine was not comfortable risking a striking battle with such a determined brute. Instead, Taleb used Grujic's momentum to initiate his wrestling offense.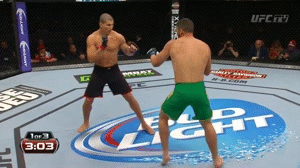 Perhaps he played it safe, but Nordine Taleb finally secured a spot on the UFC roster.
The Leech
Styles were bound to collide when Taleb met the Chinese brawler, Li Jingliang. Nicknamed "The Leech", Li uses aggressive, powerful boxing and a persistent wrestling attack to drain the life from his opponents. Li had gone 8-2 on the regional circuit with a win over future UFC fighter Luke Jumeau. He debuted successfully against a 7-0 wrestler in David Michaud.
Immediately we saw Li pressing forward, keeping his feet under him while throwing nasty, hooking combinations. In this bout, Taleb sported a new strategy and new facial hair. He repeatedly stuck the Leech with his jab, prompting an immediate response from Li each time.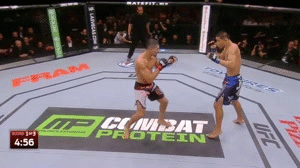 For an intelligent striker like Taleb, this is an incredibly easy read to make. Land the jab, create space, counter. Over, and over again. Nordine grew more comfortable in a matter of minutes, opening up with his counters and picking Li apart. When Li became too aggressive for his liking, Taleb quickly changed levels and blasted him off his feet.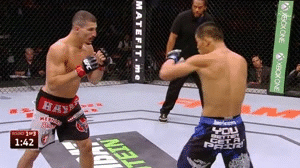 Late in the bout, Taleb showed off improved footwork; he slipped, rolled and cut angles on a bewildered Leech. Li Jingliang is known for his heart and ferocity. There were several attempts to rally for a comeback, but ultimately the counters and wrestling acumen of Nordine Taleb sealed his fate.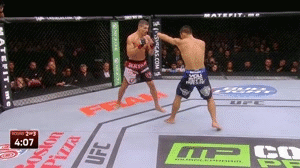 Jingliang would go on to capture the hearts of fans with four thrilling UFC knockout victories. That is, until he lost all of them by blatantly gouging the eyes of Jake Matthews.
Uncharted Waters
Canada's own Chris Clements was next on the hit list. A taekwondo black belt, Clements had gone 2-2 in the UFC thus far, his losses coming to an outstanding wrestler and grappler in Matt Riddle, and one of the best strikers in UFC welterweight history, Stephen "Wonderboy" Thompson.
Although Taleb was certainly the more polished pugilist between the two, there was a serious skill discrepancy in the wrestling department. Tristar athletes are consistently coached to exploit the weaknesses of their opponent.
Accordingly, the striker Nordine Taleb put on a wrestling clinic en route to a unanimous decision victory. The final misdirection takedown in this sequence is magnificent.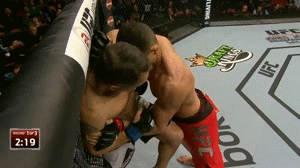 Three consecutive UFC victories warrants a new tier of competition. Nordine was matched with The Ultimate Fighter: Brazil middleweight champion Warlley Alves. A self-proclaimed three-time Brazilian kickboxing champion, Alves complements his striking with an opportunistic, dangerous grappling attack. A master of the guillotine choke, Alves now has seven finishes in that fashion.
At 8-0 and brimming with confidence after a victory over Alan Jouban, Alves would have been a handful for anyone. To raise the stakes, the fight was in Brazil, a notoriously hostile battlefield.
Previously, Taleb held a clear advantage in one aspect of mixed martial arts over each of his opponents. Alves presented challenges everywhere, and those were uncharted waters for Nordine.
Feeling the pressure, Taleb fired off strikes impatiently, eager to create space. The takedowns were not coming easily, naked kicks were caught, and Alves continued to goad on the frustrated Taleb.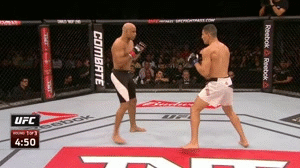 Despite tactical shortcomings, Taleb still found a lot of success. He was repeatedly able to utilize his technical Zahabi-trained jiu jitsu to create scrambles and escape from underneath Alves.
But Nordine was a bit too keen on gaining top position himself. After narrowly avoiding an Alves guillotine opportunity, Taleb changed levels against the cage for a double leg with his head on the outside. In an instant, Alves was on his neck, and the tap came soon after.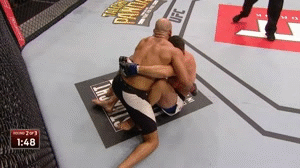 Alves would cap off his win streak with a gnarly guillotine finish over America's sweetheart, one Colby Covington.
Recover and Rebuild
Nordine Taleb would not fight again for over seven months. When he returned, it was against another credentialed veteran Brazilian, the former Jungle Fight champion Erick Silva.
Before Neil Magny snapped the first two-fight win streak of his UFC career, Silva had alternated wins and losses since his promotional debut in 2011. Silva had finished all six of his UFC victories, as well as earning six "Of the Night" bonuses.
As aggressive and dangerous on the ground as he is on the feet, Silva presented a similar challenge to Taleb as Alves had. However, the months off served Nordine well. For the first time, UFC fans saw him completely relaxed. Traditionally a wild blitzing fighter, Silva had taken a more calculated approach since discovering his issues with conditioning.
Calamity threatened early, as a misstep by Taleb appeared to severely twist his ankle. In all honesty, it was gross.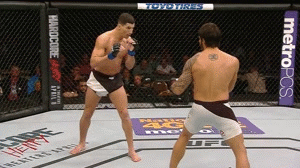 Either that was a negligible injury, or Taleb has tremendous mental fortitude, because he got right back to work as if nothing happened. Confronted with Taleb's patient outfighting, Silva was forced to throw power shots from the outside with no setup. It was after one such strike was countered, that Silva enraged fans around the world.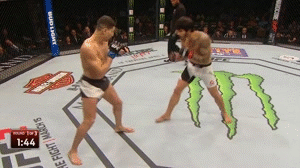 Appearing to suggest a sportsmanlike touch of gloves, Silva instead threw his best left hook when Nordine offered his hand. There's no other way to put it, Taleb was peeved. Silva had the audacity to try it again, mistaking Nordine's manners for stupidity.
Taleb proceeded to put on a clinic in counter striking. Silva grew increasingly aggressive, but could not touch the French matador.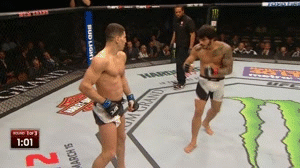 Immeasurably frustrated, Silva marched forward with his hands down. Taleb landed the same rear kick-rear hand combination repeatedly before catching a telegraphed Silva push kick. A swift right hand counter planted Silva face first on the canvas.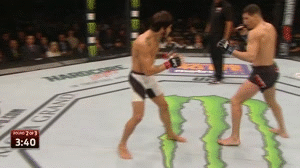 The Canadian crowd roared in approval, as Taleb and his corner went absolutely mad. Silva was dazed and confused, separated from his senses.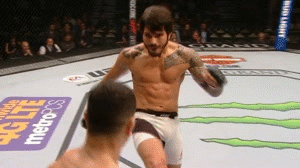 Silva took Taleb lightly, he disrespected him with cheap tactics, and he paid the price. Sometimes the universe is just.
Fighting Blind
Argentina's Santiago Ponzinibbio was riding a three-fight winning streak when he fought Nordine Taleb. Now a top ten ranked fighter, many believe Ponzinibbio is on a shortlist to challenge for the welterweight title.
An aggressive kickboxer, Ponzinibbio entered the bout 23-3, with 14 knockout victories. Defense, however, is not his strong suit. Some may be surprised in retrospect to learn that Taleb completely controlled the first round, landing clean strikes from the outside on a befuddled Ponzinibbio.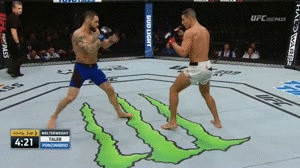 It was a great start for Taleb, Santiago did not possess the craft to enter on his strikes without telegraphing.
To start the second round, Ponzinibbio turned up the pressure. Taleb was sharp on his defense, but it was a different kind of fight. Unlike his fight with Warlley Alves and those prior, Nordine was willing to get on his offense to keep himself in the bout.
Ponzinibbio did not find all his answers with pressure, but there are other ways to slow down your opponent. With his fingers already outstretched, Ponzinibbio extended his arm to poke Taleb directly in the eyes.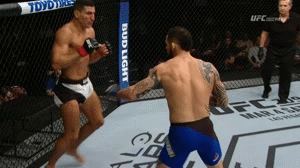 It's hard to believe it wasn't on purpose. Later we would see Ponzinibbio similarly flustered by the movement of Gunnar Nelson, finishing him shortly after a stiff poke in the eyes.
Of course, the referee said nothing. Nothing about the poke, and nothing about Ponzinibbio's outstretched fingers. Watch as Taleb's defense becomes slow and unresponsive after the poke, ultimately leading to a knockdown that seals the round.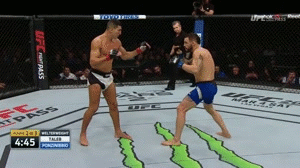 That problem was compounded by the facial damage caused by the now ever-present Ponzinibbio jab. Blinded in one eye and bleeding, Taleb relied on his offense and simultaneous counters for the first time in his UFC career.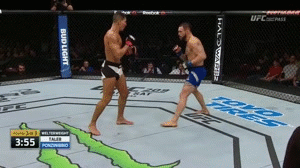 The third round was tightly contested, but ultimately the judges awarded the victory to Ponzinibbio. Santiago has now won six in a row, Nordine was inarguably his toughest test. You have to wonder what would have happened if the referee had done his job.
High-Risk Low Reward
In a quick turnaround, Taleb was scheduled to face the Viking warrior "Valhalla" Emil Weber Meek in Sweden, three months removed from his bout with Ponzinibbio. Two weeks before the bout, Meek pulled out due to injury. He was replaced by promotional newcomer Oliver Enkamp.
The young karateka had amassed a spotless 7-0 record, by a mix of knockouts and submissions. His future is bright, but it was too much too fast for the Swedish prospect.
Enkamp exhausted himself throwing powerful, flashy kicks. Taleb easily avoided these techniques and picked him apart on the counter. There was much to lose against a talented but unknown Enkamp, Taleb made sure to control the bout to an easy decision victory.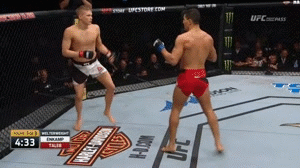 LAST FIGHT: Def. Danny Roberts via KO (Head Kick and Punch) at 0:59 of Round 1
British boxer Danny "Hot Chocolate" Roberts made waves as a fighter watch after a 3-1 start in the UFC, building to an impressive 14-2 overall record. A relatively technical, hard-nosed striker willing to exchange, Roberts is just as happy to catch a submission off of his back.
Taleb changed things up by pressuring early, backing Roberts to the cage. The fight didn't last long enough to be analyzed. "Hot Chocolate" was caught by the foot of a stiff Taleb head kick, wobbling him to the point where he had to grab the cage to stay standing.
Smelling blood, Nordine moved in and floored Roberts with what appeared to be a right hook turned forearm to the jaw.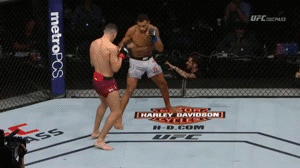 The spectacular knockout resulted in Taleb's first "Performance of the Night" bonus.
NEXT FIGHT: vs. Claudio Silva at UFC Fight Night 130
"Hannibal" Claudio Silva is an odd matchup for a streaking fighter such as Nordine Taleb. These two were first scheduled to fight at UFC 186 in 2015, before Silva pulled out with a broken foot.
Silva is a primarily a grappler, he's used his stifling wrestling game to control his first two UFC opponents in Brad Scott and the now ranked contender, Leon Edwards. Last we saw him, Silva was not much of a striker, the Edwards he faced was still largely a striker, making his UFC debut.
The elephant in the room is the 35-year-old Silva's layoff of nearly four years. Some say ring rust is mental, others swear you will not return the same man. Nordine Taleb is a nightmarish matchup for Silva's return. The team at Tristar Gym is more than capable of preparing Nordine for a grappling based attack, barring any huge errors, and his striking speaks for itself. At 36, Taleb appears to be in the best form of his career.
You can catch Nordine Taleb vs. Claudio Silva headlining the Fox Sports 1 preliminary card on Sunday, May 27th. War Taleb.
Main Photo
Embed from Getty Images