After a successful kickoff into the year of 2018, RIZIN Fighting Federation will be holding their second event, which is also the first event of 3 back to back events. RIZIN 11 on July 29th, RIZIN 12 on August 12th and RIZIN 13 on September 30th.
On May 29th, RIZIN held a joint press conference with Shoot Boxing promotion with Chairman Nobuyuki Sakakibara, GM Nobuhiko Takada and Shoot Boxing head Cesar Takeshi.
RIZIN 11 Fighter Quotes (Prochazka, Cappelozza, Asakura, & more!)
The fighters who made their appearances were all female athletes. RIZIN Super Atom weight queen Kanna Asakura, Shoot Boxing queen Rena Kubota, Deep JEWELS veteran Saori Ishioka, women's wrestling pioneer Miyuu Yamamoto and Shoot Boxing ace Mio Tsumura.
At this press conference, all six fighters from the newly announced RIZIN 11 fights had some things to say in their first public appearance after having the fights booked. Even Jiri Prochazka and Bruno Cappelozza – who were not present at the press conference – sent out their first statements since the fight announcement.
---
Kanna Asakura vs. RENA II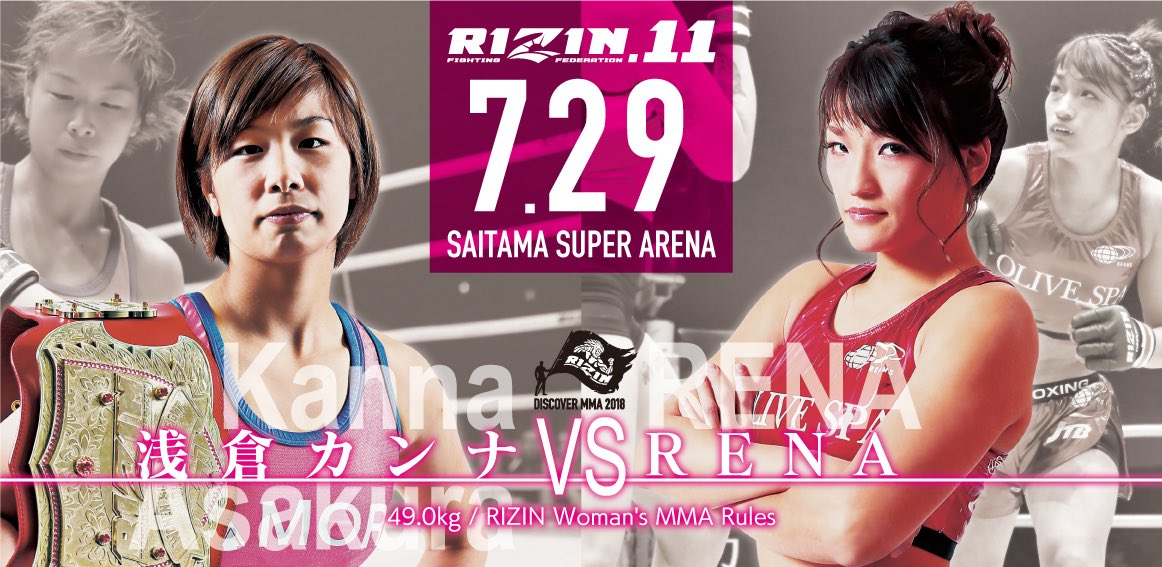 Kanna Asakura:
"I think we have both greatly evolved since our last meeting six months ago. And I really do believe this will be a completely different fight. I know how good of a fighter RENA truly is, and I know if I'm going up against her it's always going to be a tough fight. So regardless of how (her upcoming MMA fight in the Shoot Boxing organization) goes on July 6, I will be preparing for the best RENA possible when we fight on July 29. I will enter this fight feeling like a champion, and I'm looking to get the tap."
RENA:
"In our last fight, I couldn't get over the fact I was fighting a friend. Kanna was a friend. When we fought, she wasn't my opponent to beat, she was my friend. But, of course, I have learned the hard way that I was wrong to think like this. Now that the fight is set, I know she is my opponent. My mind is set so I will have no problem hurting her now. 
Jiri Prochazka vs. Bruno Cappelozza
Jiri Prochazka: 
"We were in the process of finalizing a fight against Mirko Cro Cop for this event, but it will unfortunately not happen because of his injury. I feel sorry for him, and I just wish him a speedy recovery. It would be an absolute honor to fight such a legend, so I do hope he recovers well. Bruno is a good fighter, but I want to prove myself and my qualities as a fighter. I don't have any other choice, I must try to defeat him in a devastating way."
Bruno Cappelozza:
"I have been hoping that I would eventually get another chance to fight in a RIZIN ring. My opponent is an excellent fighter, and I know I will have a great fight against him. I want to thank everyone involved who helped me get this opportunity to fight in one of the best MMA platforms in the world. I can only promise that I will give my best to everybody."
Saori Ishioka vs. Miyuu Yamamoto
Saori Ishioka: 
"I am honored to face such an elite athlete that I used to watch on TV. But this isn't wrestling. As far as MMA goes, I have a much longer career. I have been tested, so I would like to show that and beat her. I hope that together we inspire all the mothers out there with our fight. I want us to show that it's never too late to pursue your dream and passion. You don't have to give up just because you give birth and have children."
Miyuu Yamamoto:
"I have to put myself in an environment where I can just focus on my training, and I have felt like I have really gotten better since my last showing in October. Ishioka has much more experience in MMA than me, so I want to show my improvements and not make the same mistakes as I did in my previous losses."
---