Finally, the RIZIN 13 announcements have begun!
In the early hours of the morning on Friday, RIZIN held a press conference for their September 30 show, live in Tokyo. Here the RIZIN 13 card began to take shape.
Some big-time, blockbuster fights were made official. Both MMA bouts and RIZIN KICK match-ups. The previously reported Sunabe vs. Ochi match-up and Mikuru Asakura vs. Karshyga Dautbek match-up were confirmed.
The promotion seems to have abandoned the plans for RIZIN KICK Tournament… for now. These two big bouts will be one-offs.
---
---
RIZIN KICK
Tenshin Nasukawa vs. Kyoji Horiguchi
Wow. Just wow.
One of the biggest fights in this generation of Japanese combat sports has been booked. Under RIZIN KICK rules, the phenom Tenshin Nasukawa will take on elite flyweight mixed martial artist Kyoji Horiguchi.
In what will be his first fight since turning 20-years-old, Tenshin Nasukawa enters RIZIN 13 unbeaten in kickboxing at 26-0. From absolute showstoppers against Thai beasts in RISE to pure showcase bouts and RIZIN KICK Tournament Championships in RIZIN FF, Nasukawa is absolutely incredible to watch.
With a record of 25-2 in MMA with ten-straight wins, Kyoji Horiguchi will be making his kickboxing debut here. One of the best strikers in MMA, this is a fight Horiguchi has wanted. And he is beyond confident.
TAIGA vs. Kento Haraguchi
In a big, but very much welcome, surprise, it has been revealed that Taiga has signed with RIZIN.
Taiga is, by many, considered one of the most thrilling and exciting kickboxers in Japan. He has won multiple K-1 tournaments as well as the K-1 -60kg Title. He and his brother – fellow famous kickboxing Hiroya – are known for their aggressive style that sometimes leads to incredibly devastating knockouts.
Kento Haraguchi is a Japan Cup 2017 57kg Tournament Champion and ACCEL Featherweight Champion. He earned his place on the RIZIN roster by winning two fights in one night at RISE 125: Road to RIZIN KICK. The ACCEL veteran took out Momotaro and Miyazaki Shuto to win it all.
These were the sole kickboxing bouts announced.
MMA Additions
Daron Cruickshank vs. Diego Brandao
In an absolute barnburner at lightweight, "The Detroit Superstar" returns to take on "DB."
Daron Cruickshank (21-10, 1NC) enters with three-straight wins, with his most recent being one of the best of his career. At RIZIN 11, Cruickshank absolutely styled on another dangerous Brazilian in the form of Tom Santos. Showcasing beautiful violence enroute to a third-round elbow TKO.
Opposite him will be another Brazilian in the form of a far more seasoned Diego Brandao (23-12). A fellow UFC-veteran, Brandao joined RIZIN following a 2-1 highlight-riddled stint in Fight Nights Global. In his debut, he quickly took out Japanese legend Satoru Kitaoka with devastating hammerfists.
Jiri Prochazka vs. Jake Heun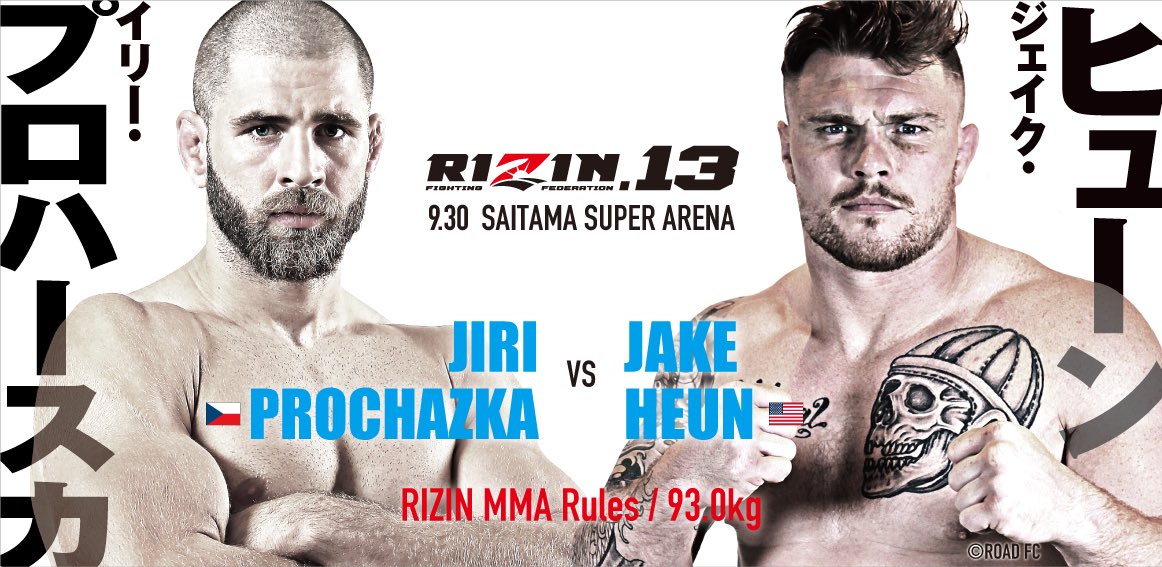 In an unexpected but fun light heavyweight scrap, "Denisa" will return to the RIZIN ring to take on "The Honey Bear" in Saitama.
25-year-old Czech star Jiri Prochazka (21-3-1) has been known to put on violence-filled performances during his seven-fight RIZIN stint. Since losing in the finals of RIZIN's 2015 Heavyweight Grand-Prix to King Mo, Prochazka has been unstoppable.
He has won five straight, and most recently took out Brazilian slugger Bruno Cappelozza in 85-seconds at RIZIN 11, this after being rocked himself.
Jake Heun (11-7) is a two-season TUF veteran out of Alaska. The wrestler was a WSOF mainstay when they were around, but most recently found himself competing in PFL's regular season. Making his debut in June, and losing to Alex Nicholson by knockout.
Andy Nguyen vs. Miyuu Yamamoto II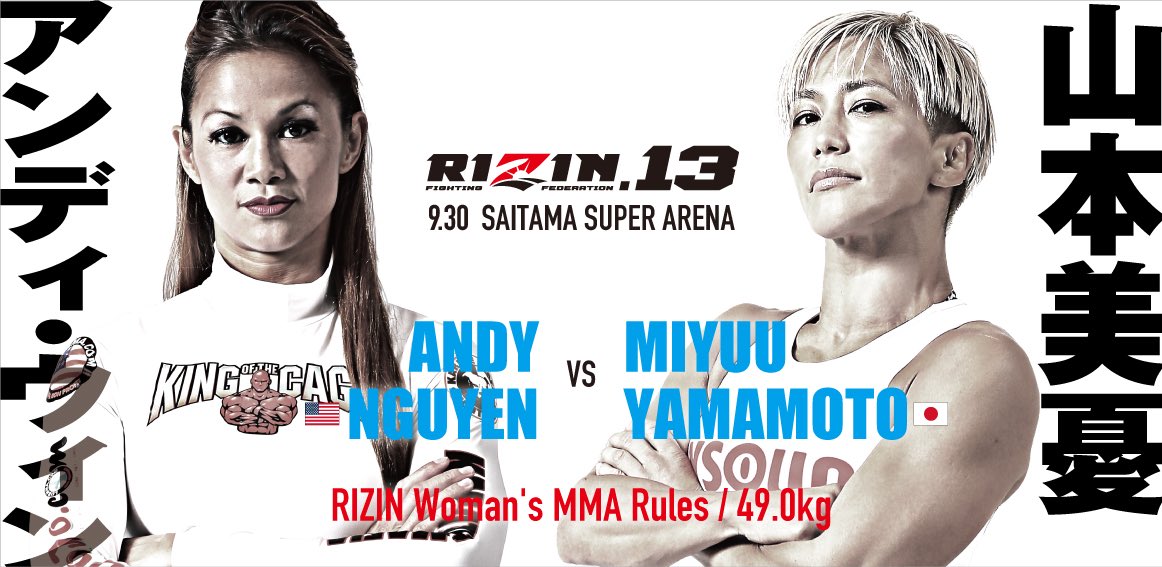 In another surprising addition, we get an atomweight rematch!
Andy "The CrAsian" Nguyen (6-6) returns to RIZIN after losing to RENA in the quarter-finals of last year's Super Atomweight Grand-Prix. Since then, she has gone 1-1 in King of the Cage, winning her most recent out against Cassie Robb.
44-year-old standout wrestler fighting out of KRAZY BEE, fan-favorite Miyuu Yamamoto (2-3) is looking for a repeat of her impressive showing vs. Saori Ishioka at RIZIN 11, a bout where she was reliant and successful with her boxing throughout.
Yamamoto will look to avenge her 2016 first-round armbar loss to the former KOTC Champion. This brought Yamamoto's record to 0-2.
Yusaku Nakamura vs. Manel Kape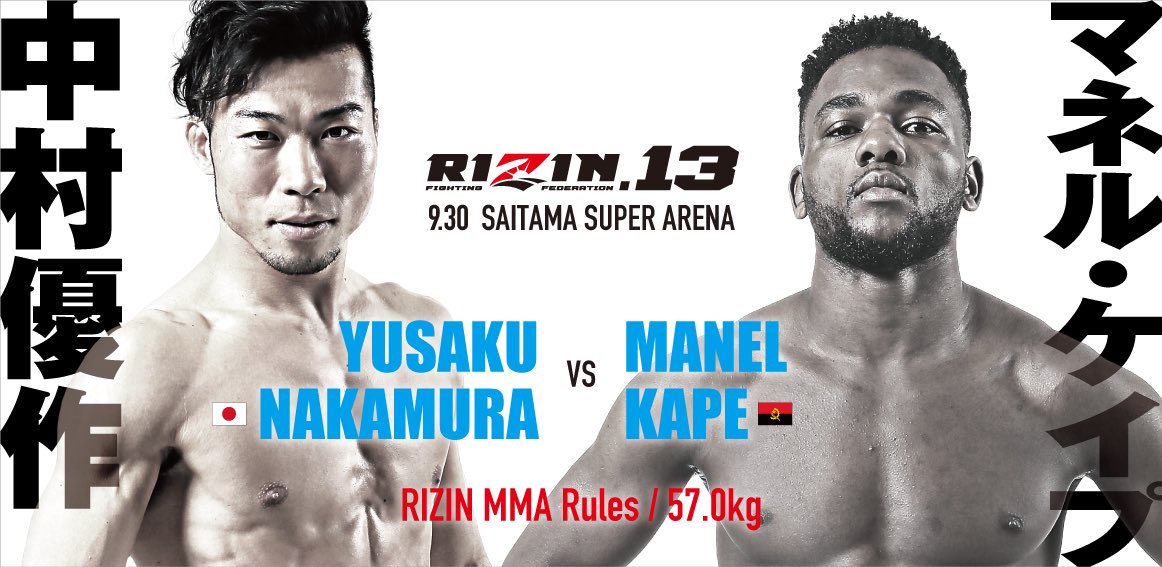 Finally, after being fed to Tenshin Nasukawa under needless kickboxing rules at RIZIN 10, Yusaku Nakamura is set to make his proper mixed martial arts debut with RIZIN against Manel Kape.
A proud rep of Team Alpha Male Japan, 32-year-old Yusaku Nakamura (14-5-1) is a former DEEP Cage Impact Champion. After starting his career as a bantamweight with mixed results, Nakamura dropped to flyweight in 2015. This is where his career began to take off.
Opposite him, none other than brash Angolan killer, Manel Kape (11-3). After tearing up the regional scene in Portugal, the 24-year-old took his talents to RIZIN, shocking Erson Yamamoto in just over a minute upon his debut. This part of the ongoing Bantamweight Grand-Prix that saw him defeat Ian McCall before being submitted by Kyoji Horiguchi in the semi-finals.
Kape returned at RIZIN 10 and went to war with Kai Asakura, losing a controversial split decision.
Kai Asakura vs. Topnoi Tiger Muay Thai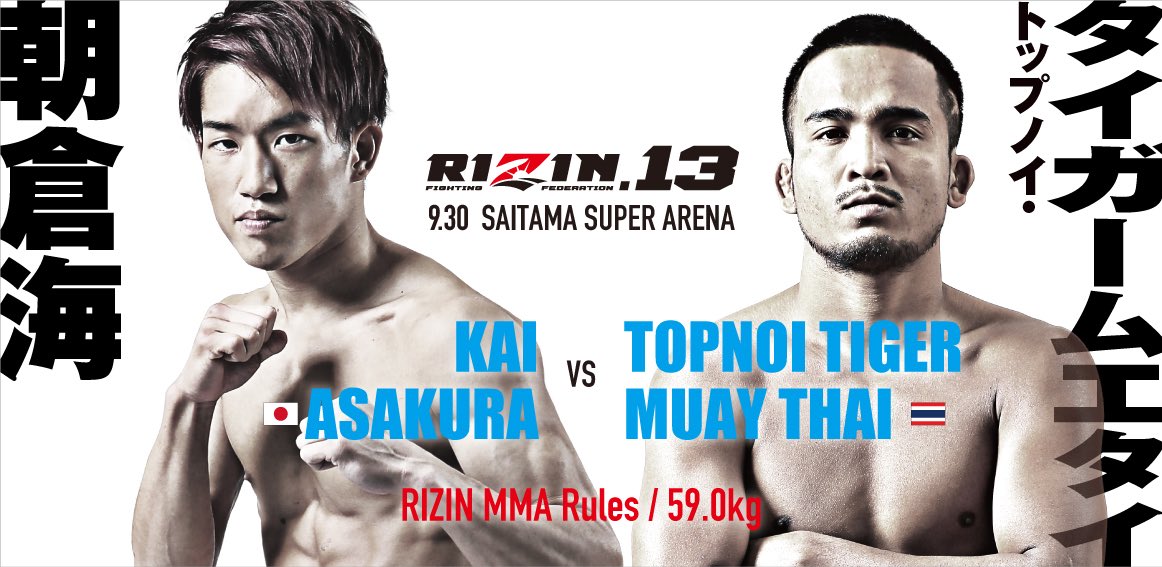 Speaking of Kai Asakura, he gets the opponent he was supposed to face at RIZIN 11 before unfortunately having to pull out due to injury!
Brother of Mikuru – who will also be competing on this card – Kai Asakura (10-1) is a veteran of The Outsider who has dazzled RIZIN fans since debuting late last year. After a 1-1 run in ROAD FC, Asakura violently stopped Kizaemon Saiga in his promotional debut. He, of course, followed this up with the war and victory against Manel Kape at RIZIN 10.
Topnoi Tiger Muay Thai (6-1) was originally slated to face Kai Asakura at RIZIN 11 but wound up facing Taadaki Yamamoto instead. The fight lasted 66-seconds, but man was it ever exciting. The two exchanged big knockdowns immediately before Topnoi slept "Onibozu" in the corner with a nasty barrage followed by a soccer kick. This was part of his current six-fight win streak, five of which came by way of knockout.
Mirko Cro Cop vs. Roque Martinez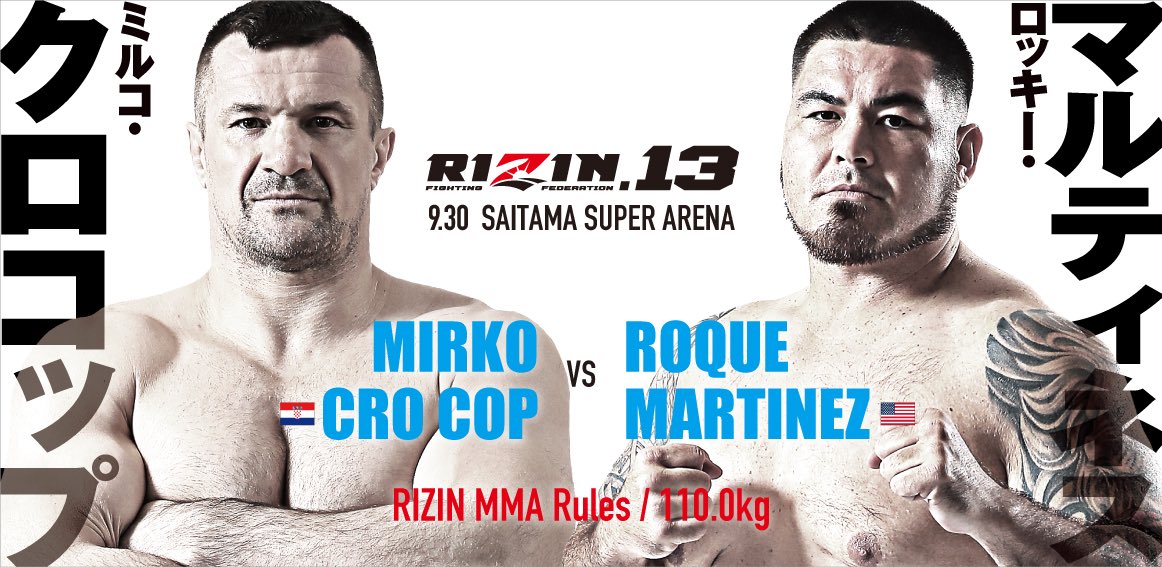 Lasty, a wild heavyweight collision between a legend and a Guam slugger.
One of the biggest legend in combat sports history, the great Mirko Cro Cop (36-11-2, 1NC) competes in RIZIN for the sixth time. Despite being 43-years-old, and having a career that dates back to the mid-1990's, Cro Cop is on the best run of his career right now.
He has won eight straight, all via finish. This includes bouts in the UFC and RIZIN. In 2016, Cro Cop added the RIZIN Openweight Grand-Prix Championship to a mantle that includes PRIDE Tournament Titles and K-1 Titles. He did so by defeating King Mo, Baruto, and Amir Aliakbari in a single weekend.
After defeat Tsuyoshi Kosaka late last year, Cro Cop was set to return at RIZIN 11 before the injury bug struck.
Roque Martinez (12-3-2) is a Guam-American currently riding the same streak as Cro Cop with eight-straight wins. Unlike Cro Cop, however, Martinez has seen the judges scorecards in five of those bouts.
He is the current DEEP Megaton Champion with a 2-0 record inside the RIZIN ring. Making quick work of another kickboxing legend, Jerome Le Banner, late last year. Before taking out "Samurai Mark Hunt" Kiyoshi Kuwabara in an absolute war earlier this month at RIZIN 12.
---
RIZIN 13 is slated to go down on September 30, live from the Saitama Super Arena.
Tenshin Nasukawa vs. Kyoji Horiguchi
Mirko Cro Cop vs. Roque Martinez
Ayaka Hamasaki vs. Mina Kurobe
Taiga vs. Kento Haraguchi
Daron Cruickshank vs. Diego Brandao
Mitsuhisa Sunabe vs. Haruo Ochi
Kai Asakura vs. Topnoi tiger Muay Thai
Mikuru Asakura vs. Karshyga Dautbek
Yusaku Nakamura vs. Manel Kape
Jiri Prochazka vs. Jake Heun
Miyuu Yamamoto vs. Andy Nguyen II
*Bout Order TBA, More Bouts TBA