We are just a few weeks away from arguably the best fight card RIZIN Fighting Federation has put on to date; RIZIN 13.
From top to bottom, the card features some legends and many phenoms, all of which are in an intriguing match-up.
You have your Kyoji Horiguchi vs. Tenshin Nasukawa's, Mirko Cro Cop vs. Roque Martinez's, Daron Cruickshank vs. Diego Brandao's. These are incredible contests on-paper, but they are getting all the attention they deserve. Jiri Prochazka vs. Jake Heun and Ayaka Hamasaki vs. Mina Kurobe also seem to be doing just fine in terms of fan attention.
But considering the card, RIZIN 13, as of now, features eleven fights, there are many that are flying under-the-radar.
---
---
RIZIN 13 Under-The-Radar Fights
1. Kai Asakura vs. Topnoi Tiger Muay Thai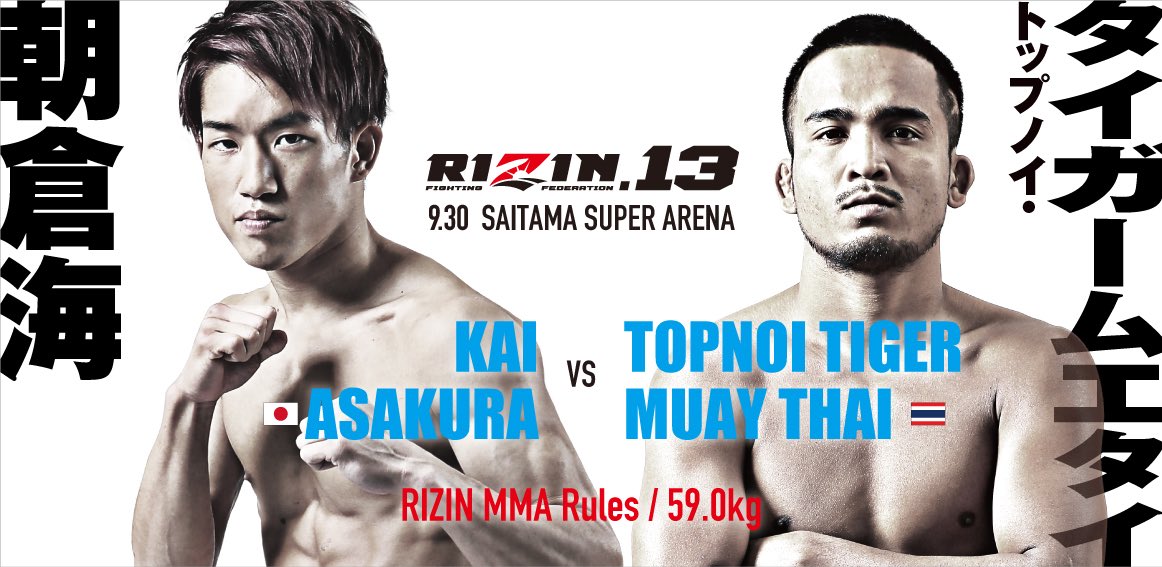 It doesn't get much more obvious than this. If you like violence, if you like aggressive striking, and if you like guys who constantly seek the finish; this right here is your fight to watch.
Kai Asakura (10-1) is one half of the violent powerhouse Asakura brother tandem along with Mikuru Asakura – who you will see later on this list.
As a former champion in the famed The Outsider promotion in Japan, it was no secret what kind of fighter Asakura was when he signed with RIZIN in 2017. He entered the organization with bouts in The Outsider, ROAD FC, and DEEP, possessing a record of 8-1 with eight finishes and six knockouts.
Since entering the RIZIN ranks, nothing has changed. His beautifully violent punch combinations are still on full display at all times, as evident in his two outings in the company.
Asakura debuted against Kizaemon Saiga and, simply put, starched the opposition in devastating fashion. Most recently at RIZIN 10, we saw Asakura go the distance for the first time in his career, he was victorious in an absolute barn-burner vs. Manel Kape.
With Topnoi Tiger Muay Thai (6-1), you have almost a mirror image of Asakura in many ways. The two were originally slated to fight at RIZIN 11 before Asakura sadly had to pull out due to injury.
Thanks to this, Topnoi had to fight a Japanese veteran in the form of Tadaaki "Onibozu" Yamamoto. The fight only lasted one minute, but it was a wild brawl while it lasted. The two exchanged knockdowns before Topnoi slept Onibozu with a crushing blow in the corner.
This was Topnoi's first fight on an international scale, and he impressed.
Prior to this RIZIN debut, he was tearing it up on the regional scene, winning five-straight since losing his MMA debut in 2016. This run includes a 10-second knockout in Full Metal Dojo.
This fight is a fantastic one. And if you're a fan of combat sports – and the craziness that sometimes comes with it – you need to strap in. You need to watch these two go at it.
2. Mitsuhisa Sunabe vs. Haruo Ochi
On the RIZIN 13 fight card, few fights have the importance of this strawweight bout.
It is champion vs. champion here, as title-holders from two of Japan's biggest promotions square-off on a monumental Saitama Super Arena show with the whole world watching.
Reigning, defending Strawweight King of Pancrase, Mitsuhisa Sunabe (29-7-4) is legitimately one of the best fighters in Japan currently. And this has been the case for a long time.
Fighting out of Naha-shi, Okinawa, Japan, he has been actively competing since 2001, but really began to hit his stride as a martial artist in late 2011. Since losing to Shimizu in June of that year, Sunabe has won 16-straight. All of which come under the Pancrase banner. This includes wins over Tatsuya So, Takafumi Ito, Daichi Kitaka, and most recently Shinya Murofushi.
Sunabe has competed in RIZIN in the past. But he was one of many examples of great mixed martial arts fighters being put into kickboxing bouts for no reason. He was part of a kickboxing tournament – along with other MMA fighters.
He possesses good striking, but not K1-level striking. And where he truly shines is the grappling department. Thankfully, RIZIN fans will finally get to see Sunabe in his element. And they're in for a treat. Keep in mind, Sunabe only recently seems to hit his true prime as a mixed martial artist… despite being 39-years-old.
Opposite the King of Pancrase will be DEEP Strawweight Champion, 34-year-old Haruo Ochi (17-7-2) of Paraestra Ehime.
Following a long run that saw him exchange wins and losses while defeating the likes of Masakazu Imanari, we saw Ochi become DEEP Champion just last year. This part of a current five-fight win streak for him.
Ochi, sometimes fittingly referred to as "The Apeman," has spent his entire career fighting for DEEP and Shooto, and his current run features a title win against Kanta Sato and a title defense against Yuya Shibata.
Both men are well-rounded competitors, and with this being title vs. title, between two guys who are on the best and most pivotal runs of their respective careers, it is must-watch.
Haruo Ochi has vowed to give Sunabe his DEEP title if the 39-year-old defeats him. And he's hoping Mitsuhisa Sunabe will do the same with his Pancrase title if roles are reversed.
3. Taiga vs. Kento Haraguchi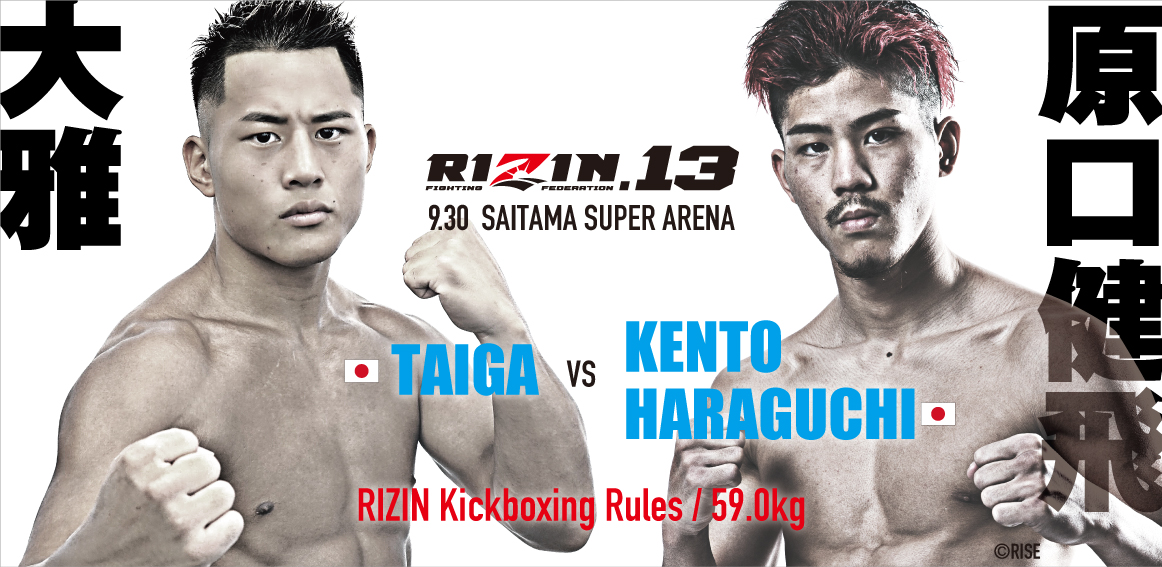 One of the most thrilling fighters in K-1, Taiga has signed with RIZIN. And his debut, much like all of his other fights, is a must-watch.
Considered by many to be one of the most exciting kickboxers in Japan, Taiga is beloved by fans of combat sports. He has won multiple K-1 tournaments, as well as the K-1 -60kg Title. He and his brother – fellow fan-favorite kickboxer Hiroya – are known for their aggressive style that has lead to some incredible finishes for both.
Taiga is perhaps most known for his absolute war with kickboxing's bantamweight king; Takeru. He didn't win that night, but it was a performance that earned him life-long fans regardless. In fact, if you want a reason to be excited for his RIZIN debut, just go watch that. It's one of the best kickboxing fights you'll see.
In his RIZIN debut, Taiga faces a fighter who truly earned the right at this opportunity.
Kento Haraguchi is a Japan Cup 2017 57kg Tournament Champion, and an ACCEL title-holder. He earned a spot on the RIZIN roster earlier this year competing in RISE. At RISE 125: Road to RIZIN KICK, Haraguchi took part in a four-man, one-night kickboxing tournament with a RIZIN contract on the line. He took out Momotaro and Miyazaki Shuto to win it all.
Haraguchi has admitted that Taiga is one of his favorite fighters, but still vows to knock him out!
4. Mikuru Asakura vs. Karshyga Dautbek
After making a phenomenal impression in his promotional debut, two-division The Outsider title-holder Mikuru Asakura is set to return to the ring against a devastating Kazakh.
Much like brother Kai, Mikuru Asakura (7-1, 1NC) is an impressive young gun in the sport at just 25-years-old. But his lack of experience is not evident when he steps into a ring. After a dominant run in The Outsider that saw him win titles in two divisions, and going 1-1 in ROAD FC, Asakura made his RIZIN Fighting Federation debut in August at RIZIN 12.
He was immediately thrown to the elite of Japan, facing veteran grappling ace Hatsu Hioki. Despite the massive jump in competition, Mikuru downed the 16-year vet with a left head kick early in the fight to win by brutal knockout.
Asakura admitted being disappointed by the lack-of-name in Dautbek as a next opponent, but the gameplan doesn't change.
Karshyga "Berkut" Dautbek (6-1) is unknown to the masses but is quite the impressive prospect when you dig a little deeper. The 24-year-old featherweight finisher has competed in Alash Pride FC primarily, as well as a one-off in ACB.
With six knockout wins to his name, five of which come in the very first round, he fought very recently much like Asakura. Back on August 4, Dautbek picked up a quick KO win at Octagon Selection: Vol 1. Check out his highlight to see what "Berkut" is capable of.
To perhaps add some more fuel to the fire that is Dautbek's desire to impress in his debut, he will also be the first fighter to represent Kazakhstan in RIZIN Fighting Federation history.
5. Yusaku Nakamura vs. Manel Kape
Lastly, let's add one more should-be banger to this list.
Yusaku Nakamura will return to the RIZIN ring – this time under MMA rules and not under needless kickboxing rules vs. Nasukawa – to face an equally exciting fighter in Manel Kape.
At 32-years-old, Yusaku Nakamura (14-5-1) is a proud rep of Team Alpha Male Japan and a former DEEP Cage Impact Champion. After starting his career as a bantamweight with varying levels of results, Nakamura dropped to flyweight in 2015 to really kickstart his mixed martial arts career.
It has been one year since Nakamura competed in MMA, and this was an unfortunate loss. But prior to that defeat, he had won ten-straight. This includes knockout wins over Kana Hyatt and Hiroshi Nakamura.
After losing to Tenshin Nasukawa under silly kickboxing rules last time out, Nakamura returns to the ring with no easy task ahead of him. He faces the brash Angolan hitter Manel Kape.
Perhaps in a sign of disrespect, Nakamura already has his sights set on RIZIN 14 and a potential fight with Kai Asakura.
After tearing it up on the regional scene in Portugal, the 24-year-old Manel Kape (11-3) took his talents to RIZIN and made his presence known immediately. He shocked Erson Yamamoto in no time upon making his debut, advancing in RIZIN's Bantamweight Grand-Prix.
His time in the aforementioned Grand-Prix saw him defeat UFC veteran Ian McCall as well as truly test Kyoji Horiguchi before ultimately being submitted in the semi-finals. Kape returned at RIZIN 10 and went to war with Kai Asakura, losing a controversial split decision call.
He desperately wants that win back, and could not be more confident heading into his return vs. Nakamura.
---
---
To get an idea of the depth to this RIZIN 13 fight card, this is just the tip of the iceberg.
As mentioned at the beginning of this article, you still have Tenshin Nasukawa, Kyoji Horiguchi, Mirko Cro Cop, Ayaka Hamasaki, Daron Cruickshank, and Jiri Prochazka, among others!
But this is all without mentioning the highly-intriguing atomweight rematch between Miyuu Yamamoto and Andy Nguyen! The card from top-to-bottom is absolutely loaded.