There is so much to love about Chan Sung Jung, besides the greatest nickname in MMA. In the WEC (RIP) the "Korean Zombie" earned the hearts of fans around the world with his wild swinging and negligence of defense.
Mirroring his manner of striking, KZ employs a high-paced, attacking style on the ground. It is not a stretch to say his grappling skills have been significantly more polished than his stand up, for most of his career at least. The Zombie did slip and punish with accuracy in his win over Dennis Bermudez, he appears to truly be coming into his own as a counter-puncher.
Ahead of his bout with Yair Rodriguez, reflect on the gnarly MMA grappling of the Korean Zombie.
Korean Zombie MMA Grappling GIFs and Discussion
-vs. Shintaro Ishiwatari-
Jung and future standout bantamweight and RIZIN GP finalist Shintaro Ishiwatari met early in each of their careers. It was the first round of the Sengoku featherweight grand prix. The tournament was highlighted by a sturdy field, Masanori Kanehara, Nam Phan, Michihiro Omigawa, and Hatsu Hioki were the more prominent names.
After dropping the more refined striker, KZ went to work on top from side control. As Ishiwatari pushed off to create space, Jung turned his hips out and isolated the pushing arm, stepping over to trap him in a crucifix position.
The mounted crucifix is especially effective in MMA when elbows are involved. Japanese MMA is the truth, the occasional "no elbow" rules are its solitary flaw.
After a later flurry, a defending Ishiwatari exposed his back. KZ caught the seatbelt grip and hopped up with his hooks in. The Zombie quickly switched his over-hand to the choke, sinking it in as Ishiwatari crashed to the mat.
-vs. Masanori Kanehara-
In the opening round, Kanehara took out a 30-fight veteran in Jong-man Kim, a solid journeyman with wins over Hatsu Hioki and Tae Hyun Bang.
Throughout the bout, Kanehara repeatedly shot KZ into the ropes, getting takedowns with his second attack where he could put his arms through and lock hands on doubles.
But the Zombie was a complete wolverine from bottom, slashing with nasty, swiping hammerfirsts and nonstop attacks.
Early on, he looked for the kimura bump sweep and fell back into an omoplata. As Kanehara tired, he became more desperate to maintain top position. The Zombie was now stuffing his shots, and blasting knees to the body in retaliation. Kanehara pressured forward recklessly after any separation created by KZ, leaving him vulnerable to the triangle.
Unfortunately, Kanehara's early wrestling dominance and long periods of top control were enough for the judges.
Kanehara would lose to Hatsu Hioki in the finals, but went on to defeat Omigawa, KID Yamamoto (Rest in peace), and Alex Caceres. In my opinion, his most noteworthy achievement is taking Rani Yahya to a split decision.
-vs. Matt Jaggers-
Matt Jaggers lost to every name fighter he met in MMA. But he did match up relatively well with the Korean Zombie, considering his wrestling pedigree. Jaggers reached the state championships every year in Indiana, placing 5th, 7th, and 2nd. He only suffered five total losses in his last three seasons.
As far as wrestling states go, Indiana is in the respectable second-tier. It does not compare to competition in the Rust Belt, but it's certainly no Louisiana. Predictably, Jaggers was able to hit his doubles on the Korean Zombie.
Jaggers appeared to be strong, and employed a wide base. Like Kanehara, he was able to press forward and post to maintain his position.
The Korean Zombie loved to go for the pendulum sweep in Sengoku. While controlling a wrist on his left side, KZ would shrimp to his right, then swing his hips and legs back to the left. It's a useful technique against top players who are eager to recover pressure.
It can also be the perfect set up for armbars and triangles.
On the second attempt, Jaggers posted out his right hand on the mat. The Zombie was in prime position to throw his already swinging left leg over the arm and across Jaggers' back.
-vs. Leonard Garcia-
It's hard to pin down one solitary quality Leonard Garcia is known for. He won many split decisions in fights where he mostly swung at air. His chin was unbelievable, and his power was good enough that he fell in love with it.
The best thing about Leonard Garcia is that he was a Jackson Wink fighter during their golden age, but he had no desire or patience to follow a gameplan. Due to two consecutive stoppage wins in 2008, Garcia became obsessed with the knockout. He didn't finish anyone else for five years.
The first meeting between Garcia and the Korean Zombie has long been considered one of the most exciting fights of all time. That is a combination of a high pace, and zero regard for defense from either man.
There was one cool grappling moment in the first fight.
Timing a loaded hook (one of two punches he knows about) by Garcia, KZ ducked (head movement!) and shrugged off to the back.
Just like against Ishiwatari, he immediately caught the seatbelt grip and hopped on board. It appears that Garcia was attempting to shake him off in transition by going to the tripod, but the momentum of KZ's weight caused him to somersault forward, with his hooks still in, and grip secure.
It looked neat.
-vs. Leonard Garcia (2)-
After totally getting robbed in their first fight, the Zombie had a chance at redemption against Garcia in the UFC.
Both men attempted to use "strategy" in the rematch. For Garcia, this meant throwing kicks from the outside and to be a bit more tentative. For Chan Sung Jung, he made an active effort to pursue grappling situations.
Late in the first, the Zombie jabbed, level changed and drove, reaching for a double. When he touched Garcia's legs, he slid back up while stepping his right leg outside Leonard's left.
Using Garcia's retreat off the shot attempt, KZ was able to easily push and sweep him to his back.
I'm not so smart, so I'll call the position the Zombie ended up in, "stacked north south". Garcia attempted to roll to his hip and attack a single leg for a sweep or to stand with the takedown. In doing so, he completely exposed his left arm, Jung hooked it and attacked.
Thus far we've seen layered setups for sweeps, takedowns, and submissions from the Korean Zombie. He's excellent at chaining attempts together, playing off his opponent's reactions. He is also a well-schooled ground and pound artist.
While attacking a choke, KZ made great use of the front headlock position to attack with knees. The threat of the choke and further damage pressured Garcia to bail out and attempt to recover guard. The Korean Zombie is effective at opening up passing opportunities with his striking from stacked positions. Trapping Garcia's head against the cage, KZ nailed him with pinpoint strikes.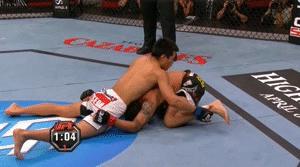 Garcia turned to turtle up but was trapped in side control. The Zombie then demonstrated a beautiful knee on belly pass into mount, and then back control with both hooks in. KZ's striking was the catalyst for all of his major passing opportunities.
Chan Sung Jung found himself on top again after Garcia slipped. Both men were throwing head kicks simultaneously, because of course they were.
Everyone knows this fight for the twister, but it was an absolute mauling up to that point.
From stacked guard, KZ used his full body to lengthen beautiful, slicing elbows. Garcia gave up his back in desperation.
My favorite part of the Korean Zombie attacking a twister is how natural it appeared to be for him. As soon as he got the right feel from Garcia, he was moving through steps.
Observe.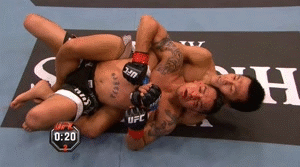 The twister is performed cross body, the attacker needs to isolate one leg from back control and figure four. To start, KZ only had the hook on the right leg, but in the transition, as Garcia turned toward the mat, he simultaneously removed his original hook and reinforced the new one.
The cross-wrist, or a claw grip on the arm, usually serves as control on the right side. Garcia actually helped KZ out here, gripping the hand for him. This was unfortunate, as Garcia could have continued to turn and went belly down. To be fair, he thought he was defending a RNC, not a twister.
With the grip secure, KZ was able to lean back and create space, pulling Garcia's right arm behind his own head. From there, he locked his hands and cranked.
Twister progenitor Eddie Bravo (technically he incorporated the wrestler's guillotine into jiu jitsu) has a nice, in-depth breakdown of what went down.
-vs. Dustin Poirier-
We all know what kind of fighter Dustin Poirier is today. He has been a different animal since moving up to 155. When he met the Korean Zombie in 2012, he was only three years into his pro career. At the time, submission ace (and GARBAGE HUMAN) Josh Grispi was 14-1 and pegged for a title shot. Poirier beat him down and stole his momentum, and after winning three straight, including a mounted triangle armbar against a green Max Holloway, he was in position for a number one contender bout.
While 2012, 145-pound Poirier had a diverse skill set and was still mean as hell, he wasn't the smartest fighter. Throughout the fight, he had his kicks caught by the Zombie, but kept going to a slow, switch low kick with no setup.
KZ did a fantastic job timing the kick and running Dustin off of his feet, but Poirier was able to sit up, get his underhook and scramble to a single leg.
The Zombie also hit a beautiful outside trip from the bodylock. It appears that KZ had already hooked the leg and was turning for the trip before he switched his grip. This is likely what caught Poirier off guard and allowed a clean takedown into side control.
After catching the same kick, KZ showed off some sneaky ground striking setups. He faked to reach back and push on the leg to break guard, then quickly turned back with a nasty hook.
My favorite part of the fight was the Zombie's lovely butterfly sweep counter to a Poirier double leg. It was a beautiful sequence, after landing a flying knee, KZ went HAM from the double collar tie. Poirier timed a knee to shoot through.
Chan Sung Jung grabbed double overhooks high on the armpit, and used the momentum of the shot to sit back, pull, and use his butterfly hooks to elevate Poirier straight over into mount.
The classic armbar setup from mount in MMA is when your opponent reaches out straight to defend. KZ chained the armbar into a triangle, back into an armbar. Poirier was able to survive by forcing KZ to finish belly down, but the attacks did not stop.
After hitting another beautiful outside trip from the bodylock, KZ went to the mounted crucifix we first saw against Ishiwatari.
Dustin did a great job pushing off on the cage to escape. Neat!
Gassed and hurt by a flying knee, Poirier took a desperate shot and ended up extended underneath the Zombie. From the front headlock, KZ walked to an angle and caught a grip through the arm, and outside of the neck of Dustin Poirier.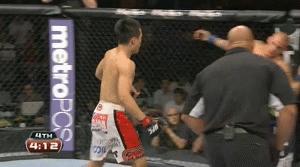 After switching to the bicep grip, he used the choke to sit Poirier to his side, crunching Dustin's head down deeper into the choke. Sometimes you'll see grapplers go to the hip walk their feet towards their opponent to further move them into the choke, but the angle was already perfect and the choke was deep.
-vs. Jose Aldo-
Korean Zombie fans will be quick to make this observation about his title shot against Jose Aldo: He was coming on strong and would have won if not for the injury, Aldo was gassing.
While it's true that KZ was coming on strong, he was having little to no success actually landing anything on the second greatest fighter of all-time. And that's okay, guys.
But he did do this.
After backing up Aldo with strikes, KZ went for the bicycle knee, or double flying knee. Aldo slips the flying knee, and looks to catch KZ in mid-air (as he did earlier in the fight).
But KZ is such a fluid grappler, he is already scrambling while he's flying through the air. While falling over Aldo's back, he grabs the wrist (taking away the post) with one hand, and hooks the near leg with the other.
The momentum from his fall and the lack of post left Aldo no choice but to be swept on to his head.
What a brilliant maneuver.
Yair Rodriguez
It's been a long time since we've seen the Zombie grapple in an MMA fight. If there's one hole Yair Rodriguez has demonstrated over time, it's his willingness to play off his back, and susceptibility to takedowns.
Look for Chan Sung Jung to ground Rodriguez early from the bodylock, and ground and pound from stacked guard à la Frankie Edgar.
Regardless, War Zombie.
If you like strong Korean grapplers, check out my guy Kyung Ho Kang. According to Jung, "he beats me up."
Main Photo
Embed from Getty Images