In April during Wrestlemania weekend, many thought that Josh Barnett's Bloodsport was the standout wrestling show of the week. Put on by top independent promotion, Game Changer Wrestling, this isn't your typical pro wrestling show with wacky characters, 20 minute long promos, and acrobats jumping all over the place. The ring has no ropes and matches can only in end by knockout, submission, or time limit draw. Most of the wrestlers booked have an MMA, kickboxing, jiu-jitsu, or some other martial arts background. If you want to do some homework to see what you can expect, check out this highlight video from the first Josh Barnett's Bloodsport. Barnett brings even more action with Bloodsport 2  on September 14.
I also recommend checking out UWFi which can bee streamed on Amazon Prime here. What can you expect? You can expect hard-hitting, visceral violence between combatants that are looking to show off why they are the best wrestlers in the world.
Bring on Bloodsport 2
Erik Hammer vs. JR Kratos:
Erik Hammer probably has the most interesting career trajectory of any of the competitors on this show. A training partner of Josh Barnett, he was fast-tracked to Japan to start a pro wrestling career. He wrestled for Antonio Inoki's IGF promotion where he had notable wins over Alexander Otsuka and former Strikeforce fighter Daniel Puder. He is a massive guy at 6'6, 301 pounds. Here is a video of him taken by Barnett training for a match he had.
He also has a background in catch wrestling. He made it to the semi-finals of the Catch Wrestling World Championship in 2018.
He has said he is looking to take home a limb of Kratos. Look for Hammer to use size and speed to take Kratos to the ground. From there, if Hammer can lock in a leg lock, foot lock, armbar, or rear-naked choke, he plans on taking a body part home as a trophy.
JR Kratos made his east coast debut at Bloodsport in April and made a hard-hitting impact. He knocked out opponent Simon Grimm with a devasting powerbomb and diving elbow.
https://gph.is/g/46goVX8
He's big, he's mean, and he's strong. In addition to his size, he has speed and pinpoint accuracy with his offense. He's going to want to look for a knockout, preferably standing. If it does go to the ground, we could see a repeat of what happened in April. He should be game to defend against any submission attempts by his opponent.
Prediction: JR Kratos by knockout. Hammer hasn't been in the ring a while so he might have some rust going in. Kratos will not be afraid to slam his opponent Rampage style if it needs to come to that.
Matt Makowski vs. Rory Gulak:
"Weapon X" Matt Makowski is a former MMA fighter who retired after a 6-2 record. He has wins over Bellator Kickboxing's Joe Schilling and Nick Serra, brother of Matt Serra. The latter being quite infamous after Serra refused to get up from the canvas after receiving multiple devasting leg kicks.
Makowski is a BJJ black belt and is in expert Muay Thai kickboxing. He is well rounded enough that he could win this fight by TKO or by submission.
Rory Gulak had quite the wrestling transformation. Originally a deathmatch wrestler, his method of wrestling was using light tubes, cheese graters, and sharp objects to cut open his opponents. He gave up that brutal style and started training in submission holds, mat wrestling and catch wrestling. He is a coach for Beat the Streets Philly, a youth amateur wrestling program in Philadelphia. He also helped found the Temple University wrestling team, where he was a Divison 1 athlete. Gulak will look to stretch an unsuspecting Makowski if he doesn't respect his skills. Watch him out grapple and submit the submission master Zack Sabre Jr.:
https://youtu.be/asFKq9ltxhI?t=383
Prediction: Matt Makowski by submission. Makowski will overwhelm Gulak with leg kicks and then snap on a submission. His MMA background will be the difference-maker in this match.
Lindsay Snow vs. Sumie Sakai:
Lindsay Snow is a pro wrestler who has competed mainly in RISE and SHINE. Her grappling accolades are plentiful. She is a North American Grappling Association (NAGA) champion. That is one of the top BJJ tournaments in the U.S. She is also a blue belt in BJJ. She loves going for heel hooks and foot locks.
Snow will have all the advantage on the ground. Sakai better be ready to roll out or block submissions attempts to the foot or she might be limping back home. If Snow wants to win fast she should take Sakai down and work from a submission there.
Sumie Sakai is a former Ring of Honor Women of Honor Champion, a former MMA fighter, and a judoka. She was also ranked No. 12 of the top 50 female singles wrestlers in  Pro Wrestling Illustrated's Female 50 in 2018. While her MMA record is 2-4, two of those losses were to Jessica Aguilar and Jessica Penne. She got outpointed by Aguilar but came close to finishing her multiple times.
Sakai's two wins are by submission. Snow is much better on the ground, is younger, and bigger. On the stand-up, Sakai will most likely have the advantage given her MMA background. Snow in an interview said she doesn't train much in the way of striking training. If Sakai wants to win, she has to keep it standing and look to knockout Snow before she tries to go for a sub. Sakai could also utilize her judo background also to get a throw and TKO win, similar to Ronda Rousey's win over Alexis Davis.
Prediction: Lindsay Snow by submission. Snow is bigger and has youth on her side (Snow is 32 and Sakai is 47.) I see Snow immediately bringing this to the ground and submitting Sakai with a heel hook.
Allysin Kay vs. Nicole Savoy:
Allysin Kay is one of the top independent women's wrestlers on the circuit. She outsizes a lot of female wrestlers due to her size. At 5'10", 150 pounds, she is able to throw around her opponents with ease. She now holds the NWA World Women's Championship, beating longtime veteran Jazz in April. She is also a two-time Impact Wrestling Knockouts Champion. Kay has also dabbled in MMA, winning her sole fight by second-round submission. She also finished the fight despite being poked in the eye.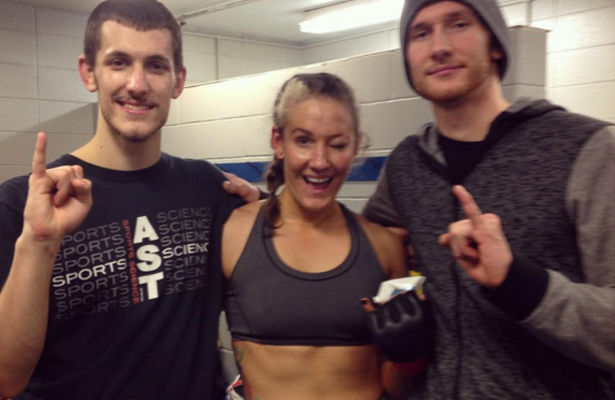 Kay will come in with the grappling and strength advantage. She will use that strength to try to submit Savoy for the win.
Nicole Savoy may not have the shoot fighting experience as Kay but she has something over her opponent. A win. These two met in March of this year where Savoy put her SHIMMER Women's Championship up against Kay at SHIMMER Volume 111. The match showcased both ladies striking background and mat wrestling. To the surprise of everyone, Savoy managed to submit Kay with an armbar.
Here a few highlights from that match:
Back and forth and both women get knocked down! #SHIMMER111

➡ https://t.co/AMoalbtKK0 pic.twitter.com/1rsWbx4gP3

— squared circle sirens (@SCsirens) March 31, 2019
.@Sienna plants Savoy into the mat! #SHIMMER111

➡ https://t.co/AMoalbtKK0 pic.twitter.com/G7pcum2IhV

— squared circle sirens (@SCsirens) March 31, 2019
.@NikiMSavo counters into a submission! #SHIMMER111

➡ https://t.co/AMoalbtKK0 pic.twitter.com/Dj9l3NN10B

— squared circle sirens (@SCsirens) March 31, 2019
Savoy will have the mental advantage with a W already over Kay. Kay likely has trained to avoid that armbar submission for this match. For Savoy to win, she might have to chop Kay down with leg kicks. Once on the ground, she can go for those chokes to win the match.
Prediction: Kay by submission. Kay will come in extremely motivated to get her win back. Don't be surprised if she tried to win by armbar, just like Savoy did in their first match.
Simon Grimm vs. Anthony Carelli:
Simon Grimm has become one of the most unexpected successes on the independent scene. After getting released from WWE, he has been able to showcase his true wrestling form. An expert in the clinch and Muay Thai, he is strong and can bring down an opponent who is bigger than him.
Grimm will want to use clinch and striking background to win this.
No one ever thought Anthony Carelli would make his way into a Bloodsport ring. Formerly, Santino Marella of WWE, he eschewed his judo background to become a wrestler who made the audience laugh. Since leaving WWE, the judo black belt opened his own pro wrestling/MMA academy where he is the head judo coach. He has been in judo for more than 32 years and has been a black belt for over 26 years.
My final match yesterday for the bronze, as you can see it was late in the day & many had left #judo @IntJudoFed @JudoOntario @JudoCanada pic.twitter.com/dfNCeuCLTn

— Santino Marella (@milanmiracle) October 2, 2017
I will let Carelli's own words explain why he thinks he can.
I've seen @deviousjourney grapple & was quite impressed, I believe in my #judo however, in the clinch & on the ground, if we go into deep water that's his advantage, my cardio is not where it once was, but I'm definitely stronger, this February its 30 yrs that I'm a black belt https://t.co/a6OyxiM5SD

— Santino Marella (@milanmiracle) September 2, 2019
Prediction: Simon Grimm by knockout. It has been a while since Carelli has been in a ring. Grimm is constantly competing and won't have any rust coming to this match. I can see Grimm using sharp elbows to knockout Carelli if he tries for a takedown.
Zachary Wentz vs. Anthony Henry:
Zachary Wentz is perhaps the last name you would expect on a Bloodsport show. While the Impact wrestler normally uses gravity-defying moves in matches, you can expect none of that here. You may not know but Wentz used to be an MMA fighter. Here he is putting on a scary beating on his opponent.
Past Life. 👊🏼
(Can't wait for Bloodsport) pic.twitter.com/mtKBRiUEgH

— Zachary Wentz (@ZacharyWentz) August 8, 2019
From this, we can already tell Wentz has great form in striking and top position. He knows when to go in for the kill. I wouldn't be surprised if Wentz tries to end this match early with a swift takedown and some ground and pound.
Anthony Henry is also an MMA fighter turned pro wrestler. The current Full Impact Pro World Heavyweight Champion, he is not afraid to strike or bring a fight to the ground.
Henry has been in the pro wrestling a long time. He debuted in 2002 and is soon to become a bigger name with a win in this match. He's going to use his experience to dictate the pace of this match. Wentz better be on his guard because Henry could end this with powerful kick or punch.
Prediction: Anthony Henry by knockout. Henry has more experiece in MMA and wrestling. He is going to fight smart and use Wentz's speed against him.
Davey Boy Smith Jr. vs. "Filthy" Tom Lawlor:
Davey Boy Smith Jr. come from wrestling royalty. The son of the late British Bulldog, the 6'6″, 265-pound beast is no stranger to Bloodsport. He submitted Killer Kross with a crossface after a powerful suplex. Here he is giving a palm strike to Kross as he owes him money:
Smith Jr., is also a NAGA champion and regularly trains in boxing. If he wants to keep it on the fight on two feer, he can. If he wants to bring it to the ground, he can. If he wants to finish, he can do so by almost any means. Watch for him to try to out grapple and use size to get a submission over the former UFC fighter.
"Filthy" Tom Lawlor needs little introduction to combat sports fans. A fan favorite in the middleweight and light heavyweight division in the UFC, he has transitioned into pro wrestling with ease. With a record of 10-7-1 NC, he is an expert in striking and submission grappling.
Tom Lawlor in this match will hopefully come in at 100%. In Matt Riddle's Bloodsport, he came into his match with WALTER with a broken hand. If he has both of his hands in this match, he could end this fight before dinner time with a submission or strike.
Prediction: Lawlor by submission. Lawlor will be outsized by Smith Jr. but he has beaten bigger guys before. He will want to wear out Smith and slap on a submission finish as he did to Kuiper.
Ikuhisa Minowa vs. Timothy Thatcher
This is going to be a doozy of a match
Ikuhisa Minowa a.k.a. Minowaman is a JMMA legend. An MMA veteran with an insane 110+ fights, he has 65 wins with 42 coming by submission. "The Giant Killer" fought most of his career against heavyweights and larger fighters. Just like his name suggests, he was able to beat Bob Sapp, Butterbean, and Kimo Leopoldo. He didn't earn that 2009 DREAM Super Hulk Grand Prix Champion facing small competition.
A master of the ground game, he will look to put on a tight leg lock to force Thatcher to submit lest he goes home with one of his limbs broken.
Timothy Thatcher is a new generation of pro wrestlers who brings nothing flashy to the ring. The former EVOLVE champion brings a no-nonsense attitude and looks ready to stand and tag or choke you out. He can wear down an opponent in a variety of ways. Sometimes he will destroy an arm:
Or he can twist an ankle:
Thatcher should look to wear down Minowaman before trying to finish him. Minowaman does not do well the longer the match goes. A gassed Minowaman can leave himself open and that will be Thatcher's opportunity to get the win.
Prediction: Minowaman by submission. Even though this is Thatcher's third Bloodsport match, he is 0-2 being knocked out both times. He is going up against an expert submission artist who gets submissions very easily. I think Minowaman will go for the heel hook or kneebar.
Nick Gage vs. Killer Kross:
For those that don't know Nick Gage, here is the simplest introduction of him. He is a street thug deathmatch wrestler. He doesn't care who or what is in his way. His opponent is a marked man. Most of his matches wind up NSFL as they involve chairs, barbed wire, and various other objects intended to hurt or maim.
This is what MDK means to me pic.twitter.com/DBp71VjvSn

— Nick FN Gage (@thekingnickgage) August 21, 2015
There is no technique behind his offense. It is as dirty and grimy as he is. 1-0 in Bloodsport, he will continue to lay a beating on someone until the ref stops or the cops have to be called.
Killer Kross is an incredibly underrated pro wrestler. Touted as one of the wrestlers people should have their eyes on, he made a name for himself in Impact Wrestling. Known for his brutality, he punished opponents with shoot style grappling and suplexes.
He is a strong striker, learning the trade at Syndicate MMA. Unlike Gage, he will bring technique and crispness to this match and can overwhelm his opponent to get a TKO.
Prediction: Killer Kross by TKO. Gage won't be able to hang with Kross' striking game. Kross can easily avoid a brawl by standing and tagging and keeping the distance. From there he can ground and pound him to victory.
Josh Barnett vs. Chris Dickinson:
Not much needs to be said about Josh Barnett. He is a legend in the sport of MMA and looks to be nowhere near retirement. A two-time UFC Heavyweight Champion, he just signed with Bellator this year. He has yet to fight for them but is certainly going to use this match to keep himself tuned up. A master of the catch wrestling game, he is adept too at submissions from any angle.
With the match he had with Minoru Suzuki at Bloodsport in April, we saw he can still take a beating that goes beyond the time limit. In this match, he will need to keep his chin down and hands up, and look to use that catch wrestling background to submit his opponent.
"Dirty Daddy" Chris Dickinson is someone who is not afraid to get in close and slap his opponent to next wee.
Sporting a 1-1 record in Bloodsport, he tapped out Andy Williams at Josh Barnett's first Bloodsport show. He was the favorite to win, but no one had expected him to win by submission. Dickinson, who has a karate and judo background, might be the smaller guy in this match, but he actually may be the stronger guy overall. It is not unrealistic to think that he could knockout Barnett with a well-placed strike to the temple or the jaw.
Prediction: Josh Barnett by submission. I think Barnett will be smart enough to avoid this fight on the feet. Look for him to force Dickinson down to the ground and tap him out.
GCW presents Josh Barnett's Bloodsport 2 Saturday, September 14 at the Showboat in Atlantic City, New Jersey at 8 p.m. Tickets are available here. The show will also be available on FITE.TV through their app or website.