Much has been said of #12 ranked featherweight "Hurricane" Shane Burgos. He made his UFC debut in 2016 undefeated, and on Saturday, November 4th, 2019 at UFC 244, he will begin his top 10 climb against Makwan Amirkhani.
In this article, I will be examining what makes Burgos such an interesting talent in addition to future improvements that will need to be made for him to be a top contender for the featherweight throne. Without a doubt, he is one of the most promising prospects at 145.
Evaluating Shane Burgos
Counter-Striking Boxing for MMA
When you look at Burgos, the first thing that sticks out to you is his size. Standing at 5″11, with a reach of about 75 inches. Burgos is a long and strong figure in the featherweight division. His striking style as a result has morphed and grown to take further advantage of his natural gifts.
In his UFC debut, Burgos showed the hallmarks of his style. Keeping his stance upright, front leg close, and chin down and forward. He will continually walk his opponent down, pumping out his jab and moving his head.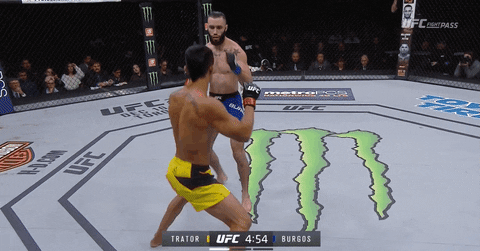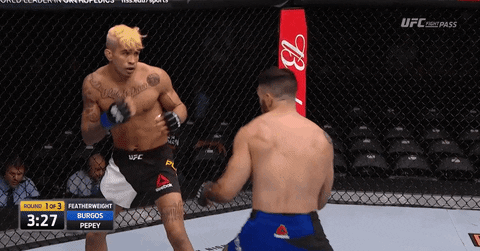 For a boxer, this is incredibly strange as his counterpart Calvin Kattar prefers a long, traditional boxing stance. The purpose of this is that it gives him the ability to throw sharp and fast jabs.
Burgos doesn't look to make exchanges, but rather draw his man into a poor exchange and counter off their extensions. To encourage his opponent to swing at his head or kick at his legs, Burgos dips his head forward of his stance and will actively swing his lead leg back to avoid low kicks.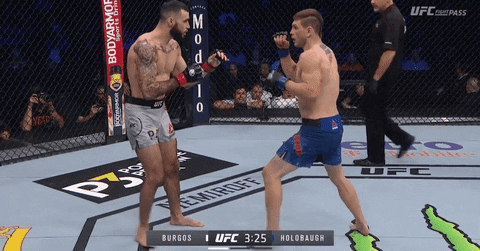 For a young prospect, this is especially encouraging as his game emphasizes forward pressure but requires defense-first posturing.
Fighting a War on All Fronts
While Burgos might be a pressure-forward counter boxer, his offense is surprisingly different. To start, Burgos counter strikes in combination rather than a one-shot kill like Conor McGregor.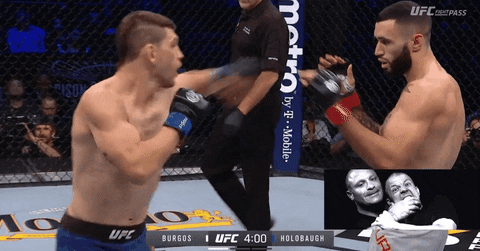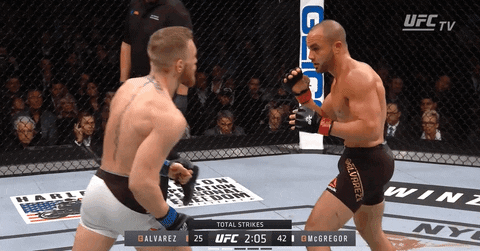 This can be a result of many things: i.e., lack of power, but it is likely due to his tendencies and teachings. Regardless, he builds his offense off the back of his defense, in which there are three ranges.
Mid-Range
Burgos is a counter punching bully. Building off of his stance, he has three zones of defensive measures. His first defensive measure for mid-range kickboxing is parrying body kicks and pulling back his lead leg for low kicks.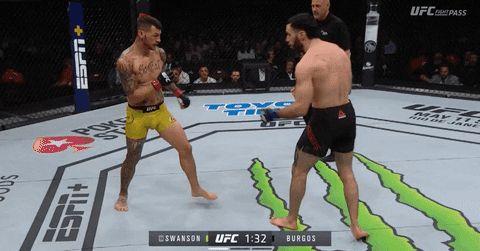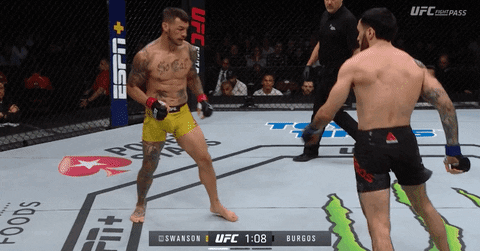 After mitigating power kicking, he forces his opponents to then throw lighter, more predictable low kicks, to which he can then counter with punches.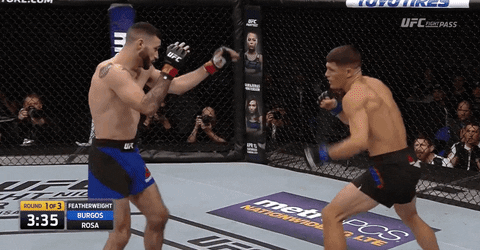 Mid-Boxing Range
Coming closer into mid-boxing range, Burgos can now employ his cross-counter and his favorite left body hook into a lead hook to the head.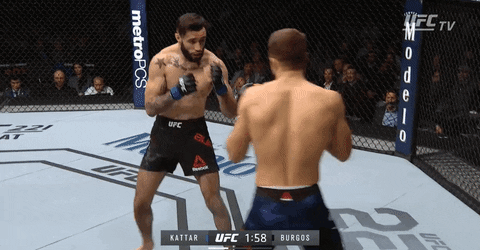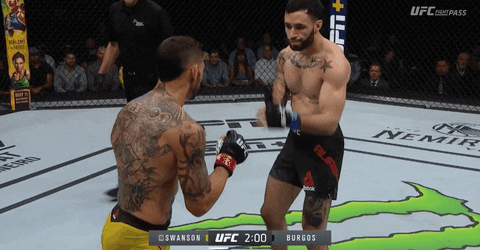 He builds off this because his lead hand is so often low and reach is so long, that hitting the body without dropping his weight is easy. But what gives him the ability to land this technique so often, is his head movement.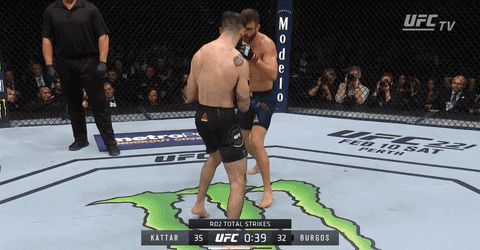 In examining a prospect, I often look for layers of defensive techniques, not just a singular form. Burgos' head movement is built in as an offensive tool, at the mid-boxing range it is the perfect defensive layer to slip straight punches and fire over the top.
Or coming out from the bottom.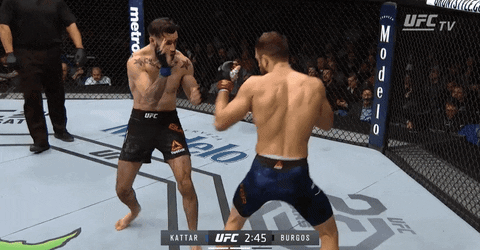 War in the Trenches
An interesting problem for Burgos is infighting or close-range boxing. This is a range where fighters in MMA are rarely situated in as the clinch is readily available, as are takedowns. What Burgos does to circumvent these problems is cycling through frames and covering up.
Framing for Burgos is usually reserved up against or around the cage. Where after corralling his man he will shove in, frame, and work the body and head.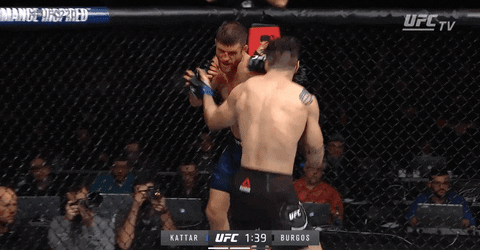 Some more examples of his framing can also be seen in mid-range boxing, where he will push off his opponent's shoulder with one arm, in order to gain some distance.
His second form of infighting is simply covering up. In MMA the small MMA gloves usually work against you when putting your arms up. But Burgos understands this, as such, he keeps as a last resort.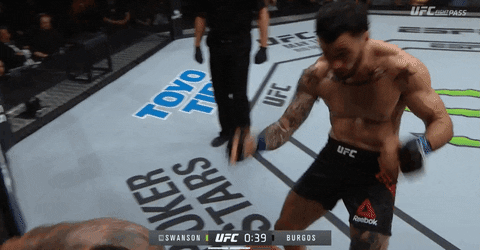 Against big hook swinging fighters like Cub Swanson and Charles Rosa, this prevented some devastating hooks from landing flush when his reactions failed him.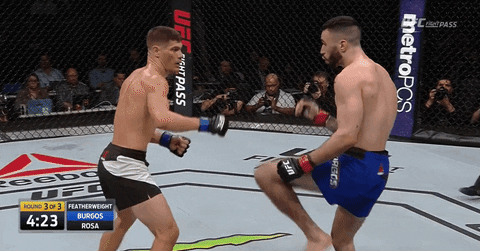 Combination Counter-Punching
I spoke earlier that Burgos tends to counter in combination, rather than single-shot punches. I believe this is because Burgos dislikes sitting on his punches; let me explain. When a fighter sits on his/her punches, it means they drop their weight and hips in order to give themselves the full range of motion in their punches.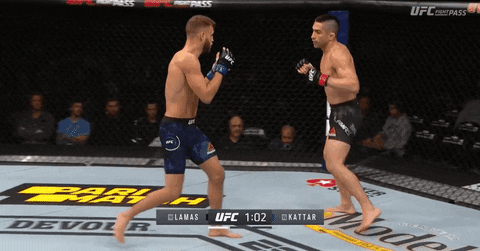 Burgos, unlike Kattar or McGregor rarely gives himself the stance or the commitment in his footwork to land with the full weight of his body. Hence, Burgos will counter with combinations.
However, in order to maximize his damage, Burgos will counter to the body then the head to drop his opponent's guard. Against Kattar, Burgos did a lovely job adjusting in the second round by throwing a wide right hook to the body, under the jab of Kattar.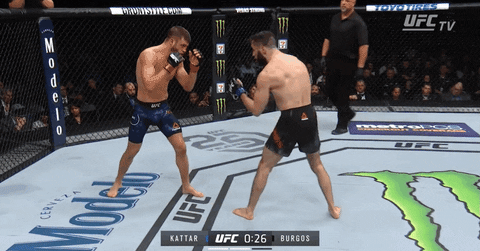 This reduced the output on Kattar's stinging jab, but also served the purpose of drawing Kattar's attention underneath him. This gave Burgos the opportunity to close the door on his combinations, which is to say: he ended every combination with a left hook to the head.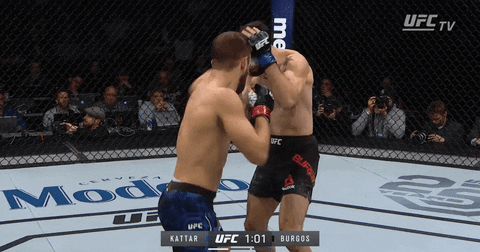 While Burgos would lose this fight, it was an impressive showing a shining example of something great that is to come of Burgos.
Ironing Out the Imperfections
Burgos is certainly a brilliant talent. But his fight against Kattar and Swanson showed some issues in his style. To start, Burgos lacks the cage cutting footwork, which could lead him to more counter-punching opportunities.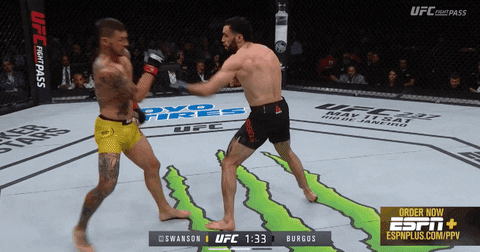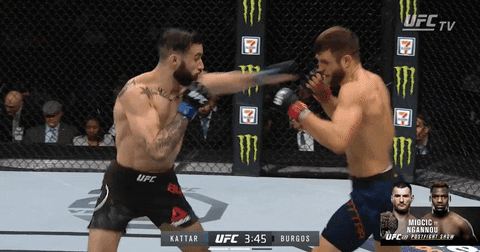 Against Kattar, his tendency to plod forward and slip his head left him stationary and unable to stay in Kattar's face without exploding forward. While he made adjustments, like bouncing into body punches to keep Kattar still, this sacrificed his own defense.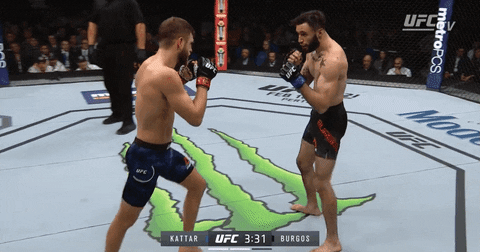 Another issue that Burgos needs to address, are feints. More importantly, Burgos needs to develop techniques that disrupt feints that don't leave him vulnerable to be countered. Against Swanson, his most recent opponent, Burgos employed a lead leg snap kick and jabbed with more variation. This served to keep Swanson honest and unable to set up his usual trickery.
Still, Burgos' tendency to bite on every opportunity will leave him more susceptible to feints into real punches, like the one that Kattar used to finish him.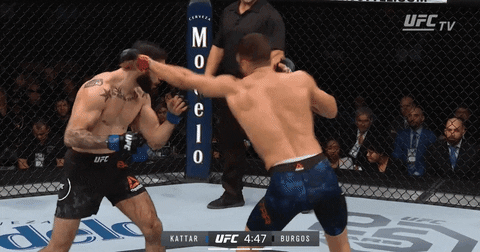 Conclusion
Shane Burgos is a tremendous talent in the featherweight division. Whether or not he takes a more preemptive approach to deal with feints or takes his foot off the gas in his pressure fighting has yet to been seen. Still, if we are to project his future based on his current skills shown, he is surely a future title contender.
On November 4th, Burgos will need to prove that he can defend takedowns, but more importantly, be able to move beyond forwarding pressure. It would do him well to learn from his Kattar performance and perhaps take some notes on footwork from Kattar himself. Regardless, UFC 244 can't come soon enough and I for one am excited to see the "Hurricane" live up to his potential.
Main Photo:
Embed from Getty Images