When your nickname is "Semtex", you're expected to be quite explosive after the cage door closes. In that aspect, Paul Daley has never disappointed. With 29 knockouts in 39 professional victories, Paul Daley is looking for the knockout in every second of every fight. Regardless of who the opponent might be.
Paul Daley finally sets himself up for the fight of his life
About six years ago Daley fought Strikeforce welterweight champion, Nick Diaz in what went down as one of the best one-round fights in the history of combat sports. That night he suffered a loss late in round one, but it was hard to take away from both performances after a nearly five-minute long brawl. Daley rocked and nearly finished Diaz in the fight prior to being finished himself.
Since this fight, Daley's career has been relatively stagnant. After the Diaz loss, he was featured on another huge Strikeforce card, taking on future UFC welterweight champion Tyron Woodley on the undercard of the event headlined by MMA greats Fedor Emelianenko & Dan Henderson. Daley dropped a unanimous decision to Woodley that night.
Since those huge bouts and opportunities in 2011, Daley was in quite a stand-still in the MMA world. he was looked down upon by his old employer, the UFC, due to the infamous incident in 2010 where he struck Josh Koscheck in the face after the final bell sounded. So with the UFC no longer being much of an option, Daley fought all over the world. For promotions such as Cage Warriors, BAMMA, and Cage Contender.
---
In early 2015, Daley signed with Bellator and has competed for them exclusively since then. He fought for them once in the past, picking up a TKO win vs. Rudy Bears at Bellator 72 in 2012. And now, five fights after joining the promotion, Daley has lined himself up for something big.
Bellator 134 – Paul Daley def. Andre Santos via Unanimous Decision
Daley returned to the Bellator cage at Bellator 134 on a stacked 'British Invasion' card. He faced a Brazilian veteran with nearly 50 professional fights. It was a very clear decision victory for Daley, but Santos held his own on the feet against 'Semtex'. It was a tough out for Daley, but he got the much-needed victory… even if it wasn't the finish he is constantly craving.
Worth noting; Daley was supposed to meet Douglas Lima on this night before Lima was forced to pull out due to injury. Santos stepped up on about a month's notice.
---
Bellator 140 – Paul Daley def. Dennis Olson via Technical Knockout
Following a tough out vs. Brazil's Santos, Daley returned in the co-main event of Bellator 140 vs. Dennis "The Menace" Olson. As soon as the bout was announced, most people viewed the fight as a bit of a lopsided affair. People were not giving Olson a chance, and the fight played out about as well as people expected. Olson survived the first round but was finished by a massive flurry of punches against the fence courtesy of Daley early in round two.
This event was headlined by a welterweight title fight between (then) champion Douglas Lima and Andrey Koreshkov. Koreshkov dethroned Lima in a very grapple-heavy 25-minute title fight, much to the surprise of many people who expected the fight to be a striking battle. Daley certainly had his eye on this fight.
---
Bellator 148 – Paul Daley def. Andy Urich via Knockout
In his third fight within the promotion since signing an exclusive contract, Daley finally received main event treatment. Paul Daley's "Semtex"-like power was absolutely on full display here. He blasted Uhrich with an uppercut early in round one and knocked him out cold, sending the Tennessee-native crashing to the canvas face first.
Following the devastating knockout, Daley proceeded to call out former foe, and Bellator's newest signee, Josh Koscheck who was sitting cage side. So, it seemed almost set in stone; Paul Daley vs. Josh Koscheck II. Coming soon… right?
---
Bellator 158 – Douglas Lima def. Paul Daley via Unanimous Decision
Nope. Daley vs. Koscheck II did not happen. But it was scheduled for this card before Koscheck pulled out due to injury. In his place stepped a much tougher challenge for the heavy-handed Paul Daley. In his place stepped former champion, Douglas "The Phenom" Lima. The winner of this welterweight main event in London was all-but guaranteed a welterweight title shot. Lima used his more technically-sound kickboxing to pick up the win over the crowd-favorite. Securing his shot at welterweight gold one more time.
Lima went on to rematch Andrey Koreshkov in hopes of winning his belt back. That's exactly what he got, scoring a brutal knockout vs. Koreshkov and taking back his title. But where did this leave Daley? He was granted another fight that was, in all likelihood, another opportunity to earn a title fight. Or even potentially to earn the shot at welcoming Bellator's newest signee Rory MacDonald to the Bellator cage. Both very big opportunities.
Daley was given a fight vs. Brennan Ward at Bellator 170. A fight that was sure to be a crowd-pleaser.
---
Bellator 170 – Paul Daley def. Brennan Ward via Knockout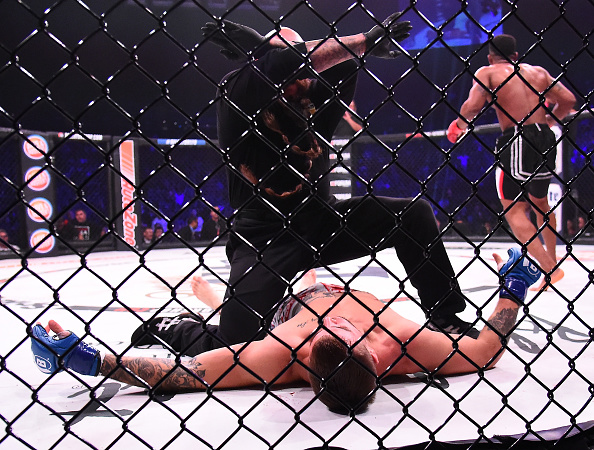 In one of the most anticipated fights in the history of the promotion, sluggers Paul Daley and Brennan Ward met in the co-main event of the mega-event that was Bellator 170. After a couple wild exchanges, Daley landed a spinning back elbow from the clinch which sent Ward reeling backward. Daley then charged in Ward's direction and flew the air, connecting with an absolutely brutal flying knee. The knee sent Ward to the canvas before he had to be assisted out of the cage on a stretcher following an early knockout of the year candidate.
Paul Daley's flying knee did a real number on Brennen Ward's face. I'm going to go cry now. pic.twitter.com/ejauEYb6Eg

— Mike Bohn (@MikeBohnMMA) January 22, 2017
---
Following one of his most violent finishes to date, Daley took his opportunity on the mic post-fight to call out Canada's Rory MacDonald rather than asking for a title shot, and a rematch, against Douglas Lima. No matter which bout he gets, it is sure to be one of Daley's biggest and most important fight in years, if not ever.
This may have been Daley's most brutal finish ever, and possibly even his most important. Daley had this to say about a potential meeting with MacDonald; "If Rory MacDonald gets in the cage with me, he's getting knocked the fuck out."
On Saturday night, Paul Daley proved he is must-see TV. And whenever (& whoever) he fights next, we will not take our eyes off the TV screen. Paul Daley is back and better than ever. And it is fantastic to see.
Featured Image via Bellator MMA.
________________
Follow Mike on Twitter (@MikeLovesTacosX), and keep up with the latest MMA news from MMASucka via Twitter (@MMASucka) and Facebook