Known as "Marreta", Rio's Thiago Santos (17-5 MMA, 9-4 UFC) recently tied Anderson Silva's record for most knockouts in UFC middleweight history. The elusive Elias Theodorou is the lone survivor out of Marreta's nine victims.
Over his five-year UFC career, we have seen Thiago Santos slowly round out his game and become one of the most electric and horrifying strikers the sport has ever seen.
Riding a four-fight knockout streak, Santos deserves all the hype and appreciation the UFC's media machine can muster. Win or lose, Thiago Santos is going to gracefully hurdle at you and do nothing but hit grand slams and throw hot murder-balls.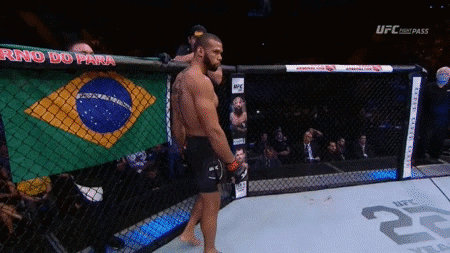 After amassing a cult following, it is time for Thiago Santos to enter the mainstream spotlight.
This is Fighter of Interest, where underrated fighters from an upcoming event are brought to light.
UFC Fight Night 128
Fighter of Interest: Thiago Santos
The current iteration of Thiago Santos is a fleet-footed powerhouse kickboxer. Santos stalks opponents with a bounce in his step, ready to explode at all times. A constant stance-switcher, he has a depth of dangerous techniques to unleash to the legs, body, and head.
The nickname "Marreta" means sledgehammer, a reference to the absurd power Santos carries in all eight limbs. He wasn't always the monstrous destroyer of worlds we see today, however.
Entering the Zuffa-sphere through The Ultimate Fighter: Brazil, fans saw Thiago Santos make an unremarkable run in the tournament. A lanky striker with more aggression than technique, he won his elimination and preliminary fights by decision. Either through wisdom or simple roster building, the UFC gave Santos a shot.
Highest Highs and Lowest Lows
The star of TUF: Brazil season 2 was Cezar "Mutante" Ferreira. A protege of the legend Vitor Belfort, the musclebound capoeira stylist was tapped to be Brazil's next big star. While this strategy did not pay off in the long run, the UFC was successful in feeding Santos to the multi-talented BJJ black belt. He was submitted in under one minute.
Following the same logic, the UFC booked Santos against another strong grappler in Ronny Markes. Markes was 3-0 in the UFC before running into the great Yoel Romero. The narrative coming into this bout was the size and wrestling advantage of Markes. Santos weighed in two pounds under the limit of 185, a stark contrast to the 190 Ronny Markes.
The odds closed with Markes as a -900 favorite, Santos had no chance. Most expected a typical Markes "lay and pray" performance. It took less than a minute to upset that narrative.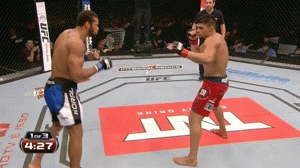 Thiago Santos loaded up on a thunderous rear body kick, landing just under the arm to smash Markes' internal organs. After that enormous upset, Marreta was on the map.
Santos Hammers his way to 4 straight
After a close loss to Uriah Hall, Santos was set up to destroy the durable but outgunned Andy Enz. Enz was the only fighter to take Hall to a decision on season 17 of the Ultimate Fighter. As expected, it was a quick demolition job for Santos.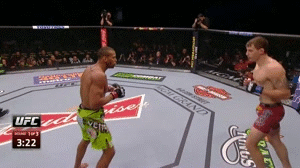 Recognizing his value as an action fighter, the UFC wisely matched Santos with former hockey pro, Steve Bosse. A come-forward brawler, Bosse had amassed a 10-1 record over tough competition. Featured on the main card of Fox Sports 1, this fight was to serve as an introduction to Bosse. It had all the signs of a fun, lengthy slugfest.
Santos knocked him out stiff with a disgusting head kick. It took 29 seconds.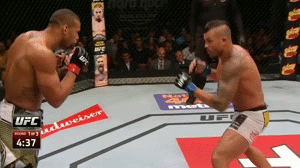 After a decision victory over the tough and frustrating Elias Theorodou, Santos faced off with aging veteran Nate Marquardt. A former middleweight title challenger, Marquardt had only won two of his last seven fights. Once a sacrificial lamb, Santos was now the one being offered fresh meat. Diminished physically and more vulnerable than ever, Marquardt's only chance was to turn the fight into a grappling match.
He couldn't. The end came from a Santos assault off a huge body kick. The final punch appeared to club Marquardt in the back of the head.

Lessons Learned
This reign of terror earned Santos a crack at the top ten against an international star and former Strikeforce champion in Gegard Mousasi. Perhaps wary of Mousasi's excellent ground skills, Santos was a bit more planted in his stance. A hesitance to move freely and exchange made Santos a sitting duck against the world-class veteran.
After a swarm of strikes, Mousasi was able to gain top position and went to work on Santos. Desperate to escape, Santos left himself open while standing and was cracked with a clean uppercut, ending the fight.
In order to bounce back, Santos was matched up with Ultimate Fighter semifinalist and decent grappler Eric Spicely. Spicely was fairly unheralded, after losing his UFC debut to brawler Sam Alvey by submission. It was hard to take Spicely seriously as a threat.
Santos closed as the -850 favorite. Early on Spicely was able to dive on a leg and pull guard, threatening with a very deep omoplata attempt. It was a sign of things to come. Santos was eager to avoid further grappling exchanges and moved in aggressively on Spicely, opening up the takedown.
Spicely was able to use a kimura attempt to set up a beautiful transition to the back and tap out Santos for a massive upset.
Marreta Returns
It was clear that rebuilding was in order for Santos. His deficits on the ground were a liability, and they left him reluctant to fully open up with his strikes. A long-term move to American Top Team was just what the doctor ordered. Five months later, Santos came back to face Welsh boxer, Jack Marshman.
Despite nailing hard counters early, Thiago Santos showed off his improvement by finishing a clean double leg takedown on Marshman. Marreta showed off another new wrinkle to his game, playing matador and letting Marshman walk into straight punches and body kicks. Santos survived a scare late in the round, using his newfound wrestling to recover after being rocked with a clean overhand.
Santos came out composed in the second round, using his improved footwork to stay at the end of his own kicking range. Two minutes in, he timed Marshman's entry and let loose with a gorgeous wheel kick to end the fight.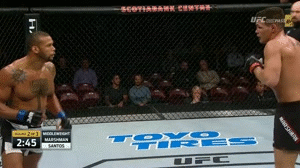 On the Warpath
After another five months, Marreta was back in action against grappling ace Gerald Meerschaert. Meerschaert was 2-0 in the UFC with two submission finishes, he represented a much better version of Eric Spicely.
It was a complete manhandling. Santos dropped him with leg kicks, he punished the head and body after every takedown attempt. It was a relentless hammering, Santos maintained top position and pounded away until the referee mercifully intervened.

After the fight, Santos made it clear his goal was a rematch with Gegard Mousasi. Instead, he was matched up with the tricky Norweigan Jack Hermansson. "The Joker" was 2-1 in the UFC, his lone defeat coming to common opponent Cezar "Mutante".
Hermansson is a lengthy middleweight, he uses unorthodox footwork to stay out of his opponent's range at all times. Offensively he's a ground and pound artist with a solid takedown game. The threat to Santos was obvious.
However, after Hermansson was unable to gain respect with his clinch and takedown attempts, Santos began to blitz aggressively. A jumping switch kick to the body winded Hermansson, who desperately backed away from the charging Santos.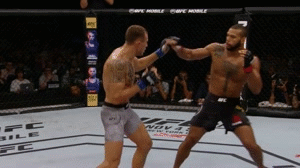 Swinging his mighty hammer, Thiago Santos dropped Hermansson and finished him just as the bell sounded.
LAST FIGHT: Def. Anthony Smith via TKO (body kick and punches) at 1:03 of Round 2
This fight was complete madness. A veteran of Strikeforce and Bellator, Anthony Smith was finally coming into his own. Riding a three-fight knockout streak himself, Smith's most recent victory over former Bellator champion Hector Lombard made it clear he was no pushover.
This Fight of the Night bout was immediate chaos. After success from both men, Marreta landed a ridiculous spinning hook kick to the chin, followed up with a jumping roundhouse to the face. Anthony Smith is so freaking tough he just ate those shots and ended up with full mount after Santos lost his balance.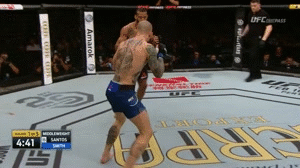 Smith is an enormous middleweight and a very tough grappler. Full mount would spell doom for many, certainly for a younger version of Santos. With little effort, Santos was able to hit a bump sweep and reverse to Smith's full guard.
When they finally returned to their feet, it was insanity once again. Santos dropped serious hammerfists and elbows while on one leg, both men landed simultaneous elbow strikes, and Santos began to impose his will.
Despite using a tremendous amount of energy throwing nothing but power, Santos was the fresher fighter to start the second round. After absorbing all that punishment, it was a nasty, accurate kick to the liver that put Anthony Smith away.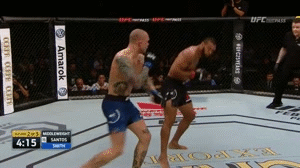 NEXT FIGHT: vs. David Branch at UFC Fight Night 128
New York's David Branch (21-4 MMA, 3-3 UFC) is the former World Series of Fighting (RIP) simultaneous middleweight and light heavyweight champion. His second run in the UFC has shown mixed results. Thus far Branch won by grinding out a split decision on Krzysztof Jotko before running into the dominating top game of Luke Rockhold.
Ranked #8 by UFC.com, Branch has a lot to lose taking on the rising #11 ranked Santos. Outside of Mousasi, Branch will be the most credentialed and stylistically dangerous matchup for Marreta yet. Branch is a skilled BJJ practitioner, using his relatively technical boxing and consistent pressure to handle most of his opponents with ease.
On the outside, Santos has a clear advantage. Branch is not unhittable. If he hangs out in long range for extended periods of time he will be in grave danger. Branch likes to enter takedowns from the clinch, it will be interesting to see how the perceived strength and power advantage of Santos affects that strategy.
Ultimately Santos has so many different ways to threaten Branch. He can strike hard from any distance, and his ground and pound while defending grappling attempts may be the best in the UFC. His defense on the back foot is still cause for concern. Win or lose, Marreta has been must-see TV. Tune in Saturday, April 21st for UFC Fight Night 128 in Atlantic City to see it all go down on Fox Sports 1.
Main Photo
Embed from Getty Images