For many years, Ryan Bader (24-5 MMA, 15-5 UFC, 2-0 Bellator) was the understudy to the top tier at 205 pounds in the UFC. Despite his blue-chip wrestling pedigree and destructive power, Bader fell just short when the stakes were highest.
It's safe to say he's working on leaving that legacy in the past. Riding a four-fight win streak in which he captured the Bellator light heavyweight championship in June, Bader is now poised as the favorite to win a second title. Although Bellator's Heavyweight Grand Prix does not truly represent the elite big men in the sport today, winning the tournament as a light heavyweight would be both hilarious and a boost to his resume.
After countless setbacks and disappointments, it's refreshing to see Ryan Bader with a belt around his waist. Even in the most risque and confusing contexts.
Pokemon + Shake Weight + @ryanbader = Curtain of Distraction. Thanks to #SunDevil4Life Ryan Bader for returning to ASU to be part of the tradition! #SunDevilIntensity pic.twitter.com/RNJediq8iW

— Sun Devil Wrestling (@ASUWrestling) February 16, 2018
Some are disappointed to learn Ryan did not choose the obvious, "Master" Bader nickname. However, "Darth" Bader commits to his gimmick, often walking out to the Imperial March, and he has studied the blade.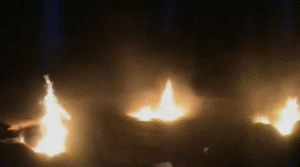 Despite realizing a world championship, fans still exclude Bader when listing some of the best and most accomplished in the world at the upper weights. This is Fighter of Interest, where underrated fighters from an upcoming event are brought to light.
Bellator 199
Fighter of Interest: Ryan Bader
During his time at Arizona State University, Ryan Bader was an absolute terror in the PAC-10, winning three conference titles. At the national tournament, Bader placed twice to become an All-American. In 2004 Bader took 4th, losing by one point to both two-time world team member JD Bergman and all-time great Damion Hahn.  His senior year, Bader defeated the #1 seed to only place 7th in a stacked 197-pound weight class. That year the weight featured future UFC fighters Jake Rosholt (1st), Phil Davis (2nd), and Chris Weidman (6th).
An absolute unit of a man, Bader's power wrestling style has translated well into MMA. Check out this footage of a recent "warm up" he posted to Instagram.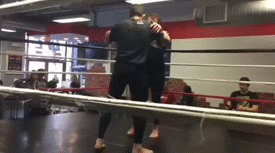 The ability to quickly change direction and adjust is an essential tool for finishing takedowns. While it may look as though Bader is able to plow straight through on his shots, it's abruptly cutting an angle that seals the deal.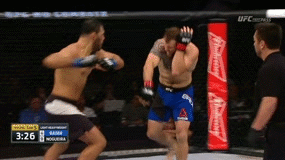 Running the Gauntlet
After a 7-0 start in MMA, Bader was selected to be apart of The Ultimate Fighter 8, as a member of Antonio Rodrigo "Minotauro" Nogueira's team. While his credentials were certainly impressive, it's Bader's excellent and silly audition tape that really stands out.
The light heavyweight class was rich with potential that season. On his dominant run through the tournament, Bader defeated Kyle Kingsbury, "Filthy" Tom Lawlor, Eliot Marshall, and Vinny Magalhaes in the finale. Only Marshall made it to the final horn.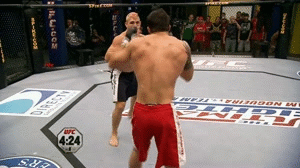 Stay there. Relax.
Force of Nature
Bader's first year in the UFC was rock solid. Facing a mixed bag of opponents, the star wrestler did not stumble. Bader bludgeoned the jiu jitsu wizard Magalhaes, before controlling and overpowering journeymen grapplers in Carmelo Marrero and Eric "Red" Schafer.
A 3-0 UFC start and 10-0 overall record warranted a step up in competition. Matchmaker Joe Silva pulled no punches, awarding Bader a bout against a 205 staple in "The Dean of Mean", Keith Jardine. At the time Jardine was in the mix with the best light heavyweights in the world, to speak to the state of the division. In his last few fights, he held a knockout victory over Forrest Griffin, and decision wins over a red-hot Brandon Vera and one of the greatest light heavyweights of all time, Chuck Liddell. Mixed in were losses to Quinton "Rampage" Jackson and Wanderlei Silva.
In early 2010, Ryan Bader was in stark contrast to the legends on that list. He was green, competing in his third year as a professional fighter. None of this mattered, as Bader was entirely dominant. Against the awkward and dangerous striker, Bader stayed safe on the outside, using explosive entries to pick his shots and do damage. After outstriking and repeatedly taking Jardine down, Bader turned on the heat in the final round.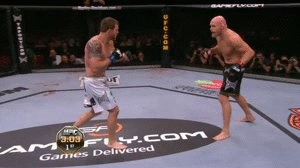 It wasn't the prettiest technique, but fans couldn't help but marvel at the horsepower and ferocity displayed by a fresh face. This was when Bader truly arrived in the division.
A Steep Learning Curve
The bumps in difficulty did not stop coming. Bader had rolled through each opponent unchallenged, but the stakes were raised in a bout against PRIDE legend Antonio Rogerio "Minotoro" Nogueira, the twin brother of his Ultimate Fighter coach.
Nogueira was riding a seven-fight winning streak, and his once advanced skill-set still posed problems. "Lil Nog" possessed an intimidating mix of boxing fit for the Brazilian national team (allegedly), and a prestigious BJJ black belt lineage. Much of Bader's punishing top game was stifled by Nogueira's competence on the mat, it was essentially three rounds of Bader in his guard. Nevertheless, it was a decisive victory in the toughest test of his career.
A rising Jon Jones was next in line. The two met for a title eliminator bout at UFC 126, two bouts removed from what would be a legendary finish between Anderson Silva and Vitor Belfort.
Even then, Jones was working out how to use his length on the feet, and a man among men when it came to grappling exchanges. Ryan made a series of mistakes, at one point pulling half guard using a kimura grip in the clinch. Disadvantaged off his back, Bader eventually conceded to a modified guillotine choke.
In what was supposed to be a confidence and resume builder, disaster struck when Bader faced a pioneer and former champion in Tito Ortiz. Ortiz brought his A-game, stunning Bader with a sneaky right hand. On instinct Bader shot for a leg, giving Ortiz the opportunity to sink in a perfect guillotine in full guard. The bout snapped a four-year winless streak for Ortiz. Fans were merciless, some completely writing Bader off as a contender in the division.
Redemption
Bader bounced back in a huge way in his 2011 matchup with journeyman Jason Brilz. Brilz had fought the best in the sport at light heavyweight, some would argue he deserved the victory over Rogerio Nogueira. Brimming with confidence, Bader rushed in and launched a bomb that put Brilz to sleep, face down on the canvas.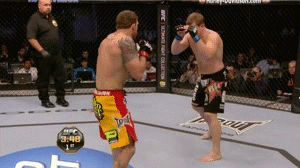 This set up yet another massive opportunity. A fight against "Rampage" Jackson, in Japan. Rampage made his name in PRIDE FC, and the mutual admiration between him and the Japanese fans appeared to ignite a motivating fire. Coming off a title loss to Jon Jones, it was time for some redemption of his own.
For one moment, it appeared "PRIDE Rampage" had returned. Timing a Bader knee against the cage, Jackson underhooked the leg (similar to a Metzger position) and lifted the enormous wrestler into the air. Dropping Bader square on his neck, Rampage flurried with punches, before coming to the disappointing realization his opponent was unphased.
Otherwise, it was a smart performance for Bader. The threat of offensive wrestling left Rampage timid and flat-footed, he was a sitting duck. Hard right hands, explosive takedowns, and smothering top control earned Bader a clear-cut decision victory.
Unfortunately, Bader's second title run was cut short. He met a former champion and counter-striking karateka in Lyoto Machida. Rushing in with a right hand as usual, Bader was stuck with a short counter straight to the chin. It was his first knockout loss. Taking nearly six months off to recover and evolve, Bader returned.
Revenge of the Sith
Recharged and refocused, Bader's first victim was the wily veteran Vladimir Matyushenko. An accomplished national champion wrestler for the former Soviet Union, Matyushenko was contending for UFC titles as early as 2001. In spite of his age "The Janitor" still beat the majority of his opposition, only losing to the very best in the division.
It didn't last long. Bader showed off his squeeze, catching Matyushenko with an interesting guillotine variation from the front headlock position. The leverage Bader was able to create with one leg hooked while Matyushenko was standing is quite impressive.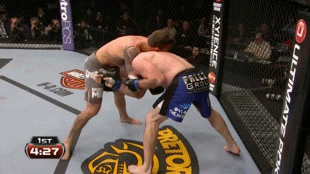 It's strange to say Bader's stock went up after a defeat. At the time of their fight, Glover Teixeira was on a 19-fight win streak, and off to a 4-0 start in the UFC. He was the most avoided man in the division. Teixeira presented a dangerous power hooking game on the feet, competent wrestling and crushing jiu jitsu, with the experience to match. Still a relatively unknown name in the sport, the fight was much too big a risk with little reward. One of the men brave enough to step up was Ryan Bader.
In each of his big setbacks, Bader appeared to have a nervous energy about him, leading to some hasty decision making in the cage. It was no different this time, as the bout started in a chaotic manner. Both men traded advantageous grappling positions, attacked submissions, and landed booming punches.
After appearing to stun Teixeira, Bader rushed in for the kill. Huge looping shots battered the Brazilian, but Glover had ice in his veins. He stayed composed, and saw his opening.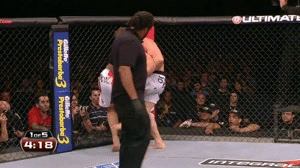 Despite the loss, everyone could see that Bader was on an elite level for the division. He was inches away from finishing one of the best light heavyweights to never win the belt.
Perhaps Ryan felt vindicated as well. He proceeded to rattle off five straight victories, each more impressive than the last. Bader completely manhandled a big, strong veteran grappler in Anthony Perosh. Next, he met former Strikeforce champion Rafael "Feijao" Cavalcante. Feijao was a dangerous test, holding victories over "King Mo" Muhammed Lawal and the great Yoel Romero. It was a masterclass from Bader, who tormented Cavalcante with takedowns and relentless, hard knees to the legs and rear-end.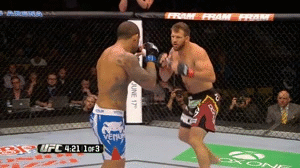 After a rocky start to his pro career, Ovince St. Preux looked to be coming on as a force in the light heavyweight division. Since a narrow defeat to Gegard Mousasi, "OSP" had rattled off five straight, finishing most with variety and style. Unfortunately for the rising prospect, he was not ready for the pace or imposing wrestling style of Ryan Bader.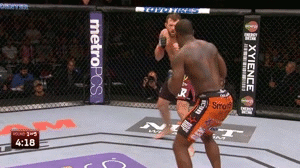 Bader capped off his win streak with eye-opening decisions over stud wrestlers Rashad Evans and Phil Davis. The former champion Evans was in good form, riding a two-fight winning streak. Occasionally crafty and elusive striking complemented Rashad's effective wrestling game to give any big man problems. Davis, on the other hand, had developed into a kick-heavy outfighter, an interesting addition to his pedigree as a four-time All-American wrestler and one-time national champion.
In both bouts Bader showed a new wrinkle, he was able to maintain and have success in a kickboxing match at range. The most obvious change was Bader's jab and long lead hook, which let him hang on the outside while picking away with lead kicks to the legs and body. Once his opponents were sufficiently frustrated, Bader seized the opportunity to run through his signature double leg takedown. "Darth" Bader seemed a new man, and it was time to enter the title conversation once again.
Career Crossroads
Things did not go according to plan against Anthony "Rumble" Johnson. The ferocious wrestler turned striker had laid waste to the division. The terrifying counter power puncher had met little resistance until he was befuddled by the champion Daniel Cormier. It appeared Rumble was still vulnerable to fatigue and susceptible to a strong top game on the ground, there was a clear avenue for Bader to exploit these weaknesses.
Bader was wise to want to go to the ground early, but his shot selection was ill-advised. A diving single leg takedown left Bader fully extended underneath Johnson, who easily spun behind.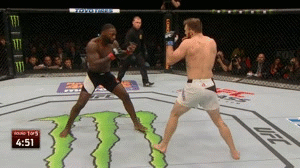 Just like against Jones, Ryan pulled half-guard on a kimura attempt. This allowed Rumble to pass to full mount, where the full weight of his ground and pound rendered Bader unconscious.
Bader did not fight again for nearly seven months. His return came against the human fire hydrant Ilir Latifi. In his youth, Latifi was a standout Greco-Roman competitor, becoming one of the best in Europe under the age of 21. In MMA, he employed his wrestling well, but it was his brick-fisted power (and that picture of him on a horse) that had begun to get the attention of fans.
The pressure of Bader's newly effective striking kept Latifi on the retreat. Like a younger Ryan Bader, Latifi tried to duck his head and rush forward to get his shots in. Two minutes into the second round, Latifi ducked one time too many.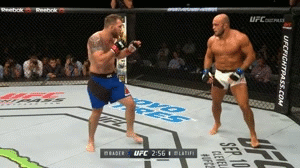 Light heavyweight wasn't quite as lively as it had once been, and that's saying something. There seemed to be a clear top three or four, and the UFC wasn't entirely interested in giving Bader another crack at them. Instead, he was given what appeared to be a tune-up in the form of a rematch with an older, less impressive Rogerio Nogueira. As in the first bout, Bader was able to secure takedowns and keep Nogueira on his back. However, Bader's offense flowed freely. In a fashion similar to Khabib Nurmagomedov, Bader was able to trap wrists and rain ground and pound until the referee had seen enough.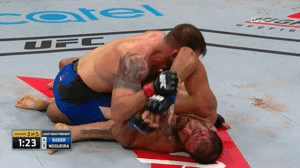 The Dark Side
The bout with Nogueira was the last on Bader's UFC contract. Bellator offered the free agent a six-fight deal, each with a guaranteed full fight purse. That meant eliminating the oft-criticized win bonus. The UFC did not even attempt to match this offer, and Bader crossed over to the dark side and joined Bellator for an immediate title shot.
The reigning champion was his old NCAA and UFC foe, "Mr. Wonderful" Phil Davis. After the loss to Bader, Davis too sought greener and more lucrative pastures with Bellator. Davis dominated his way through a light heavyweight tournament and won the title, beating the likes of Emmanuel Newton, King Mo, and Liam McGeary. Davis was impressive as always with his wrestling and creative submission game, but it seemed his striking had made gains as well.  />
It was a much more complex affair than their first meeting. Both men had found new levels of comfort in their striking, and had five rounds to execute a gameplan. For Davis, the plan was to stay active kicking from the outside. Phil had success, landing to the legs of Bader, but most notable was his lead kick to the body.
For Bader, it was a more nuanced approach to build on the success of their first match. While Davis threw from a distance, Ryan continued to move out of range, landing his own lead kicks. It took time, but Davis became frustrated with his diminishing success outfighting, and began to take ground.
This is where Bader did his best work. Phil's pressure opened up an intercepting jab, as well as opportunities for clinch work. Any takedown or clinch entries by Davis were met with stout underhooks, where the compact frame of Bader worked to his advantage. In those positions, Davis was outgunned, to the point where he was tossed aside at times.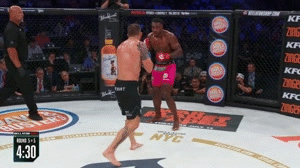 The biggest improvement from Bader was his ability to "read" strikes. His eyes were open, when Davis advanced he was able to see strikes coming and avoid or counter. This frustrated Davis, who began to plod forward and stand in front of Bader. That is what truly opened up the full offensive arsenal for Bader, who began to launch hard right hands and barrel forward on takedowns against the more credentialed wrestler.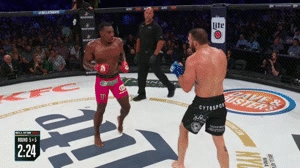 Haunted by strategic blunders in the past, Ryan Bader put on a cerebral, championship performance. He won the bout with his defense, and showed a level of comfort never before seen.
LAST FIGHT: Def. Linton Vassell via TKO (punches) at 3:58 of Round 2
Bader's first title defense was set on the campus of Penn State University, the greatest collegiate wrestling program of the last decade. It was a showcase event for wrestling in MMA, featuring PSU alumni Phil Davis and Ed Ruth, along with Minnesota's four-time All-American Logan Storley.
Bader met the talented and well rounded Linton Vassel. Underrated in his own right, Vassel was on a tear, using his excellent ground game to submit the former champion, Liam McGeary.
However, it was a night for American wrestling. Like his contemporary Phil Davis, Vassel did find success early with his kicks from the outside. A much more planted fighter, Vassel generated power and found a home for several hard body kicks. But because of his flat feet, the takedowns came much more easily for the All-American.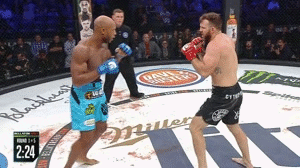 And they continued to be there, as Bader put on a wrestling clinic much to the delight of the Pennsylvania fans.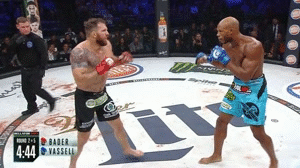 Bader even threw in a flashy lateral drop for good measure, as Vassel was foolish enough to look for an upper-body move on the champion.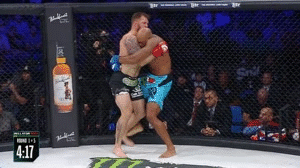 The end came late in the second round. Battered and discouraged, Vassel made half-hearted attempts to return to his feet. His opponent stuck against the cage, Bader employed the folkstyle wrist ride and unleashed a heavy torrent of strikes to abruptly finish the fight.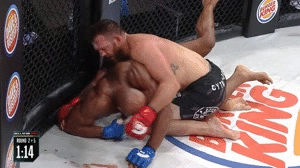 NEXT FIGHT: vs. "King Mo" Muhammed Lawal at Bellator 199
Bader's quarterfinal opponent in the Bellator Heavyweight Grand Prix will be "King Mo" Muhammed Lawal. A standout wrestler at Oklahoma State and then in freestyle, King Mo fell in love with a tricky, power boxing game.
However, at 37 years old, Mo is more vulnerable than ever. Although he has gone 9-2 in the last four years, much of that run was against regional level competition. His notable wins from the past few years are Linton Vassel, former UFC heavyweight Cheick Kongo, and split bouts with Rampage Jackson. Along the way, he was controlled by Phil Davis and suffered a knockout loss to the legendary Mirko "Cro Cop" Filipovic in Rizin FF.
Mo does not possess any skills Bader has not faced and overcome in the past. He is more of a plodding boxer these days, his wrestling and ferocious ground and pound attack have faded over the years. The "X" factor will be how Bader handles the pressure. However, as the favorite, he often comes out on top. It would not be a surprise to see Bader pick up points from the outside, before luring Mo in line for explosive takedown entries. A logical prediction is Ryan Bader outworks and neutralizes King Mo to a unanimous decision victory.
A semi-final bout against former UFC heavyweight Matt Mitrione holds a much greater threat. At his best, Mitrione has the footwork of a welterweight, landing chopping low kicks and devastating punches. His weakness has always been wrestling and cardio, but it will be interesting to see how the size difference between the two factors in.
You can watch the quarterfinal bout between Ryan Bader and Muhammed Lawal on Saturday, May 12th on the Paramount Network, formerly Spike TV (RIP). Perhaps we will see Bader move one step closer to a historic second championship, and gaining the recognition he has rightfully earned over a long career.