One of Poland's biggest stars heads to Dublin, Ireland as five-time world's strongest man Mariusz Pudzianowski returns to action against former title-challenger James McSweeney at KSW 40.
The fight was announced late last night by KSW.
Mariusz Pudzianowski (11-5, 1NC) vs. James McSweeney (15-15)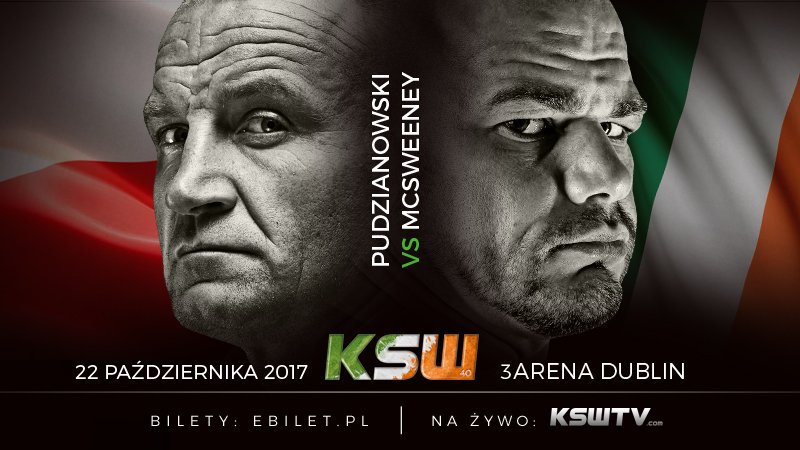 Strongman Pudzianowski enters the fight having won his last two, though neither of those being against stellar competition. At KSW 37, Pudzianowski took out rapper turned MMA fighter Paweł Rak via TKO in the first round. He followed that up at KSW 39, defeating fellow strongman Tyberiusz Kowalczyk via submission due to strikes in round two.
He is one of Poland's biggest stars, and his inclusion in the KSW 39 co-main event shows that. The event, dubbed 'KSW 39: Colosseum', had an incredible attendance of 57,766 at the Stadion PGE Narodowy in Warsaw, Poland. This made KSW 39 one of the most attended MMA events ever, only second to the 2002 PRIDE Shockwave event. Considering his drawing power in the country, Pudzianowski is a significant reason for this.
James "The Hammer" McSweeney was, at one point, considered a relatively promising heavyweight/light heavyweight talent. He has shown some tremendous striking at different points in his career, but he has remained incredibly inconsistent. Though a mere 1-3 in his last 4, McSweeney has been given no shortage of opportunities. As three of those four fights were title challenges in Australian FC, KSW, and Tech-Krep FC.
Funnily enough, his sole win in nearly three years is a big one. At KSW 32 almost two years ago, McSweeney quickly submitted the current KSW Heavyweight Champion; Marcin Różalski. Following the defeat to McSweeney, Różalski defeated none other than; Mariusz Pudzianowski to earn himself a title fight. So, you never know… maybe McSweeney can have a similar turnaround with a win over Pudzianowski.
---
The heavyweight fight between Pudzianowski and McSweeney will headline the KSW 40 show, which emanates from the 3 Arena in Dublin, Ireland.
Also on the card; a lightweight title rematch between Mateusz Gamrot and Norman Parke. Ariane Lipski will be defending her KSW Strawweight Championship as well, but an opponent has not been named.
_______________
Follow Mike on Twitter (@MikeLovesTacosX)