King Reina vs. Cindy Dandois is one of two solid women's bouts confirmed for the RIZIN Fighting Federation shows in December.
Though no official date for either has been announced; King Reina will welcome UFC & Invicta FC veteran Cindy Dandois to the RIZIN ring while Shinju Nozawa Auclair and Chelsea LaGrasse will revisit a rivalry from their days as an amateur.
RIZIN announced the bouts at a press conference in Japan on Friday.
---
"King" Reina (7-0) vs. Cindy Dandois (8-3)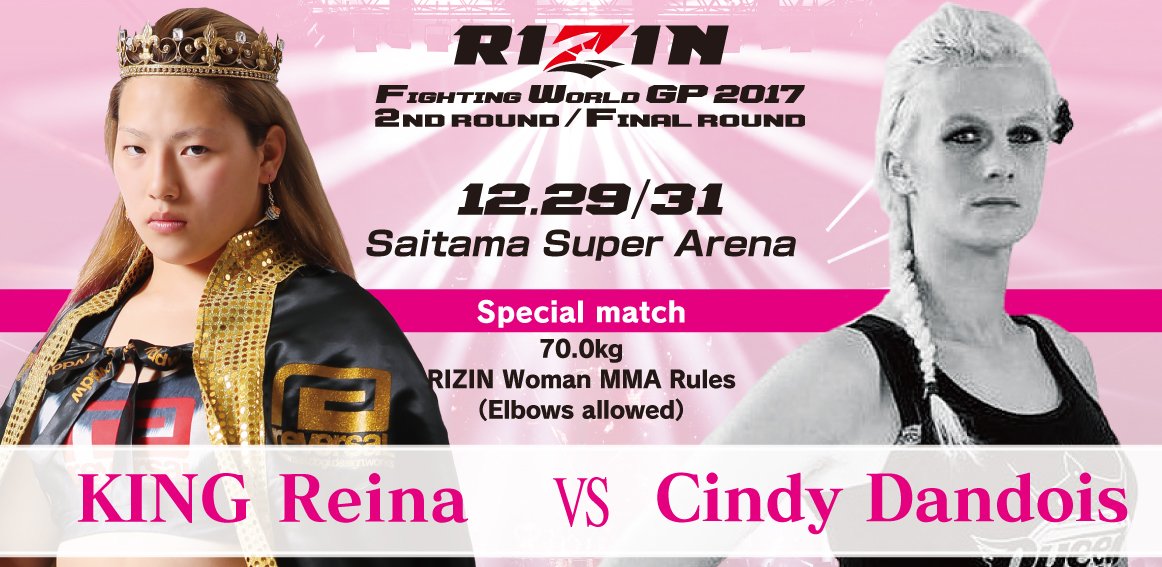 Reina returns to the ring for the 7th time in 2017 when she takes on the Belgian "Battlecat"; Cindy Dandois. Though young in her career, Reina has already made a name for herself across Japan for being an entertaining character who takes on all comers, which for the most part has meant fighting much larger women. That will not be the case with Cindy Dandois, as both are relatively similar in terms of size.
In her last outing in October, Reina defeated 6'0 Team Cyborg representative; Crystal Stokes.
Competing at both bantamweight and featherweight so far in her career, Cindy Dandois will now fight at 70 kg when she takes on Reina Miura in her Japanese debut. The former international judoka champion has picked up a couple very impressive wins in her 11-fight career. Most notably defeating Marloes Coenen, Jorina Baars, and Megan Anderson.
She signed with the UFC early this year, and after a very underwhelming debut vs. Alexis Davis in April, she was promptly released from her contract. Despite the RIZIN fight on December 29 or 31, Dandois is also signed on to compete in her home country of Belgium to take on Kerry Hughes at a catchweight of 140-lbs next week at Cage Warriors 89.
---
Shinju Nozawa Auclair (1-0) vs. Chelsea LaGrasse (0-0)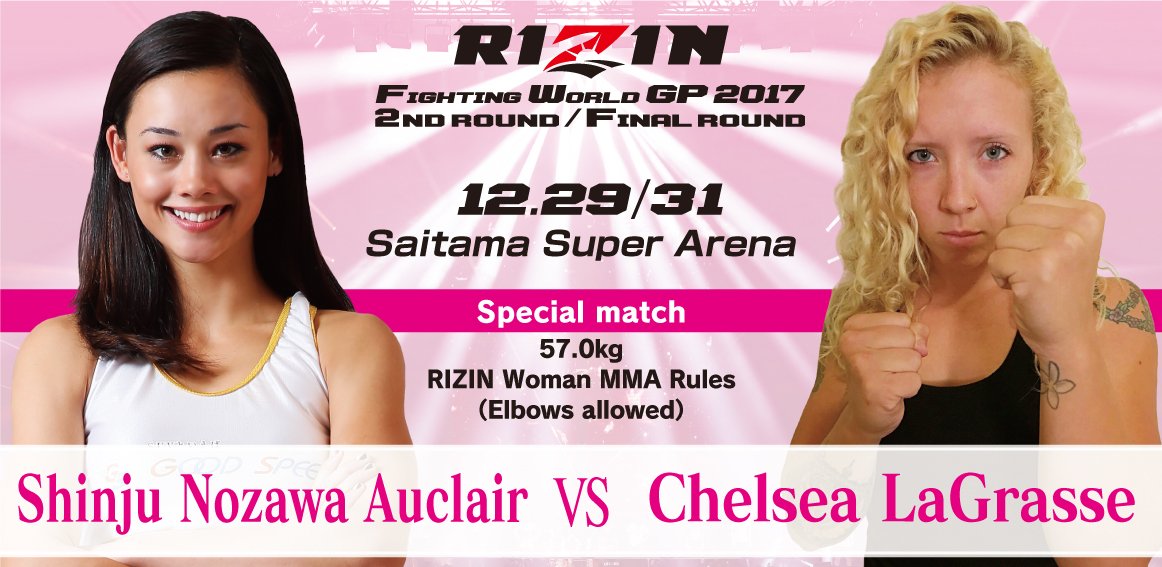 RIZIN wasted no time in snatching up Shinju Nozawa Auclair earlier this year when she announced her transition into professional mixed martial art from being an amateur.
After successfully closing the amateur chapter of her career with a first-round TKO at KOP 56, Shinju made her professional debut for RIZIN that next month, taking on Sheena Brandenburg in July. Shinju made easy work of the opposition, submitting her in less than two minutes.
Chelsea LaGrasse enters the RIZIN ring after a successful 3-0 run as an amateur, however, one of those wins has a bit of an asterisk next to it. In March of this year, at Big Guns 23, LaGrasse fought Shinju Nozawa Auclair.
LaGrasse won the contest due to disqualification after Shinju landed an illegal kick on the Ohio native. Now, almost exactly nine months later, the two will finally look to settle some unfinished business in the RIZIN ring. And, thankfully, due to RIZIN's ruleset, they won't have to worry about any similar disqualifications taking place.
---
No date for either date has been announced. Both fights are confirmed, however, and will take place on either December 29 or December 31. The date should be nailed down in the coming days/weeks.
__________
Follow Mike on Twitter! @MikeLovesTacosX