Since the early days of the sport, wrestlers in MMA have made an impact. From the times of Dan Severn and Mark Coleman to the present day elite, Division 1 wrestlers have had success at the highest level. Frankie Edgar, Daniel Cormier, Stipe Miocic and TJ Dillashaw all started as blue chip wrestling to MMA prospects.
After the conclusion of the NCAA Championships in Cleveland this past weekend, the time has come once again to assess the talent we may see in the cage someday.
Origin Stories
A common theme when looking at wrestlers who have made the transition is "unfinished business." There is a reason you don't see the absolute greatest in the sport like Cael Sanderson or Jordan Burroughs trying their hand at MMA. The athletes that transition often feel they haven't reached their competitive potential. Now too, many are looking for a new outlet to seize gold.
For some, unfinished business means they came just short of the top of the mountain. Chad Mendes comes to mind, losing by one takedown his senior year in the finals. For others, they had all the talent in the world but couldn't earn honors when it mattered the most. Urijah Faber and Scott Jorgensen will go down as some of the best to never become All-Americans.
Five Senior Wrestling to MMA Prospects
While the following athletes are immensely talented, it is likely they will not find themselves in the hunt for spots on World and Olympic teams in the coming years.
Every senior we watched at NCAAs this year could be immensely successful, but here is a short list of the guys with fun styles and championship potential. This list focuses on wrestlers who have the ability to get clean, sudden takedowns. This style of wrestling bypasses a lot of jiu-jitsu based scrambling that may spell trouble for some. It also points to the explosive athletic potential they posses.
#5. (135) Dom Forys, Pittsburgh
Credentials and Style
A Pittsburgh native, the story on 133 pounder Dom Forys is rapid progression. Pennsylvania has a reputation as the most talent rich state in the country for wrestling. A four time NCAA qualifier and perennial top 10 stud in college, Forys did not qualify for the state championships his senior year.
Within one year, Dom was a ranked contender and a leader on the team. His career saw wins over a national champion, and three of this year's All-Americans.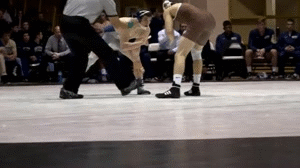 Unfortunately Forys met stiff competition at the national championships, and finished one win shy of All-American status on his best run in 2016. A must watch athlete, Forys frequently found himself in "shootout" matches, trading takedowns at a high pace for all three periods.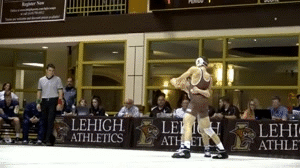 How likely is it?
Western Pennsylvania has a historic tradition in both boxing and wrestling. Forys himself has expressed interest in trying his hand at fighting, and there is a buzzing MMA scene in Pittsburgh today. Bellator's Dominic Mazzotta, Mark Cherico, and UFC vets Adam Milstead and Chris Dempsey all hail from the Steel City.
#4. (205/265) Jacob Kasper, Duke
Credentials and Style
Balancing athletics and academics in college is an insane challenge, but Duke is unique in that they do not provide athletic scholarships for their wrestlers. Severely underfunded, the staff at Duke continue to produce quality wrestlers year after year against all odds.
Jacob Kasper embodies this ideal. Starting his career at 184 pounds, his results were average at best. It wasn't until Kasper bulked up to heavyweight (a 285 pound limit in college) that he truly blossomed.
His two seasons at heavyweight produced two high All-American finishes and memorable, high amplitude takedowns. An upper-body artist, Kasper is known for his big throws, speed, and surprising strength as a "small" heavyweight.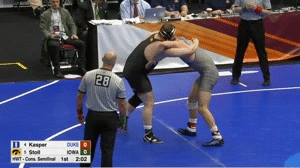 How likely is it?
Kasper is quite the character. He talks the talk and he walks the walk. Prior to his 2017 NCAA bout with all time great Kyle Snyder, he previewed the match saying, "I'm gonna punch him in the mouth." Kasper has flirted with the idea of Pro Wrestling a few times, but there's always a chance that we get to see his powerful takedowns and charisma in the Octagon someday.
#3. (125) Nathan Tomasello, Ohio State
Credentials and Style
Known to fans as "NATO", Ohio native Tomasello is as decorated as they come. A four-time Ohio state champion, Tomasello delivered immediately with a first place finish as a freshman at the 2015 NCAA Championships. Setbacks and injuries each year held Tomasello to just one title. He wrestled with a completely torn ACL in his most recent tournament.
Even so, Tomasello is a four-time All-American, finishing first, followed by three third place finishes. NATO is most known for his power and near perfect technique. It was a basic guarantee that every weekend, Ohio State fans would see him push a frenetic pace, and lift his opponents off their feet like children.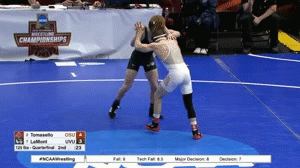 Hard-nosed and brutal, NATO wrestled an extremely physical style that had an All-American tapping out in their match two years ago.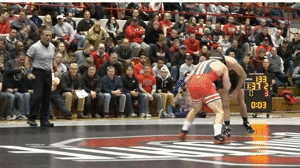 How likely is it?
It's well documented that NATO practices boxing in his spare time to help with his footwork and hand fighting technique. A rough character and fierce competitor, it is unlikely he's ready to quit his search for gold. Ohio State has produced numerous standouts in MMA, most notably Mark Coleman, Kevin Randleman (RIP), and recently Lance Palmer.
#2. (170) Isaiah Martinez, Illinois 
Credentials and Style
There has only been one four-time undefeated national champion in Division 1 wrestling, that being Penn State head coach Cael Sanderson. After a dominating undefeated freshman campaign, it seemed certain that California native, "IMAR" Isaiah Martinez was on track to be the second to do so. Competing at 157 and 165 pounds, Martinez lost to just two wrestlers in his entire career, two Penn State products.
Although Penn State and Sanderson held Martinez to just two national championships, IMAR is a four-time NCAA finalist and one of the most dominant athletes to ever step on the mat. Known for his superhuman physicality and use of underhooks, IMAR was throwing around grown men as a freshman. Combined with insanely heavy hands and elite technique, he became a nightmare matchup for anyone in the world.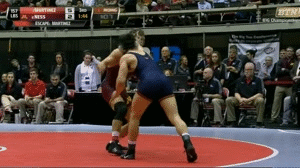 How likely is it?
While many feel a title run in freestyle wrestling awaits IMAR, his bullying style and magnetic personality would much better suit the world of MMA. A standout wrestler in California, Martinez surely had exposure to a lot of friends and training partners who chose to pursue a career in fighting.
#1. (185) Pat Downey, Unattached
Credentials and Style
"PD3" Pat Downey is best described as a wildcard.
https://twitter.com/iAmPatDowney/status/974698465203638272
A medalist at the Junior World Championships prior to college, Downey excels in freestyle wrestling. What has plagued the Maryland native more than anything is an inability to fit in with the structured world of college athletics.
Originally committing to Nebraska, Downey did not wrestle an official match his freshman year. He spent his next year at Iowa Central Community College, alma mater of Jon Jones and Colby Covington. His junior year at Iowa State saw him run through a loaded field with impressive Greco Roman abilities, pinning this year's national finalist and earning All-American honors.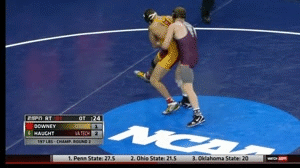 After an impressive summer in freestyle that saw Downey knock off All-Americans and NCAA champions, PD3 was ultimately ineligible for competition at the University of Iowa for academic reasons.
How likely is it?
According to Downey, he fears no man. Multiple discussions have taken place over social media about PD3 fighting a multitude of people; recently wrestling to MMA prospects Deron Winn and Kyle Crutchmer to name two.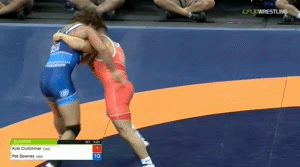 By his own words, Downey is dead set on fighting. Whether it will be in a cage, or on the street, only time will tell.
UPDATE (October 19th, 2018) 
Pat Downey will make his amateur MMA debut for Donald Cerrone's Cowboy Fight Series on January 19th. Check it out.
MAIN IMAGE: