It's hard not to be invested in the career arc of Russian striker Albert Tumenov (19-4 MMA, 5-3 UFC). In his eight years as a pro, "Einstein" has terrorized the Russian regional scene, flirted with UFC welterweight title contention, and then returned to rule his homeland once again.
With a third straight win for the ACB title on Saturday, Tumenov will likely sign with either the UFC, Bellator MMA, or the Professional Fighters League for another run at a "world title".
At just 26-years-old, Albert Tumenov has distinguished experience, a deepening level of skill on the feet, and a violent, exciting style.
If you like body-punching maniacs, left high kicks, and ice-cold Caucasus assassins, this is your boy.
This is Fighter of Interest, where underrated, under the radar, or underappreciated fighters from an upcoming event are brought to light. Enjoy the GIFs and brief analysis.
ACB 89
Fighter of Interest: Albert Tumenov
Tumenov is listed as a "Master of Sport" in boxing and hand-to-hand combat, a title that usually denotes a national championship. What's important is that Tumenov has been boxing and practicing karate since age 6, and it shows in his style.
It's worthy of note that like many Russian fighters, Tumenov has relocated his training to beautiful New Jersey. Tumenov chose Fairfield's K Dojo Warrior Tribe (sick name) over the much lauded Ricardo Almeida gym with Mark Henry.
Earlier in his career, Tumenov would often plant his feet and wing hooks and uppercuts. His power, aggression, and accuracy were usually enough to back his opponents up. Many of his retreating foes were shocked to find swift head kicks coming at them from both sides.
In combination, Albert Tumenov prefers the lead head kick with no switch, as it plays well off his right hand and sets him back in his stance to throw another if need be. He is not the type to throw a naked head kick from range with no setup, which is a breath of fresh air in MMA.
Another staple of Tumenov's game, especially in his early career, is catching and countering his opponent's kicks to the legs and body.
He has decent reaction time and can usually snatch up a leg and fire off his right quickly, although he'll often eat the kick.
Otherwise, it's all about the hands. Younger Tumenov loved to wait on the counter, and fire off powerful combinations featuring his monster left hook and lead uppercut. When Albert Tumenov felt more confident he could keep the fight standing, he began to lead more often and that's when we saw his disgusting body work on display.
UFC Career
–vs. Ildemar Alcantara–

Albert Tumenov's UFC debut was not a performance to remember. Perhaps that is why it is nowhere to be found on UFC Fight Pass.
Brazilian Ildemar Alcantara is best known for two things. One is being bantamweight violence-lord Iuri Alcantara's brother. The other is dropping from light heavyweight to welterweight between his UFC debut and his next bout. He won both.
Alcantara is a decent enough grappler, and an enormous 6'2 welterweight, as you might imagine. It was not an easy debut for a relatively one-dimensional Tumenov. In addition to the stylistic trouble, it was insanely hot and humid in the Brazilian arena that night, clearly affecting the cardio of all involved.
With that in mind, it was probably ill-advised for Albert Tumenov to go full speed and empty the tank in the first round.
To start, the theme of the round was patience. Tumenov waited on the body kicks to counter, and he anticipated Ildemar's transitions to explode and reverse.
Tumenov's ability to hang with Alcantara on the ground was a great sign, he appeared to be in control of the fight. That is why it is so perplexing that he went all in to finish the fight with ground and pound.
A decent guess is that he experienced the classic UFC debut "adrenaline dump" and felt an opportunity to end it there before he gassed out.
In the second and third rounds, an exhausted Tumenov was still able to find his spots against an increasingly hittable Alcantara.
The time spent on his back proved to be the difference, and he lost his debut by split decision.
After this bout, Ildemar alternated wins and losses and was cut from the UFC after losing to Kevin Casey. Punishment fits the crime.
–vs. Anthony Lapsley–
Staying on theme, Tumenov was matched up with another strong top position grappler in Anthony Lapsley. A decent wrestler, Lapsley is a veteran of over thirty fights, but he seemed to fall short against every "name" opponent.
I know Anthony Lapsley best for having eight children. Bless him.
Against an average sized welterweight and minimal threat on the feet, Albert Tumenov had no problem dealing with a takedown-centric game.
While Tumenov had some success leading, and shucking off takedown attempts with underhooks, Lapsley's sloppy entries were the best path to victory. Throwing naked kicks and lead overhands with his chin out, it was a matter of time before Tumenov found his mark.
Lapsley never fought again.
–vs. Matt Dwyer–
Lanky Canadian Matt Dwyer came up through an MMASucka favorite, Battlefield Fight League. Dwyer had all his fights with BFL, and finished all seven of his wins by knockout, including UFC veteran opponents Shonie Carter and DaMarques Johnson.
Unfortunately, his UFC debut was disastrous.
Eager to avoid the aggressive combination punching of Tumenov, the 6'4 welterweight felt safe guarding his body while out of range. Albert Tumenov is a stockier fellow, and a shallow tape study will tell you to watch out for his hands.
And when you're 6'4, it's usually reasonable to rule out head kicks as an option from your 5'9 opponent.
Karate-Tumenov shocked a retreating Dwyer with a left high kick off a missed right hand, beat on him, then absolutely shinned him to sleep with the switch kick.
It was gross, honestly.
It's pretty rare for Tumenov to switch to throw his left kick, but he had the presence of mind to give Dwyer a new read after the first knockdown.
Dwyer has gone on to score a sweet superman punch KO in the UFC, and is currently riding a three-fight win streak up at middleweight on the Canadian regionals.
–vs. Nico Musoke–
Nico Musoke is another fighter who deserves more love. He went 10-2 on the European scene against tough competition, and debuted in the UFC at middleweight, scoring an awesome comeback armbar from guard. Before his fight with Tumenov, Musoke earned two more hard-fought wins and kept things competitive with Kelvin Gastelum.
A well-rounded striker, Musoke gave Albert Tumenov significant trouble in the first half of their fight. His team had clearly observed Tumenov's tendency to always reach for kicks to catch them. He repeatedly pounded away with body kicks, guarding intelligently against Tumenov's predictable counters.
But it seemed as if Tumenov was unphased by the kicks, and he switched up his attack, moving his feet and turning up the heat. He stayed in Musoke's face, and expertly timed his entries and attacks to land simultaneous counters instead.
It was a great adjustment to see, as Musoke may have continued to pick him apart if he waited on him. As the bout wore on, Tumenov isolated more of Musoke's tendencies. Noticing Musoke consistently circled off to his left, Tumenov started to lead him into powerful overhand rights over the guard.
It's possible that Musoke won the first round. His corner pleaded with him to take action and win the final round. The new strategy was to take down Albert Tumenov.
Takedown and grappling defense was another hole in Tumenov's game Musoke's camp sought to exploit. Much to their surprise, Tumenov showed off incredible balance, fighting off numerous attempts. Tumenov even nailed his own double leg for good measure.
Musoke has fought once since then, in a back and forth loss to Bojan Velickovic. The Wikipedia entry on this fight puts it best:
"…he lost by knockout in the last minute of the third round when Veličković connected with a right hook to the temple, causing Musoke to do the stanky leg and fall to the ground".
–vs. Alan Jouban–
You've got to love Alan Jouban. He's handsome, reps Muay Thai and 10th Planet Jiu-Jitsu, and he picked apart Mike Perry. A now seven-time UFC winner, Jouban has become a fan favorite for his willingness to engage in absolute warfare.
But as Nico Musoke attempted to demonstrate, it is best to try and outmaneuver Albert Tumenov. Do not meet him head-on.
Jouban met him head-on, and found himself in a physical mismatch.
Tumenov's power and pressure seemed shocking to Jouban. To that point, Tumenov rocked Jouban with a head kick through his arm and let loose with a brutal series of punches, knocking him silly.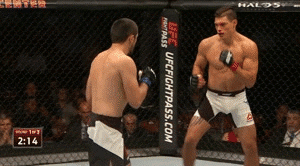 Jouban got up to protest the stoppage, but it was obvious he was still in another dimension.
After a rough debut, Tumenov rattled off four straight with three knockouts.
–vs. Lorenz Larkin–
Lorenz Larkin is incredibly frustrating. In spots, he has displayed some of the most fun and effective striking in the entire sport. His kicking game is unreal when he lets it go, and his hands are nothing to sneeze at.
But "in spots" sums it up. You never know which version of Larkin you'll get from fight to fight, sometimes even from minute to minute. This fight is a perfect example.
Larkin approached Tumenov the right way. He did his best to stay out of exchanges in tight, and went to work with a high volume of leg kicks. Just like in the Musoke fight, Tumenov continued to reach for the kicks and ate them, unable to find his counters.
Somehow, Tumenov was able to cover distance and generate power to press Larkin backward despite the damage to his leg. He is made of something differnt.
Something happened between rounds, something magical. Maybe it was the advice of Tumenov's corner, or maybe it was just something he saw in Larkin. But Albert Tumenov came out in the second round on a mission to destroy Larkin's body with his fists.
The second round was a body-punching clinic rarely seen in the UFC, and certainly never before seen in Tumenov's career.
In the first round when Larkin was backed up the cage, he did a decent job covering up and minimizing damage, keeping a relatively high guard. Perhaps it was intentional then, to get Larkin worried about defending head strikes in order to open up the body in the second. Consequentially as his body assault took its toll, Larkin's head became available as well.
As it turns out, Albert Tumenov is human. Lorenz Larkin completely switched gears, and came out in the third round throwing the Andy Hug (RIP) tornado kick, a spinning heel kick to the legs.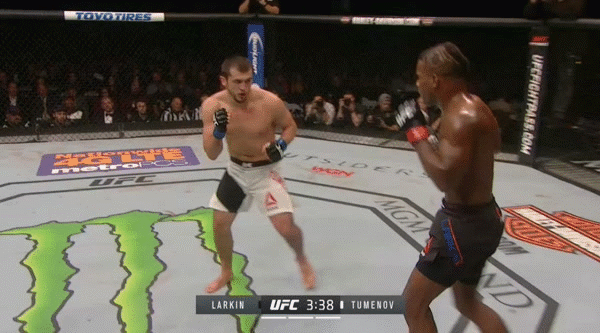 Tumenov finally showed the damage to his leg, but did his best to continue pressing forward, landing much more in the last two minutes of the round.
It was one of the best, weirdest fights of all time that no one ever talks about. Tumenov was awarded a split decision. Five straight baby.
–vs. Gunnar Nelson–
As far as McGregor teammates go, Gunnar Nelson flies a bit under the radar, likely because of the long gaps between his fights. Nelson made his name on the no-gi grappling circuit, winning numerous competitions and matches against much larger opponents like Jeff Monson. An additional background in karate made Nelson a great fit for MMA.
A springing in-and-out kickboxing game complemented by a dominant top game was just what the doctor ordered to take out Albert Tumenov. While he has displayed fleet footwork at times, Tumenov started the fight plodding forward, eating leaping left hooks from the swift Gunnar Nelson.
Of course Nelson isn't perfect defensively, and still had his troubles with Tumenov's attack. But the traps were laid, and Tumenov's programmed reactions to Nelson's striking entries left him open to takedowns.
Tumenov spent the majority of the round on his back, patiently waiting for Nelson to open up his offense to sweep. It was the same strategy we saw against Ildemar Alcantara, two years and six fights ago. Not a good sign.
Nelson employed the same tactic in the second. Visibly frustrated, Tumenov became impatient and transitioned on the ground with the sole focus of getting back up. Nelson easily took his back, and Tumenov fell victim to his deadly squeeze.
While it was a tough stylistic matchup, Tumenov made avoidable strategic mistakes.
–vs. Leon Edwards–
Today we know Leon "Rocky" Edwards is one of the best welterweights in the world, as demonstrated by his six-fight winning streak. But at the time he was matched up with a defeated Tumenov, he was only one fight into that streak, coming off a loss himself to another future contender in Kamaru Usman.
Edwards presented a similar challenge as Nelson in that he was going to be competitive on the feet, with a gameplan centered on takedowns and top control. Known originally as a striker, we've learned Leon Edwards is one of the best wrestlers and grapplers in the division.
Edwards exploited Tumenov's willingness to counter and timed his takedown entry. It was clear Albert Tumenov had improved his takedown defense, but Edwards' chain wrestling eventually got the job done, and he kept the Russian on his back for most of the round.
It was all too familiar. But Albert Tumenov has shown time and time again he has the ability to adjust mid-fight, and the second round was a different story.
Tumenov stayed intentional and persistent in his takedown defense, which seemed to fatigue Edwards. Feeling the momentum shift, Tumenov followed Edwards around the cage, mixing up his hands to the head and body with great success.
Halfway through the final round, it was more of the same. But all credit goes to Leon Edwards, he dug deep and found one last takedown, sticking to Tumenov like glue. It was unfortunate to see Tumenov had not learned his lesson, and neglected his grappling defense to focus on getting back to his feet to win the round.
Crossroads?
If you've made it this far, suffice to say you enjoy the work of Albert Tumenov, and are understandably frustrated with what you're seeing here.
But Tumenov's entire UFC career took place before his 25th birthday. He had eight fights in three years, and demonstrated tremendous improvements along the way.
The UFC knew this, and offered Tumenov a new deal as he entered free agency. According to Tumenov, the deal was "unacceptable". If it was an insulting low-ball (on-brand for the UFC), they essentially let him walk.
He was welcomed back to Russia with open arms, Tumenov signed with ACB.
LAST FIGHT: Def. Nah-Shon Burrell via Unanimous Decision
After a disgusting knockout of Ismael de Jesus (see beginning of article), ACB set up a showcase fight against Philadelphian UFC veteran Nah-shon Burrell. A striker by trade, Burrell has shown an ability to minimize damage and stay relatively competitive with the best strikers at welterweight. He was cut after a decision loss to Stephen "Wonderboy" Thompson.
Tumenov looked fantastic. He let loose with low kicks, body work, rapid combinations against the cage. Best of all, he demonstrated the proper technical getup off his back.
Because we all love body shots, let's just keep admiring the beating Tumenov put on Burrell. Like a power-punching Nick Diaz.
It would be unfortunate to leave out one of Tumenov's best, and newly emerging weapons, a swift, solid jab. Add in some more measured footwork, and Tumenov looks like he's ready for another crack at the top.
NEXT FIGHT: vs. Ciro Rodrigues at ACB 89
ACB gave us all a scare when they canceled multiple shows, and switched to a pay-per-view model.
It appears things are back on track with ACB 89, and you'll be relieved to hear their PPV pricing is around three US dollars.
We were going to be treated to a major showdown between Tumenov and ACB welterweight champion Mukhamed Berkhamov, but Berkhamov pulled out with an injury.
But fear not, what about an action fight against the always game Brett "Fudoshin" Cooper?
Injured. On the weekend of the event, it is safe to say the new fight with the 22-7 Brazilian Ciro Rodrigues is happening. An exciting striker, Rodrigues has numerous wins against stiff competition, including UFC veteran David Michaud.
Assuming Tumenov brings his A-game and lays waste to Rodrigues, it's possible we'll see an incredible matchup in Tumenov-Berkhamov go down next. But depending on the length of his contract, there's a good chance Tumenov gets the call from one of the three leading North American promotions.
You can watch ACB 89: Krasnodar on Saturday, September 8th, on ACBWorld. It's cheap as dirt, and you get to see the body punching god Albert Tumenov back in action.
Main Photo
Embed from Getty Images