Well, it was announced earlier tonight that Ayaka Hamasaki and Kanna Asakura would be facing each other for RIZIN's inaugural world title. Also announced tonight; Kyoji Horiguchi vs. Darrion Caldwell.
But this blockbuster bantamweight match-up won't just be a regular fight. It has been announced that this bout will determine the inaugural RIZIN Bantamweight Champion.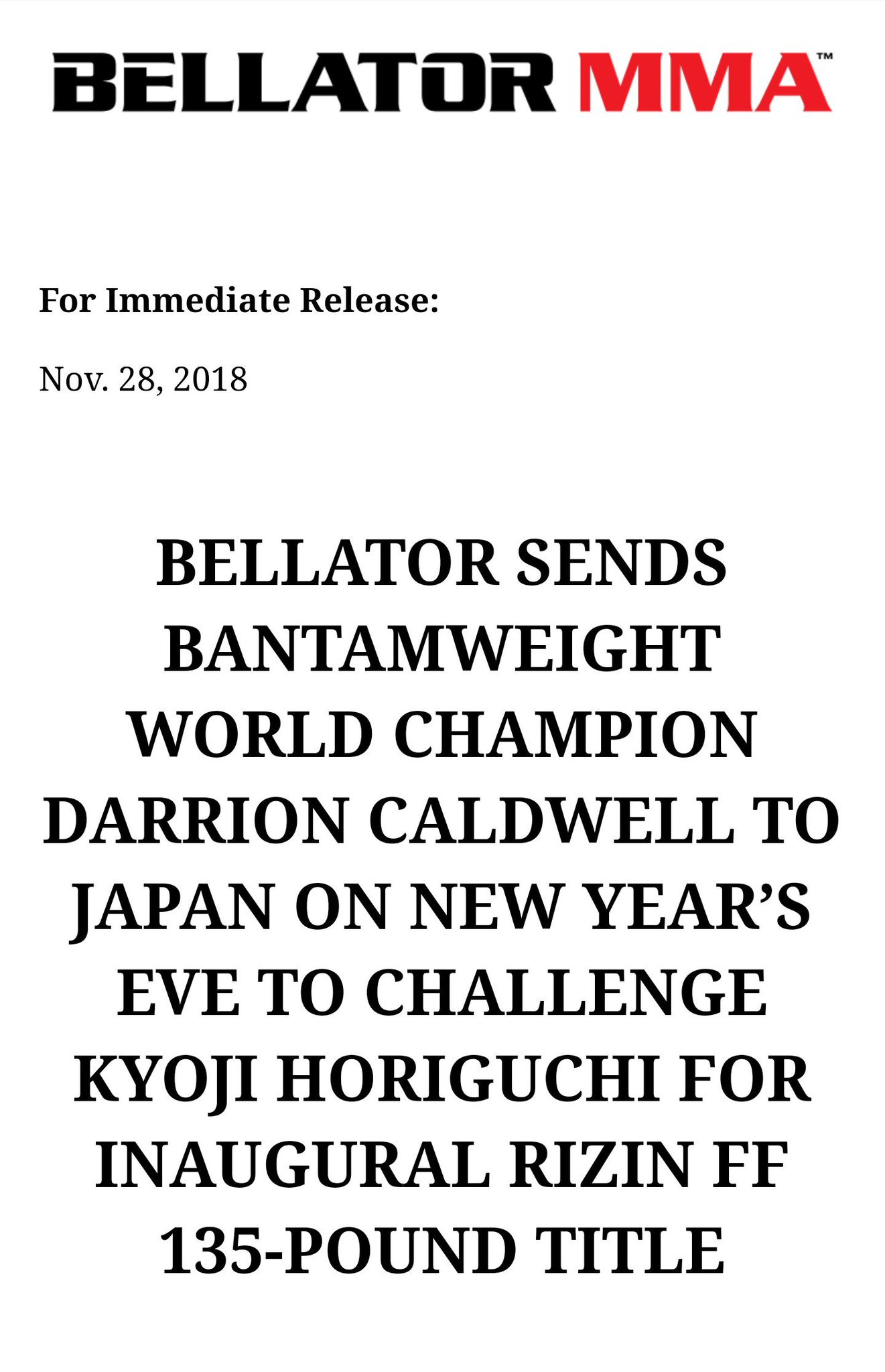 Bellator Bantamweight Champion, Darrion Caldwell (13-1) heads to Japan on a nice win streak with gold around his waist. He looks to add another shiny belt to his collection when he faces Kyoji Horiguchi (25-2) for the inaugural RIZIN Bantamweight Championship.
Horiguchi has won ten-straight, this includes a 2017 RIZIN Grand-Prix Championship. The agreement between Bellator and Rizin FF furthers a collaboration between the two companies which has seen multiple athletes, including Fedor Emelianenko, "King Mo" Lawal and Hisaki Kato amongst others, compete interpromotionally, but never before has a title from either promotion been on the line.
The President's of both Bellator and RIZIN had this to say regarding the landmark match-up.
"Working for the Japanese fight company K-1 was a magical time during my promotional career and I have always felt strongly that MMA in the 'Land of the Rising Sun' would rise again. It truly is amazing to see what Nobuyuki Sakakibara has been able to do thus far with Rizin FF, so when he reached out to me about putting Darrion Caldwell against Kyoji Horiguchi for Rizin's belt, we spoke to Darrion and he jumped at the opportunity," Bellator President Scott Coker said. "Bellator wants to support Rizin, and by sending our bantamweight champion to compete during their New Year's Eve event, we look forward to this leading towards more collaboration between the two promotions in 2019. I want to wish Darrion luck in his quest to prove he is the best 135-pound fighter on the planet."
"I am very grateful and honored that Bellator and Scott Coker would send us their unarguable bantamweight champion to fight for Rizin's first-ever world title fight. This title fight will be a true champion vs. champion to determine the world's best bantamweight fighter," Rizin FF President Nobuyuki Sakakibara said. "We hope this kind gesture will kick off of a series of exciting matchups between both promotions in 2019. My dream would be that eventually, we can co-promote a mega event in both countries with a 'Champion Carnival' taking place where stories and rivalries can be built and told."
This bout will be one of many featured fights on RIZIN 14, taking place on December 31, 2018.