Fight Pass News Blitz #1
Introduction: I have been a long-time subscriber, fan, and supporter of the UFC Fight Pass streaming service. Over the past couple of years, I've tracked UFC Fight Pass-related news and announcements via my twitter account (@volkstyles). Now, I'm starting a series to track that news in a succinct way. I also use plenty of embedded links to keep your experience as seamless as possible. If it interests you, feel free to follow along…
Upcoming Live Events + Fight Announcements:
TKO 46 – Friday, February 8, 2019
HW Title: Ciryl Gane (c) vs. Raphael Pessoa
FLW Title: Malcolm Gordon (c) vs. Yoni Sherbatov
BW Title: Nate Manes (c) vs. Taylor Lapilus
Vacant WFLW Title: Jade Masson-Wong vs. TBA
AFC 144 – Wednesday, January 16, 2019
HW: Jake Heun vs. Mika Faavale
LHW: Al Matavao vs. Phil Hawes
Island Fights 52 – Wednesday, January 23, 2019
Titan FC 52 – Friday, January 25, 2019
---
Titan FC's Future
Titan FC 51 was only Titan Fighting Championship's fourth event of 2018. Titan FC's executives took a six-month break between their 50th and 51st events to take a renewed approach to promoting the events for the Flordia-based promotion. Part of that was taking things international. Titan FC 51 in Kazakhstan was their first event outside of Florida since March 2016 and their first event ever outside the U.S. They have been alluding to a huge 2019, and that definitely looks to be the case.
Timeline of Recent Announcements:
November 7 – Announced Titan FC 51 in Kazakhstan
November 9 – Announced an extension to their UFC Fight Pass media rights deal first signed on June 15, 2015, and events featuring combat jiu-jitsu matches.
December 21 – Titan FC streamed live on UFC Fight Pass. Herbert Burns spoke about a card on March 15. Titan FC 52 was announced for January 25, 2019. It is headlined by Jason Soares (11-0) and Caio Uruguai (7-1).
---
CES MMA Coming to UFC Fight Pass
First reported by @mymmanews, Rhode Island-based CES MMA is coming to UFC Fight Pass after being on AXS TV since CES 25 on August 8, 2014. CES MMA held 5 events in 2015, 9 events in 2016, 7 events in 2017, and 7 events in 2018.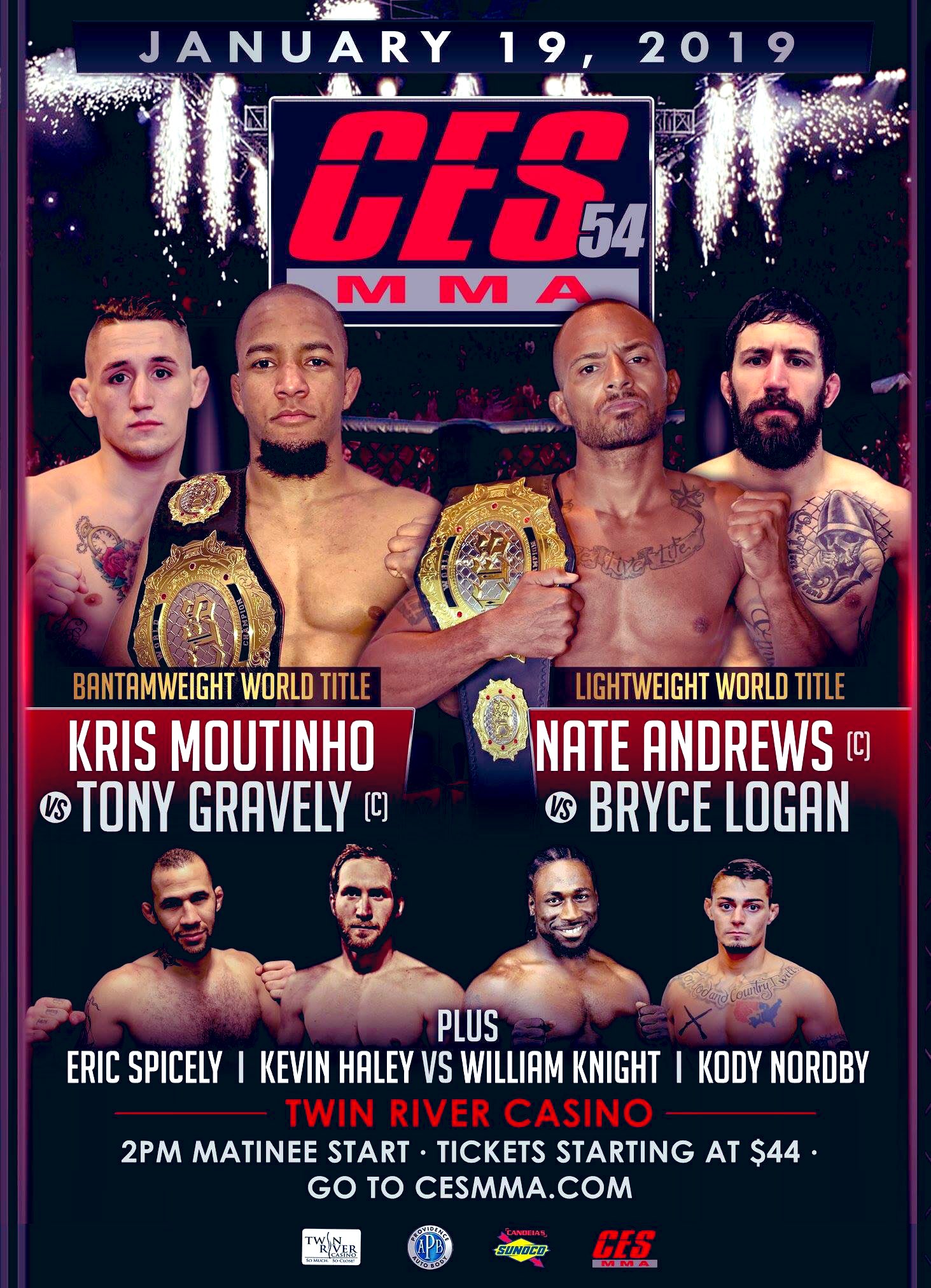 CES 54 is scheduled for January 19, 2019, and it's headlined by a LW title fight between champ, Nate Andrews, and Bryce Logan. It has not been confirmed yet whether the event will be the promotion's live debut on UFC Fight Pass.
On Christmas, Jimmy Burchfield Jr (VP of CES MMA) said this on Twitter (see below). Expect the "gift" to be a UFC Fight Pass live stream of CES 54.
Merry Christmas. Another gift coming your way soon. Stay tuned. @CESMMA @twinrivercasino pic.twitter.com/nvYhXVUbQr

— Jimmy Burchfield Jr (@JBurchfieldJr) December 25, 2018
---
QUINTET in 2019 + MORE QUINTET AND POLARIS PRO JIU-JITSU
On December 20, QUINTET Team Grappling announced that it will start its 2019 campaign on February 3 in Japan, and will be an all-female Fight Night event.
In 2019, QUINTET will hold a minimum of 10 events across Japan, South Korea, the UK, and the US. QUINTET 4 is slated for April or May.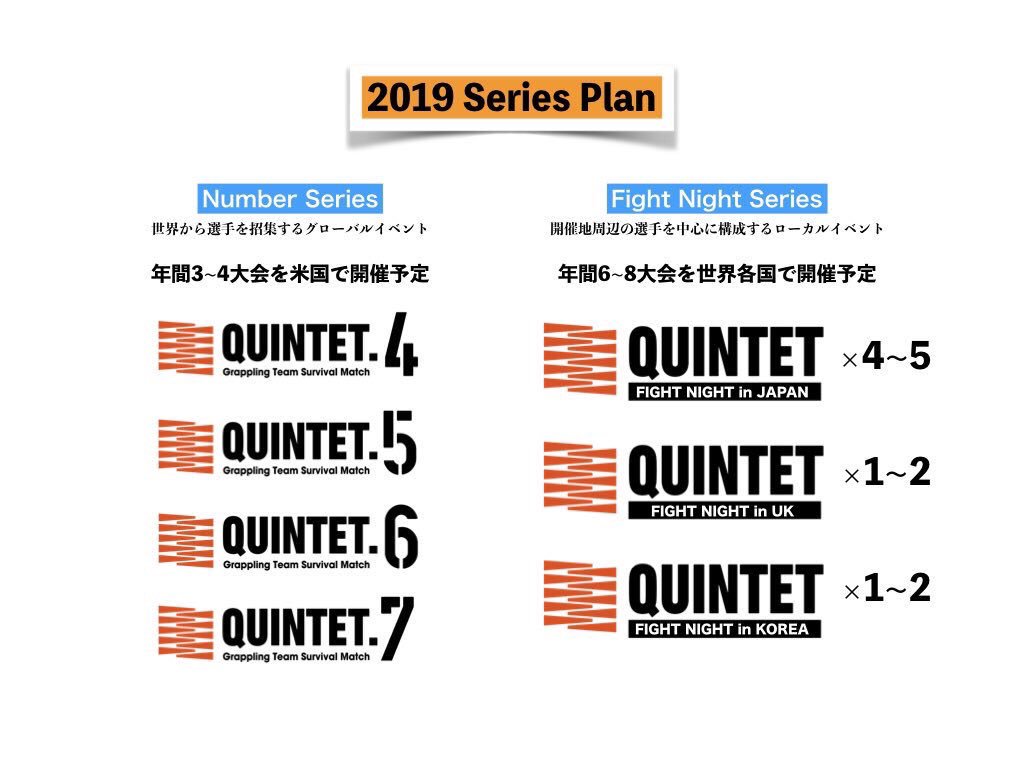 On December 21, Josh Palmer – commentator for Cage Warriors and Polaris Pro on UFC Fight Pass – announced that UFC Fight Pass has increased the number of events airing on UFC Fight Pass in 2019 for QUINTET and Polaris Professional Jiu-Jitsu Invitational.
Increase in number of events next year from both @PolarisProEvent and @quintet_pr – the @ufc are stepping up their support of #BJJ/#Grappling in a big way through @UFCFightPass. Fantastic news for the sport. #UFC

— Josh Palmer (@JoshPalmerSays) December 21, 2018
Events in 2018:
Quintet = 4 (QUINTET 1, Fight Night 1, QUINTET 2, and QUINTET 3)
Polaris Pro = 3 (Polaris 6, Polaris 7 and Polaris 8)
---
Ant Evans Alludes to HUGE 2019 Updates to UFC Fight Pass
December 10 – Two new combat sports being added to UFC Fight Pass in 2019.
December 14 – Watching multiple streams at once being developed and "big, big things" coming in a matter of weeks and effective in January 2019.
---
Upcoming events from VOD partners: WXC MMA, Rise of Champions (UK), and LUX Fight League
WXC MMA, a smaller promotion based in Michigan, has had a VOD deal with Fight Pass since WXC 70 on November 11, 2017 (uploaded on November 16, 2018). They held four events in 2018.
WXC 71 – February 17, 2018 | Uploaded on February 20, 2018
WXC 72 – June 15, 2018 | Uploaded on June 20, 2018
WXC 73 – August 3, 2018 | Uploaded on August 8, 2018
WXC 74 – November 9, 2018 | Uploaded on November 17, 2018
WXC MMA is still working through streaming options for its WXC 75 event scheduled for February 1, 2019.
As of December 18, 2018:
---
Next, Rise of Champions is a new amateur and professional MMA promotion led by former UFC fighter, Brad Pickett. Started in 2015, ROC started a VOD deal with UFC Fight Pass in fall of 2017 with ROC 4. Rise of Champions held two events in 2018.
ROC 4 – September 30, 2017 | Uploaded on November 1, 2017
ROC 5 – February 17, 2018 | Uploaded on March 9, 2018
ROC 6 – September 1, 2018 | Uploaded on October 9, 2019
ROC 7 takes place on March 2, 2019, and it's headlined by a professional HW title fight between Chi Lewis-Parry (6-0-1) and Lukasz Parobiec (13-8-1). Lewis-Parry and Parobiec fought to a majority draw at BAMMA Fight Night London on June 28, 2018.
---

Finally, LUX Fight League is an interesting case. UFC Fight Pass has yet to announce its relationship with the upstart Mexican promotion despite adding two of LUX's events to the service in late October of 2018.
NEW PROMOTION ON #UFCFightPass!
What's that? FP striking deals and adding content without telling anyone?

Jokes aside, FP has silently added @luxfightleague to its fight library under its #FightPassFocus umbrella. It's a 2017 upstart Mexican promotion. (h/t @Themotherfcker) pic.twitter.com/OKmS7GKA05

— Volkman (@volkstyles) October 27, 2018
LUX Fight League will host its 4th event: LUX Fight League 004 on March 15, 2019, at the Pepsi Center WTC in Mexico City, Mexico. The event will actually feature former UFC talent with Marco Beltrán (one of many exiled flyweights, now at bantamweight) headlining against Erick Ruano, an 11-0 bantamweight who fought at LUX Fight League 003. The co-main event features Hugo "Hooligan" Flores, a 7-1 lightweight who not only fought at LUX Fight League 003 but also fought at CBF MMA featured in Dana White: Lookin' for a Fight – Season 3 Ep.1 (See: 3:32/30:00).
Although the event will be recorded and distributed purely in Spanish, it features great fights and exciting prospects. Think Combate Americas with smaller aspirations. LUX Fight League 004 should be uploaded to UFC Fight Pass within a couple weeks after the event.
---
Karate Combat in 2019
On December 21, Karate Combat outlined its 2019 plan. The promotion – which only began in 2018 – is planning an ambitious sophomore year with a structured championship series. Karate Combat is having 10 events with all featuring championship and challenger bouts starting with LA on January 24, 2019. Click here for more info. Video Teaser
Want to know what's happening with Karate Combat next year?

Click below to find out everything we got planned for 2019!https://t.co/2dPhbCo1ZH

— Karate Combat (@KarateCombat) December 21, 2018
---
Brand New UFC Fight Pass Original Series: UFC on the Line
On Christmas Eve, the UFC Fight Pass team unveiled their newest original series: "UFC on the Line." It will be interesting to see how this series will go – whether it will be for every UFC event or just for every numbered PPV.
Check out an all-new show on #UFCFIGHTPASS "UFC On the Line" breaking down the betting lines for our biggest UFC fights coming up at #UFC232! Featuring @bisping @BrendanFitzTV @jsimbal & @Greek_Gambler!

📽 https://t.co/Y1rnAPyV8Z pic.twitter.com/lkzB5PZYmj

— UFC FIGHT PASS (@UFCFightPass) December 24, 2018
---
LONG-TERM SCHEDULE:
UFC Fight Pass Q1 of 2019, Times=ET, 20 events
16JAN19 11:59a Alaska FC 144 Heun/Faavale
19JAN19 CES MMA 54 Andrews/Logan (???)
19JAN19 XFN 354
23JAN19 Island Fights 52
24JAN19 Karate Combat LA
25JAN19 Titan FC 52 Soares/Uruguai
26JAN19 Invicta FC 34
01FEB19 GLORY 63 SFS Marshall/Dennis
01FEB19 FNF Muay Thai Luna/Clay
03FEB19 QUINTET FN 2 Japan: All-Female OPEN
07FEB19 Island Fights 53
08FEB19 TKO 46 Gane/Pessoa
13FEB19 11:59am Alaska FC 145
23FEB19 4pm Cage Warriors 101
03MAR19 4pm Cage Warriors 102
03MAR19 7pm CFFC 73 Anyanwu/Daukaus
09MAR19 GLORY 64 SFS
09MAR19 4pm Cage Warriors 103
17MAR19 2am Pancrase 303 Silva/Kenta
22MAR19 8pm EBI 19 The CJJ Bantamweights
27MAR19 11:59a Alaska FC 146
Expected:
Polaris 9, CFFC 72, Titan FC 53