In the first fight of the night in Saint Petersburg, the UFC will showcase a striker with potential for stardom. Hailing from Kyrgyzstan, lightweight Rafael Fiziev successfully transitioned from muay thai to mixed martial arts around 2015. The 26-year-old is 6-0 in MMA with six finishes, five of them being knockouts.
He's based out of Tiger Muay Thai, previously Phuket Top Team, reputable training camps known for developing well-rounded, dangerous fighters like MMASucka favorite Petr Yan. If his Twitter bio is to be believed, Fiziev is actually a striking coach at TMT.
By far the most effective marketing tool for Fiziev and his team has been this viral clip of him fading back from a head kick in a muay thai bout. Although it's a fairly standard maneuver in muay thai, and from Fiziev himself, the "matrix" has seized public attention.
There's plenty of fuel to burn for the hype train leading into Fiziev's UFC debut at UFC Fight Night 149 in Russia. But is Fiziev a future ranked contender?
Let's take a look at a few of Fiziev's fights and evaluate his skill set. "Ataman" will be judged by his overall game, as well as how he may match up against upcoming opponent Magomed Mustafaev.
Spoiler: I'm impressed.
Prospect Evaluation: Rafael Fiziev
According to his interview with MMASucka's Matt Bricker, Rafael Fiziev started training in muay thai at ten years old. Since, he's had hundreds of amateur bouts, and dozens of professional fights.
With that experience comes a certain level of clarity in the heat of combat. What strikes you immediately is that Fiziev seems almost nonchalant standing across from his opponent. He's active in moving his feet and keeping kicking range for the most part, but even his hip and head fakes have a relaxed swagger to them.
This will put him in stark contrast to Magomed Mustafaev, who is constantly on edge, preparing to throw wild strikes with intensity.
Fiziev's comfortable cadence often lulls his opponents to sleep. Don't be fooled, he is an extremely explosive athlete who can cover a ridiculous amount of space on his striking entries. Much like Yoel Romero, Fiziev will get his opponents used to a certain rhythm, unleashing when they least expect it.
Of course, if his man does not go down from the initial explosion, Fiziev is able to attack with an unending fury that has put away each and every one of his MMA opponents.
The Slow Build
Fiziev seems to follow a generally consistent approach in the opening minutes of each of his MMA fights. He'll stay primarily at the end of kicking range while feinting with his head, hips, and shoulders. This keeps his opponents moving and reacting. However, in those early moments, Fiziev is really focused on kicking. He does turn his whole body into rear leg round kicks, so a fake at any level on his body is going to feint a kick.
That's where athleticism starts to come into play. To be frank, he's a bit of a freak. He's strong, he's fast, and Fiziev can fire off kicks to the legs and body at full blast in volume to his heart's content. Rafael Fiziev is a fighter who picks up steam as he gets his reads and finds momentum in a fight. The pace climbs over time, until he eventually drowns or smashes his opponent. He is very similar to teammate Petr Yan in that respect. I have never seen his pace wane, but I have also never seen anyone in MMA really challenge him for an extended period of time.
Look at how Fiziev mercilessly punted the lead leg of Nurzhan Tutkaev, with increasing intensity.
As the pressure intensified and Tutkaev realized his boxing entries were ineffective, he began to back off and cover up. This is common in Fiziev fights. Of course, Tutkaev's mobility was compromised as well.
The volume only increased, and Fiziev relentlessly cracked Tutkaev with round kicks on both sides. Fiziev threw a lead front kick to the body, and Tutkaev thought he finally saw his opening. With his opponent's hands up to strike, Fiziev immediately bounced his leg back up and nailed Tutkaev in the liver.
Smooth Operator
Fiziev is fairly reactive when it comes to his counter game. He's an active user of feints as mentioned, but I can't say I've seen a clear connection between his feints and his boxing counters. You never really know what's going on in a fighter's head, however, and I don't doubt that Fiziev has his eyes peeled for opportunities as he works the outside.
It's not that Fiziev's head movement is anything out of the ordinary for striking arts, but for MMA it's exceptional. He has a fantastic sense of where his head needs to be when attacking, and rarely gets hit clean on his opponent's entries.
When Fiziev is early in a fight and still getting his bearings, the process looks like this: (1) Feint on the outside, punt the leg. (2) Wait on your opponent to grow tired of getting chewed up and attack. (3) Avoid, counter.
Only one opponent, from what I've seen, has really seriously pressured Fiziev. Nandin-Erdene Munguntsooj was able to back Fiziev to the cage and force him to throw, but he was unable to actually land anything significant and was promptly clobbered. Fiziev avoided or absorbed shots on his guard before punishing Nandin-Erdene for standing in front of him.
When you're on the Eastern European and Western Asian scene, there are going to be a lot of aggressive strikers winging shots at you. In that sense, Fiziev has been preparing for Mustafaev all along. On that note, it makes sense that dipping his head evasively seems effortless for Fiziev at this point.
At first, I was troubled by that habit, despite its efficacy. If you're constantly dropping your head, an educated striker is going to exploit it eventually. Then I saw him begin to slip and counter, nail check hooks, rock back, you name it. Additionally, his strike selection is excellent, whether he's doubling up on a left hook, intercepting with a jab, or hitting a pull counter. Fiziev doesn't have "tricks" with his boxing, he has a game built that now comes naturally.
He really is a treat to watch, Fiziev is a fighter who brings out more and more of his tools as he gets deeper into a fight. Conversely, I have seen Mustafaev become sloppier, tired, and desperate over time in a tough fight against Kevin Lee.
In the future you'd want to see Fiziev angle off a bit more on the retreat, but short linear steps back haven't gotten him in trouble thus far. It doesn't hurt that his clinch game is more than sufficient to deal with any opponent crashing into him with aggressive forward pressure.
Flipping the Switch
Once Fiziev knows your game, it's time to do damage. In every fight I've seen, it takes less than a round to switch gears. While he was much smoother against Tutkaev, Fiziev's ROAD FC fight with Seung-Yeon Kim was a much better display of his devastating offensive potential.
Fiziev instantly endeared himself to me by going big to the body, leaping in with a digging right hand. What I love the most is that Fiziev instantly tied up the hands off that punch, giving him security to reset.
Building off that moment brilliantly, Fiziev slung a liver shot with his lead hand, drawing Kim's guard to his body. Without a pause Fiziev doubled up with a huge left hook to the head, stunning the taller man.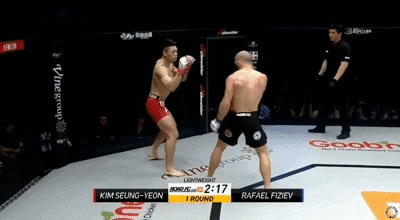 When he had his opponent hurt, Fiziev brought out his hidden intensity. It is wonderful to see that even while swarming, Fiziev is defensively aware and rolls under a punch without interrupting his flurry.
Rafael Fiziev's clinch game is what makes his swarming attack especially effective.
Endless Pressure
There are plenty of decent pressure fighters and swarmers in MMA who get bogged down by a lack of fluidity in their clinch game. I refuse to stop bringing up Petr Yan, he might be the best in the sport at continuing his offense off ties and breaking the clinch on his terms.
When you're putting the heat on a fighter, it's clearly to your advantage to keep a never-ending stream of offense going, or at least something that keeps them working. Ideally, they panic and become vulnerable in trying to make you go away, or they break outright.
When Fiziev moved in to finish a rocked Seung-Yeon Kim, there was nowhere to run. Fiziev showed he can shuck off a collar tie easily, or use his own to turn an opponent and generate angles for further offense. Of course, there's the more traditional approach, slapping on a double collar tie and driving in knees.
Either way, Fiziev keeps his feet moving, and he keeps your feet moving. This is a constant from Fiziev, he's just as busy in the less hectic moments of a fight.
Against Tutkaev, Fiziev was always in command of what was happening in the clinch.
He has some unique entries of his own when he wants to be in tight, but mostly Fiziev was catching his positions as Tutkaev crashed in. At the very least, he was controlling wrists and forcing Tutkaev to fight for hand position, but most of the time Fiziev was leveraging an underhook or overhook to move his opponent and land knees as Tutkaev pressed back in.
Dagestan's Mustafaev has been absent since his 2016 fight with Kevin Lee. Prior to that, he was awarded a TKO due to a cut over Tiger Muay Thai-trained Piotr Hallmann and notched a legitimate victory over Joe Proctor.
Against Lee, it's a bit of a misleading performance, in my opinion. He definitely had success, and anything you do against a current top contender in the division is going to be inflated. But Lee was a bit of a sitting duck at times, doing basically nothing while Mustafaev threw power techniques to his body. All Lee really needed to do was time one and hit his takedowns, that's essentially how the fight played out.
Lee wore down Mustafaev with constant grappling, but I'm sure throwing everything as hard as you possibly can doesn't help your gas tank. If you can't tell, I'm not high on Mustafaev. He's certainly athletic and dangerous, but his game is fairly rudimentary. Hallmann gave him a tough fight, and even managed to control portions of the fight on the ground. It was competitive before the cut stoppage.
Potential Fight Outcomes
In all three of his UFC fights, Mustafaev had success with his rear body kick. There's no real process, he just throws it a lot, hard. I feel it's a reasonable opinion to trust an experienced striker like Fiziev to be able to deal with that. Of course, anyone can get caught. Fiziev will likely start the fight casually, and Mustafaev's high-intensity out of the gate could lead to shaky waters in the early moments.
I have good reason to believe Fiziev is a cool customer under fire, and that he'll be able to navigate early adversity on the feet if it arises. What does concern me is the potential grappling matchup. I have no idea if Fiziev's defensive grappling stacks up against what Mustafaev has to offer. It's not that Mustafaev is an incredible grappler, but he's extremely powerful on the ground, and if there is a hole in Fiziev's game it could spell trouble.
One habit I saw from Fiziev is that he will sometimes go to the double collar tie with his own back on the cage. It's entirely possible that Mustafaev gets to the legs from that position, that exact situation played out against Hallmann, Fiziev's teammate.
From training videos put out by Tiger Muay Thai, and looking at the way their fighters have developed in the past, I don't think we have anything to be worried about.
Verdict
Ultimately, I believe this fight will be in Fiziev's hands by the end of the first round. His process is tailor-made to break a fighter like Mustafaev, who can often be reckless with his attack and isn't exactly known for his cardio. Following a long layoff, what type of form should we expect to see from the Dagestani fighter?
Clearly, I'm high on Rafael Fiziev. It may be my newly developed bias, but I see this as a great matchup for his UFC debut. I do hope we see a few looks at his grappling outside of his clinch game, as it will be a great indicator as to how far he can go in the UFC lightweight division.
Purely considering striking, I think Fiziev would fit into the top 15 without much of an issue.
If everything we've seen from him holds true, and Fiziev continues to develop, this is a fighter I expect to see near contention someday.