The UFC returns to Russia this Saturday, April 20th with UFC Fight Night 149 live from the Yubileyny Sports Complex in St. Petersburg Russia. The main event will feature a heavyweight fight involving two legends of the sport. Alistair Overeem (44-17 MMA) will take on Russian native and hometown favourite, Alexey Oleinik (57-11-1 MMA) in a clash of styles.
The two seasoned veterans bring an interesting dynamic in their match-up. Oleinik is a submission ace, with a stunning amount of victories coming from his patented Ezekiel choke. On the other hand, Alistair Overeem is known to be a lethal knockout artist. With half of his victories coming by way of TKO or KO, his resume is highlighted by electrifying victories over his opponents.
Best Knockouts by the Demolition Man
Moving away from that brief introduction to the main event, we want to shift the attention to Overeem. With a remarkable career that has 39 stoppages, here is a list of some of the brutal finishes in his UFC tenure. Overeem joined the promotion in 2011, and has gone 9-6, with wins over Fabricio Werdum, Mark Hunt, Junior Dos Santos, and Roy Nelson. Without wasting any more time, here are some of those vicious finishes.
Front Kick to the Pitbull
In May of 2016, Alistair Overeem was on a 3-fight win streak and making a solid claim for a title shot. His next opponent was resurgent heavyweight Andrei "The Pitbull" Arlovski (27-17 MMA). Arlovski was coming off a loss and was looking for a rebound victory. Both competitors looked evenly matched, exchanging strikes and octagon control.
Both men flaunted leg kicks, with precise and fun-to-watch combinations. In the second round, however, the match took a drastic turn. Utilizing his elite kickboxing skills, Overeem landed a lightning-quick front kick square on Arlovski's chin.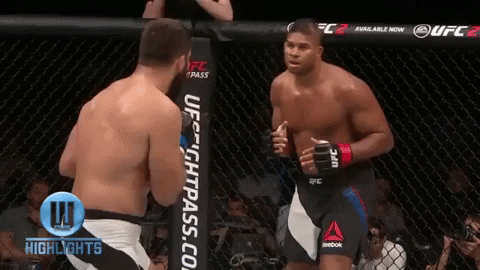 The shot stunned Arlovski, giving the opportunity for Overeem to quickly capitalize and finish him off with ground and pound. Overeem eventually took on then heavyweight champion Stipe Miocic for the title.
Taking Down a Skyscraper
When it comes to heavyweights, Alistair Overeem may have a case of being an ideal body type for the division. Standing at 6'4, and weighing at an average 235-pounds of lean muscle, not many men are able to look down on him. Queue Stefan Struve (29-11 MMA). Standing seven-feet-tall, "The Skyscraper" is a tough opponent for anyone.
At UFC on FOX 13, in December 2016, the two giants met in a pivotal clash. The fight came to a climax after Overeem landed a thunderous hook. The carnage continued when he followed with a knockout blow from the top.
All-Time Classic with Junior Dos Santos
During Alistair Overeem's great run to a title shot in 2016, 'The Reem' went on a four-fight winning streak. During that run, he took on former heavyweight champion Junior dos Santos (21-5 MMA). Going into this fight, both men had incredible stand-up finishes under their belt. This was a high-stakes fight between the two as the winner was in clear position to take on the title.
Wrestling and grappling were off the table, fans knew this was going to be a straight-up striking match. It appeared as though dos Santos was had the upper hand, until 4:43 in the second round, where Overeem landed an enormous right hook. The shot clearly rocked dos Santos, who was not able to adequately defend himself from the following blows. Overeem made a statement, and put the rest of the division on notice.
War Against Hunt
Every good list in a heavyweight knockout countdown should include Mark Hunt (13-14 MMA) in some way. UFC 209 featured an incredible dream rematch featuring Alistair Overeem and Mark Hunt. In 2008, during their first match, Overeem was able to pull off first-round submissions over "The Super Samoan".
This second match was everything fans expected- a bloody, stand-up war between the two. Both competitors left it all in the octagon, each landing giant, near fight-ending shots. In the third round however, the match came to a dramatic end.
Overeem put Hunt against the cage, trapped him in the clinch and landed a shattering knee to the head. It was so powerful that there was a delayed reaction from Hunt's body, causing him to slowly lose consciousness and fall onto the canvas. An incredible performance and win by Alistair Overeem.
****
The UFC created their own video with their favorite Alistair Overeem knockouts. Check it out below and tell us what you think!
Main Photo
Embed from Getty Images