To no one's surprise, two Japanese fan-favorites have been announced for the RIZIN year-end shows. Also announced; the debut of Kana Watanabe, and Tenshin's opponent for the previously announced one-night kickboxing tournament.
These fight announcements are likely among the last that will be made for the upcoming RIZIN events.
---
Satoru Kitaoka (40-15-9) vs. Kiichi Kunimoto (18-7-2)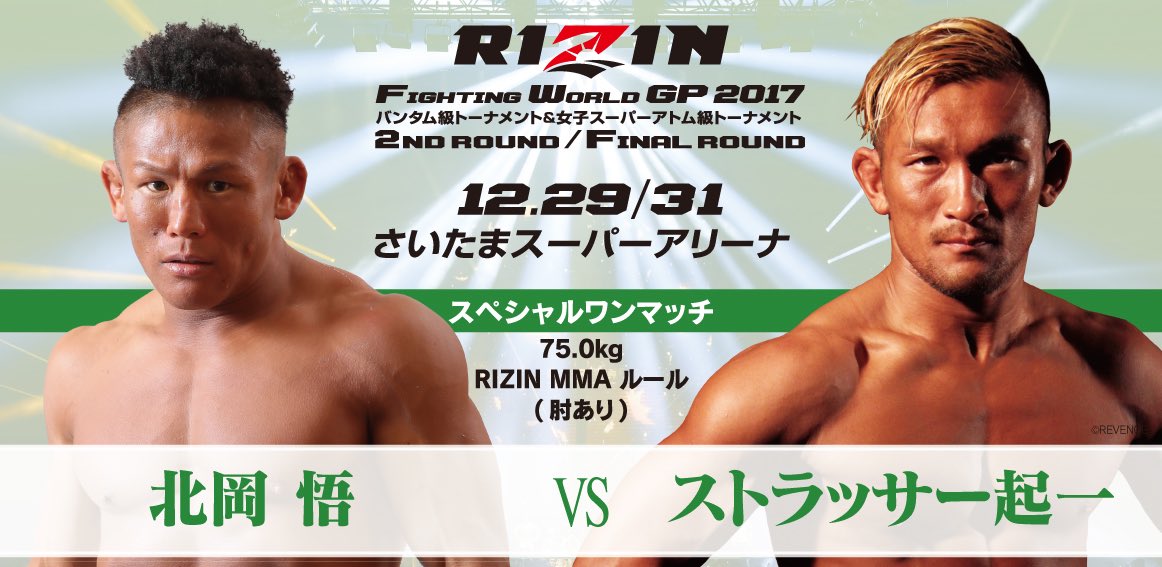 One of the most exciting Japanese fighters around; Satoru Kitaoka was also one of the fighters who opened RIZIN's last double-header in 2016. Knowing full-well you can always get a fantastic fight out of him, Kitaoka was paired with a similar fighter in the form of Daron Cruickshank.
Despite having to endure some heavy strikes early, Kitaoka mounted the comeback late and choked the American out cold eight minutes into round one. The former Pancrase Champion followed up that win by taking on Krazy Bee striker; Yusuke Yachi. Fresh off his Knockout of the Year contender over Cruickshank, Yachi finished Kitaoka late in the fight with a relentless attack on the feet.
Standing in Kitaoka's way of successfully rebounding will be none other than UFC-veteran and former HEAT Champion; Kiichi Kunimoto.
After a great 3-0 start to his career in 2014, Kunimoto went on to be submitted by a streaking Neil Magny in 2015. Then, two years later, Kunimoto returned to action at UFC Fight Night 110 in June. He lost a very close split decision to Zak Ottow in New Zealand and was promptly released from the promotion.
---
Hiroyuki Takaya (22-14-2) vs. Baataryn Azjavkhlan (2-2)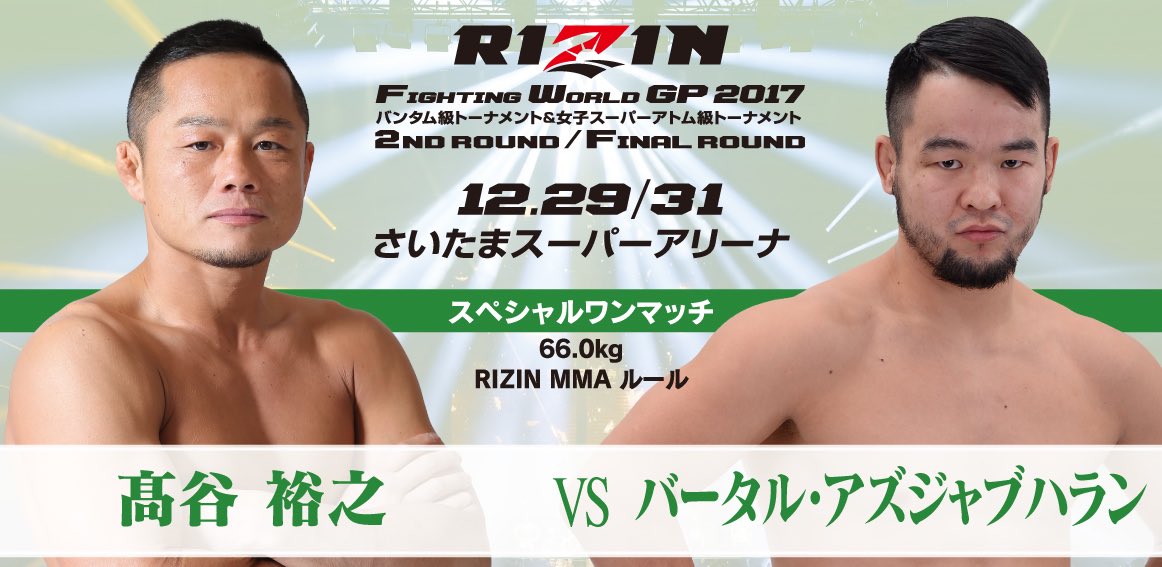 After two years away from the RIZIN ring; Streetfight Bancho is back. At 40-years-old, Hiroyuki Takaya lost three-straight after his last RIZIN appearance. After some tough losses in Pancrase and EuroFC, Takaya knocked out Hatsu Hioki at Pancrase 290 in October.
In the inaugural RIZIN show, Takaya beat another veteran in the form of Daiki Hata on December 29, 2015. Exactly two years ahead of his return to the RIZIN ring this month.
Though far from established as a mixed martial artist; Mongolia's Azjavkhlan is a product of Yokozuna Asashoryu, and he holds a stellar background in wrestling.
Though neither of his two wins are anything too credible, his two losses are by very formidable fighters in the form of Michihito Abe and Takafumi Otsuka.
---
Shizuka Sugiyama (15-4-1) vs. Kana Watanabe (1-0)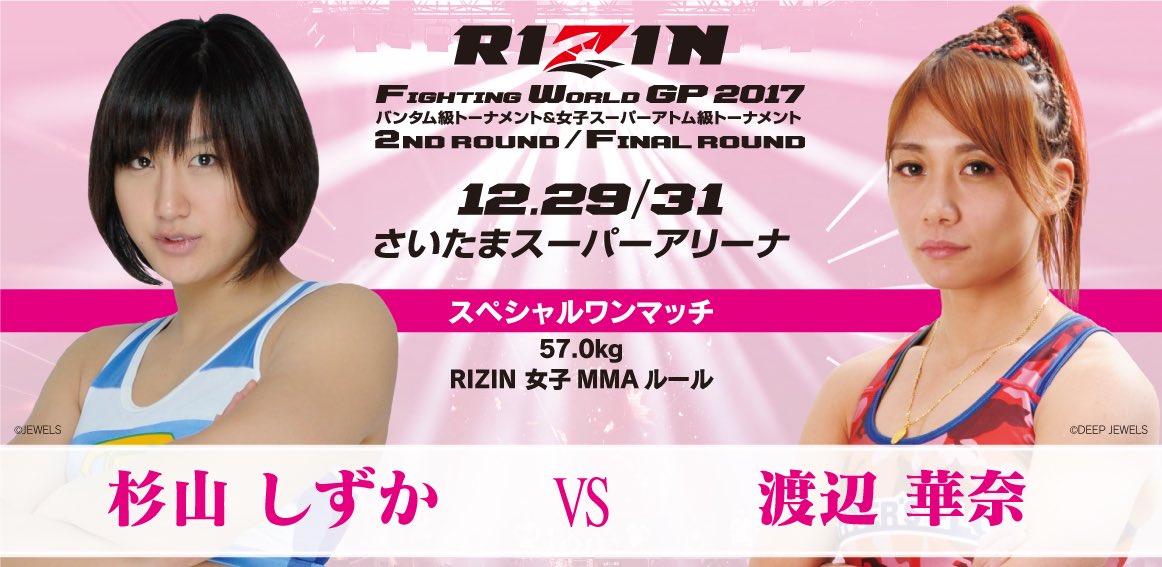 Former DEEP JEWELS Champion, Shizuka Sugiyama has won four-straight since 2014. In the last two months of 2014, Sugiyama defeated both Yurika Nakamura and Raika Emika under the DEEP JEWELS banner.
After a lengthy layoff, Sugiyama returned to the ring this year and has picked up another two wins under the DEEP JEWELS banner. Besting Yukari Nabe in February, and submitting Satsuki Kodama in August at DEEP JEWELS 17.
A highly-accomplished judoka, Kana Watanabe brings some world-class grappler to the RIZIN ring when she takes on karate black belt Sugiyama on December 29.
Watanabe made her MMA debut earlier this morning and made a big impression on RIZIN boss Nobuyuki Sakakibara, prompting him to sign her to the promotion. At DEEP JEWELS 18, Watanabe submitted Hikari Sato.
---
Also announced for the card; the second semi-final in the previously announced one-night, four-man kickboxing tournament. Striking phenom Tenshin Nasukawa finally has an opponent in the form of Yuta "Cat" Hamamoto.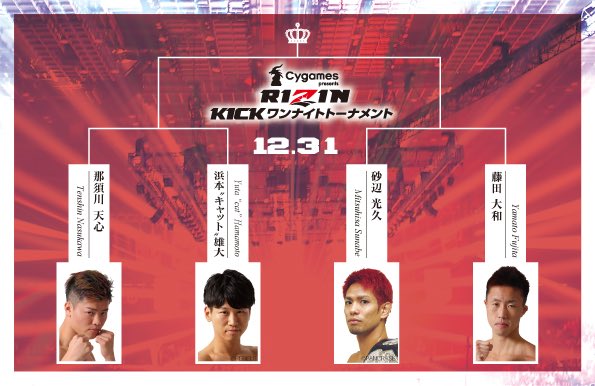 Both the December 29 and December 31 shows will take place at the Saitama Super Arena. The bout between Kitaoka and Kunimoto will take place on December 29, as will the Sugiyama and Takaya bouts.
The December 31 show will feature the semi-finals and finals of the men's bantamweight grand-prix as well as the women's atomweight grand-prix. As well as the one-night kickboxing tournament featuring Tenshin Nasukawa.
_________
Follow Mike on Twitter! @MikeLovesTacosX