READ: Five Class of 2018 Wrestling to MMA Prospects
Since the early days of the sport, wrestlers in MMA have made an impact. From the times of Dan Severn and Mark Coleman, to the present day elite, Division 1 wrestlers have had success at the highest level. Men like Tyron Woodley, Frankie Edgar, Daniel Cormier, Stipe Miocic and TJ Dillashaw all started as blue-chip wrestling to MMA prospects.
After the conclusion of the NCAA Championships in Pittsburgh this past weekend, the time has come once again to assess the talent we may see in the cage someday.
We're in an interesting situation with the Olympics on the horizon for 2020. We'll likely see more wrestlers than usual stick around as assistants to train freestyle in preparation for the trials. Candidates from last year's list like Jacob Kasper have made it known they're going to hold off on MMA until after Tokyo.
Notable omissions: Many will say, no Bo Nickal? No Jason Nolf? Both Penn State wrestlers have a great chance of making teams in the near future, and I'd pencil them in for a few years in freestyle.
To make up for this, here is some Nolf content: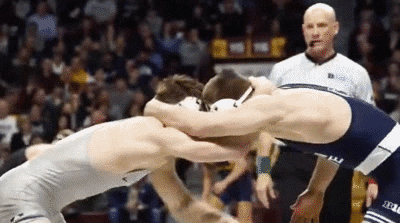 There are clearly more than five graduating wrestlers that would be great in MMA, these are my favorites. Any one of these men could make freestyle or Greco teams as well, but let's assume they don't for the sake of the list.
Video content courtesy of FloWrestling and Big 10 Wrestling
Origin Stories
A common theme when looking at wrestlers who have made the transition is "unfinished business." There is a reason you don't see the absolute greatest in the sport like Cael Sanderson or Jordan Burroughs trying their hand at MMA. The athletes that transition often feel they haven't reached their competitive potential. Now too, many are looking for a new outlet to seize gold.
For some, unfinished business means they came just short of the top of the mountain. Chad Mendes comes to mind, losing by one takedown his senior year in the finals. For others, they had all the talent in the world but couldn't earn honors when it mattered the most. Urijah Faber and Scott Jorgensen will go down as some of the best to never become All-Americans. The achievements of this year's list are mixed, but in my opinion, each man has much more to give.
Five Senior Wrestling to MMA Prospects
While the following athletes are immensely talented, it is possible they will not find themselves in the hunt for spots on World and Olympic teams in the coming years.
Every senior we watched at NCAAs this year could be beyond successful, but here is a short list of the guys with fun styles and championship potential. This list focuses mostly on wrestlers who have the ability to get clean, sudden takedowns. This style of wrestling bypasses a lot of jiu-jitsu based scrambling that may spell trouble for some. It also points to the specific athletic potential they possess.
It's worth noting that the modern form of folkstyle has much more funk and leg passing, the wrestler of 2019 is much more prepared for jiu jitsu than ever before.
#5. (165) Chandler Rogers, Oklahoma State
Credentials
Oklahoma State's dynamo Chandler Rogers defines unfinished business this season. A two-time All-American heading into his senior year, Rogers lost a wrestle-off to teammate Joe Smith, son of their legendary coach, John Smith. Despite Rogers' outstanding results (only losing to two wrestlers all year), Coach Smith opted for Joe. At the Big 12 tournament Smith performed below expectations, and he did not become an All-American at the NCAA tournament in March.
Rogers fans, such as myself, are salty.
In his freshman season, the Stillwater High graduate supported his team by wrestling up a weight class at 174, making the round of 12 at NCAAs (one match from placing.) In his subsequent two seasons as the 165-pound starter, Rogers performed phenomenally, placing 5th and 8th while delivering much-needed team-points with his penchant for pins.
Here's what happened when he went up to 174 for the dual against Iowa in what would be his final collegiate match.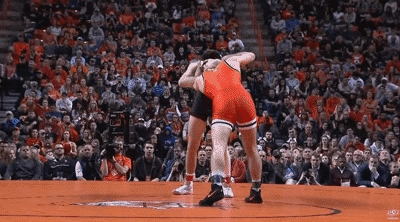 To be bumped out of the lineup as a senior when Joe Smith still has another year of eligibility is cold.
Style
I've been saying for some time that Chandler Rogers is the most exciting wrestler in the NCAA.
A three-time Greco-Roman national champion in high school, as well as a freestyle Cadet World team member, Rogers loves to toss dudes.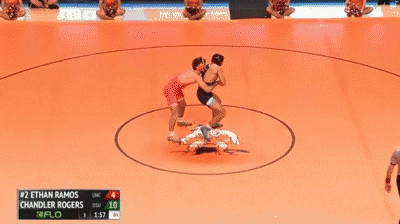 Like many Oklahoma State wrestlers, Rogers is a master of short offense, hitting arm drags and slide-bys on pressuring opponents. On the mat, he's a pinning machine, often locking up "The Assassin", a favorite of Ben Askren. Rogers is one of the best scramblers in the NCAA, and has a killer instinct for finding points when he needs them. Of his 17 wins this season, 11 were pins, 14 were by fall or technical fall, and 15 were bonus-point victories.
Last year he pinned a fellow mat-monster in Missouri's now four-time All-American Daniel Lewis. While Rogers is the type of athlete that could be effective on his feet, this is a mat-technician at heart.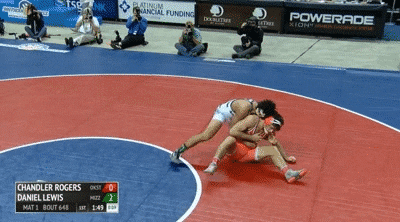 Otherwise, the man loves to put on a show. Check out his awkward, yet endearing, celebration after pinning his opponent in this year's dual meet against the University of Iowa.
Just another days work for Chandler Rogers. pic.twitter.com/EfL16bJwus

— FloWrestling (@FloWrestling) February 24, 2019
How likely is it?
Oklahoma State University has produced a long line of great MMA fighters. The last to cross over was Kyle Crutchmer, but men like Mark Munoz, Muhammed "King Mo" Lawal, Daniel Cormier, Johny Hendricks and Shane Roller have all represented the Cowboys in the cage.
If he moved into freestyle, Rogers would likely be at 74 kg competing with the likes of Jordan Burroughs for the spot. Greco-Roman is a real possibility, but 77 kg is staffed by superstar Kamal Bey, who has been virtually untouchable domestically.
With the path to international glory in wrestling looking treacherous, we could see Rogers make the jump. I sincerely hope the electric Cowboy is not through competing, regardless of the sport he pursues.
#4. (157) Alec Pantaleo, Michigan
Credentials
If there was any question of the powerhouse Pantaleo's resilience, we got our answer this season. Battling a bad case of mononucleosis, Pantaleo actually lost so much weight he competed down at 149. The Wolverine did not look himself, often shutting down in the third period.
But as the post-season approached, Pantaleo began to rise. Back at 157, he took third at the Big 10 championships, only losing to Hodge Trophy contender Jason Nolf.
At the 2019 NCAA championships, Pantaleo dropped a close decision in sudden-victory to another hammer in Hayden Hidlay. But he wrestled back through the consolation bracket, torching everyone who stood in his way.
In the third-place match, Pantaleo got his revenge and took out Hayden Hidlay for his highest career finish. Alec Pantaleo ends his folkstyle run as a three-time All-American, placing 6th, 5th, and 3rd.
Style
In the past few years, Pantaleo has reigned as the most defined "double leg wrestler" in the NCAA. The stocky 57-pounder had the timing, setups, and pure horsepower to blow anyone off their feet.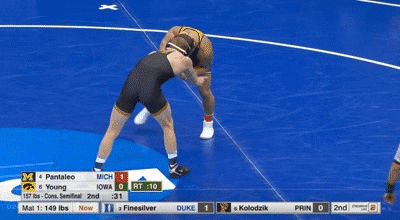 He leaned on his double, but could hit a variety of attacks, and was nails from short offense. Pantaleo is no flat-footed brawler, at his best he always finished with speed and power.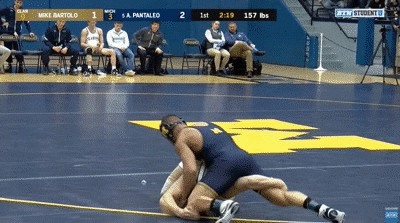 Pantaleo isn't as keen on mat-wrestling, but was heavy on top and improved dramatically from the bottom position due to repeated thrashings at the hands of Zain Retherford.
Zain taught him a valuable lesson- you have to be mean to win.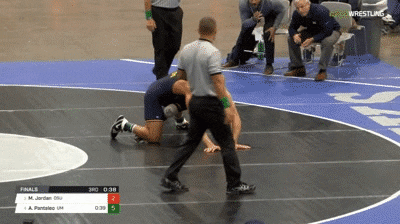 How likely is it?
I've heard Pantaleo talking about pursuing freestyle next. He strongly prefers the ruleset, and his career trajectory suggests he could contend for a spot at 70 kg (about 155.)
With the news that Jason Nolf may be headed for 74 kg, Pantaleo definitely has a shot at World silver medalist James Green. But Green is just 26, he may be king of the hill for a while longer.
Michigan head coach Sean Bormet had one MMA fight (with no training outside of wrestling) in 1997. His opponent was Wanderlei Silva. Despite what was undoubtedly an unpleasant experience, it's possible Coach Bormet has gotten his wrestlers interested in a career in the cage.
Alec Pantaleo is explosive, charismatic, and easy on the eyes, if he can't find gold in freestyle, the MMA community would be happy to have him. As a parting gift, get one last look at this beauty in action.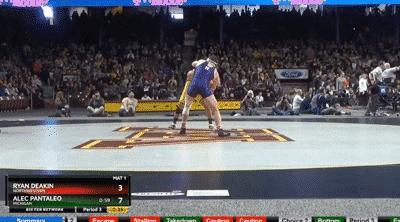 #3. (Heavyweight) Anthony Cassar, Penn State
Credentials
A caveat on this one, I very much believe that Big Tony will get another year of eligibility. He missed one year due to injury, and there's no way Cael Sanderson is going to let a returning national champion go without a fight. Cael usually gets what he wants.
Cassar is an enigma. In high school, he went three years without qualifying for the state tournament in New Jersey. As a senior, not only did he qualify, he won a title, going undefeated all season. Hitting his stride, Cassar won a Junior National freestyle title and represented the US in the Junior World Championships.
In college, he replicated this pattern. Winning eight of the last nine NCAA team titles, you could say the Penn State roster is deep. Last season, Cassar knocked off the #1 wrestler at 197, Kollin Moore, in a dual meet against Ohio State. Despite competing hard every year, Cassar wasn't elected as the starter for the post-season a single time until his senior year.
For his final season, Hodge contender Bo Nickal bumped up to Cassar's weight class of 197 pounds. Determined to finally get to the NCAA tournament, Cassar committed himself to a lifestyle defined by lifting and eating. His gains in the gym correlated with gains on the mat.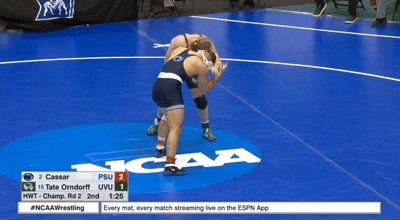 The heavyweight spot was filled by two-time All-American Nick Nevills. But in the finals of the Keystone Classic tournament in November, Cassar dominated his teammate 7-2 and earned his right to start.
Again, as a senior, Cassar won gold. He avenged his only loss, a 3-2 decision to Derek White (AKA Cowboy Bulk Job) in the finals, destroying the stout heavyweight 10-1. Cassar also notched two clutch victories over a three-time World champion, freshman sensation Gable Steveson.
Style
Bulking up to heavyweight from 197, Anthony Cassar had athletic advantages over many of his opponents. Despite his growth, it was still unwise to shoot straight on the bigger men, it's difficult to fight out from underneath them.
Instead, Cassar usually found angles with heavy handfighting and debased his foes with single legs.
From there, he finished explosively.
Watch him put Derek White on his back in the national finals:
How likely is it?
Cassar could continue to compete at heavyweight in freestyle, but the size difference with some international wrestlers could be far too significant.
Not a small man himself, 2018 World team member Nick Gwiazdowski has struggled with larger opponents.
Unfortunately, Cassar slots in well at 97 kg, Kyle Snyder's weight class.
Good news! I have heard from a reliable source that it is Cassar's intention to pursue MMA after graduation. Whether or not he receives a medical exemption will determine whether we see him next year or not, but Cassar is coming to the cage.
#2. (149) Anthony Ashnault, Rutgers
Credentials
"Shnaulty" mobbed on the whole country this year. 32 wins, no losses. After placing 8th, 4th, and 6th, the proud New Jersey native made his way up from 141 pounds and took control.
Ashnault and another future MMA fighter in Nick Suriano became Rutgers' first-ever national champions this year, in a season led by wrestlers from the Garden State.
He's no stranger to making history. Ashnault was also the first-ever four-time, undefeated state champion in New Jersey. In a state with only one state tournament (Pennsylvania has two, Virginia has six) that's an incredible achievement.
Style
This is probably the only wrestler on the list who doesn't quite fit the "sudden, clean attacks" criteria. With that being said, I'm not even a little worried about his ability to scramble through positions and finish in MMA.
Ashnault was one of the most physical and well-rounded wrestlers in the country this year. He was able to flex different aspects of his style against each unique opponent. His finals opponent, Micah Jordan, is nails on his feet, and gave Ashnault a tough go from the neutral position. But Jordan is notoriously vulnerable on bottom, and Ashnault blew the match open from there every time they wrestled.
Ashnault was the best mat wrestler at 149 this year, and it won him a title.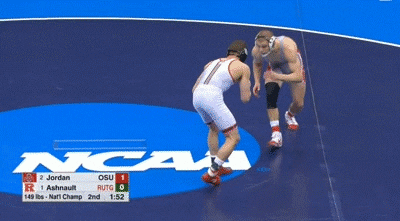 His top game is by far his greatest asset, and it's easy to see how that would translate into mixed martial arts. He likely won't need more than one takedown per round to keep the fight where he wants it. Ashnault can tenaciously stick to an opponent and return them to the mat.
The Scarlet Knight is notorious for his heavy hands. At times, they were a bit too heavy, as he has straight up smacked opponents in the head in the past. There's clubbing the head, then there's what Anthony Ashnault does.
Over time that hand fight breaks down his opponent's posture, causing them to reactively straighten out after a hard snap. That's when Ashnault hits his low attacks, typically entering on a head-inside single and switching off to a double.
Regardless of what you think of his rough tactics, Ashnault was always one of the scrappiest guys in the country.
How likely is it?
It's clear that Ashnault likes to fight. Whether he wants to do it for money remains to be seen. Look at him stirring up trouble with the entire Oklahoma State roster after beating Kaden Gfeller.
Oh man. After No. 2 Anthony Ashnault defeats No. 6 Kaden Dfeller and gives him the pistol fingers and Dfeller takes exception. The Oklahoma State grappler pushes him and both sides got a one-point deduction as a result. pic.twitter.com/isTkCpHVAA

— Brian Fonseca (@briannnnf) January 13, 2019
Frankie Edgar has been around the Rutgers program for years now. It's a team of scrappers, and it seems as though MMA aspirations are a growing part of the culture. Nick Suriano stated that one reason he transferred from Penn State back home to Rutgers was to have access to training for his future MMA career.
Edgar and Ashnault have trained together. (Thank you Michael Fiore for pointing this out!)
Ashnault is bit of a 'tweener for freestyle weights. Although he moved up from 141, Ashnault looked big at 149. 65 kg (143) might be a tough cut these days. It doesn't help that the field at 65 is a total shark tank. 70 kg is about 155, perhaps Ashnault continues to grow into the weight, but fighting in a cage seems like a much better fit for the NCAA champion.
#1. (184) Myles Martin, Ohio State
Credentials
Another Jersey boy.
When Myles Martin won an NCAA title his freshman year, I thought he was Mr. March. The Buckeye wrestled the esteemed Bo Nickal four times that year, losing their first three meetings by an increasingly wide margin.
But in the NCAA finals, Martin turned the tables, taking out Nickal 11-9 for the championship.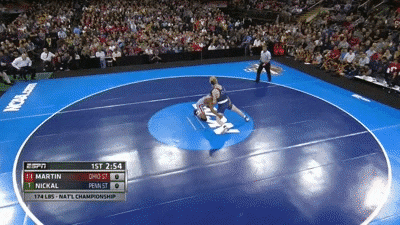 A true freshman national champion is immediately burdened with lofty expectations. Could he do it again?
But Martin's sophomore season was clearly haunted by illness and injury. He turned in a bizarre performance at the Midlands Championships, dropping two lackluster matches before defaulting out of his last match by medical forfeit. The Big 10 tournament in March was no less strange, Martin took out Bo Nickal in the semifinals, only to lose by major decision to Iowa's Sammy Brooks in the finals.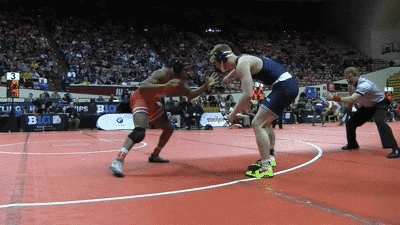 That form carried over into NCAAs, where he lost to Brooks again, ultimately taking 5th.
As a junior, Martin looked more like the force we had expected him to be. He beat every wrestler at 184 not named Bo Nickal, making the national finals.
Nickal moved up to 197, and the weight class seemingly belonged to Myles Martin for his senior season. He dominated the 184-pound field the entire regular season without a loss, but disaster struck at NCAAs. After beating him 13-6 in February, Martin suffered a shocking upset loss to Cornell's Max Dean, 5-4 on a late takedown.
Myles Martin is the caliber of wrestler who could have claimed multiple NCAA Division 1 championships. At the end of a fantastic, but strange folkstyle career, Martin has "just" one.
Style
For a big man, Myles Martin can move. If you give him space, he will light up most stocky 84-pounders. Martin, like many Ohio State wrestlers, is deadly with a swing\sweep single from distance or from an over tie.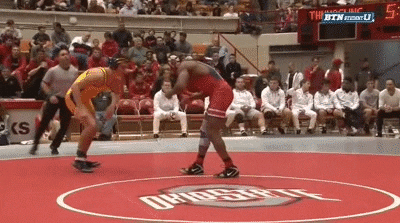 Speed has been Martin's greatest weapon, and it's the quality I feel will make him a transcendent prospect at 185 pounds in MMA. It's not blind athleticism, Martin is slick as hell, and cold-blooded to boot. You saw how he reversed the dangerous throws of Bo Nickal, look at how he deals with leg attacks.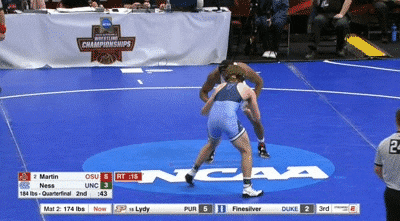 It should go without saying that an NCAA champion, two-time finalist and four-time All-American is incredibly well-rounded technically. Myles Martin has been elite in every position since freshman year.
Like Pantaleo, Martin has the raw horsepower and timing to literally run through All-Americans like Chip Ness.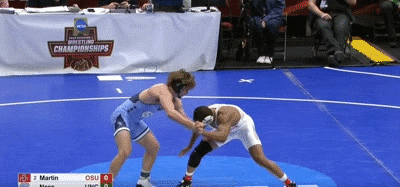 How likely is it?
Ohio State does have an MMA tradition.
Mark Coleman, Kevin Randleman, and Lance Palmer are a few noteworthy Buckeyes who have fought men in a cage.
Kyle Snyder's "I want to fight @UFC" tweet gives me the impression there is some interest in MMA in the Ohio State room.
Last year, I encouraged another Ohio State NCAA champion and four-time All-American in Nathan Tomasello to give MMA a shot. To my knowledge, he has not yet obliged.
Myles Martin has made it pretty clear he's making a run at an international career after college, but I can dream. His ideal weight class is likely 86 kg, roughly 190 pounds. World champion David Taylor rules the weight, it will not be an easy spot to claim. Martin has some serious upper-body chops, if he wants to go Greco, 82 kg and 87 kg are options.
If you're acquainted with Myles, let him know a shiny gold belt and big money are waiting whenever he wants to make the jump.