Since losing his UFC debut to Zabit Magomedsharipov, Brazilian striker Sheymon Moraes has been flying under the radar in the featherweight division.
Prior to that bout, Moraes was best known for losing a title bid (just three years into his pro career) to then WSOF champion and now UFC bantamweight contender, Marlon Moraes. Sheymon Moraes had a bit of a Cody Garbrandt moment in the bout, swinging recklessly in the pocket before getting clocked by a tight left hook by the faster, more polished fighter.
He'll face rising prospect Sodiq Yusuff at UFC on ESPN 2 in Philadelphia.
As of now, Moraes is the betting underdog.
Let's take a look at Moraes' current two-fight UFC winning streak to see if that line is justified. If you'd like to see how Moraes gave Magomedsharipov trouble in their bout, check out this excellent breakdown of some of the Russian's flaws.
After reading, if you're confident in Moraes and the betting type, here are some options for NJ online sports betting.
Sheymon Moraes vs. Matt Sayles (2018)
You may remember this fight for the horrendous commentary. Dominick Cruz protégé Matt Sayles pressured relentlessly and showed off some slick defense at times, but it was largely a beating.
Kicking the Body
Sheymon Moraes is defined as a counter fighter. As we'll see later, he does actually have some great tactics for leading, but he prefers to wait for his man to walk in.
Sayles pressured reliably, Moraes didn't have a hard time getting the timing for when Sayles would be in range.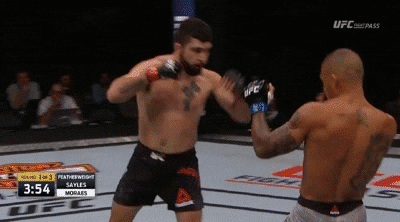 For the most part, Moraes opted for the switch kick to the body, but as he noticed Sayles circling toward his right leg, he added the rear round kick.
Sodiq Yusuff, as of now, is not a pressure fighter. He likely won't feed into the body kicking game as much. Sheymon Moraes has a tendency to fade in pace and form over time, it may favor him to face an outfighter who won't force an ugly fight.
Body Punching
About halfway through the first round, Moraes must have noticed Sayles leaning back and rolling with shots. While Moraes still has a tendency to start lobbing wild punches from time to time, he clearly has craft as a boxer.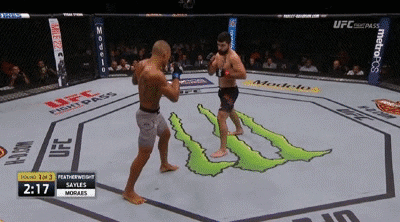 Not only did Moraes work the body, he doubled up on his punches and went back upstairs when his opponent's hands dropped.
Body punching was conspicuously absent from his next bout, but I'm hoping rib-roasting Moraes makes a comeback in Philly.
Winging loopy punches to the head is not the best look for Moraes on the lead, but he could continue to have a ton of success charging in on the body. If Moraes can create the reactions necessary to make that target available, Yusuff isn't the kind of counter fighter to punish him for it.
The Clinch
The clinch game of Sheymon Moraes is fairly Thai-influenced. This does not mean he only uses the double collar tie, which many incorrectly refer to as the "thai clinch." The Thais use many clinch positions, all clinch positions are the Thai clinch. "Thai plum" is also wrong, if you're referring to the double collar tie, for the record.
What I meant is, Moraes is really just fishing for positions he can knee, elbow, or sweep from. For the most part, his mind is nowhere near wrestling. This was definitely detrimental against Magomedsharipov, and later Julio Arce.
Nonetheless, he's effective in moving his opponents around from collar ties and can still land meaningful strikes, even from what appear to be disadvantageous positions.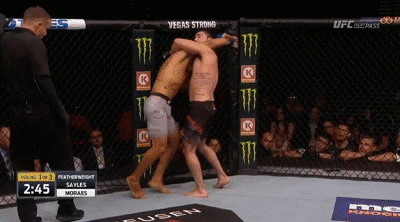 The clinch isn't a standout point for Sodiq Yusuff, but we haven't seen too much of him battling with a higher level clinch fighter like Moraes.
What I suspect will be a major factor is that Moraes can "punch and clutch." Even if his punch entries aren't the prettiest, he usually ends up in a tie-up from them. Yusuff likes to sit on the outside and often explodes in. He may well end up crashing into the clinch with Moraes.
It makes perfect sense to me that Moraes can control this fight by clinching on his terms, on both his and Yusuff's entries.
Dealing With Kicks
Yusuff earned a shout-out (from me) for his excellent calf-kicking performance against an interesting prospect in Mike Davis on the Contender Series.
What will Moraes do if Yusuff looks to kick with him?
You hear a decent number of MMA fans suggest that a fighter will teep another to keep them at bay. It sounds good in theory, but fighters in the UFC that actually have the teep as a consistent part of their game are rare.
However, Sheymon Moraes is one of them.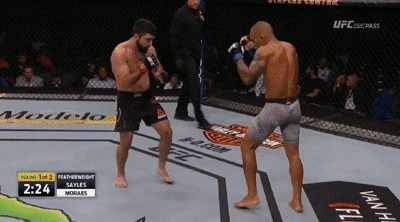 Sayles landed one or two low kicks early in the first round before Moraes started checking them. It's been argued that the calf kick, like Yusuff throws, will still damage the leg even if it is lifted. I say lifted, and not checked, because a check with the leg turned outward will definitely be effective against a calf kick.
But the calf kick is typically faster, so fighters don't always have time to check properly. It didn't matter to Sheymon Moraes, because once he saw Sayles moving his hips, he was teeping.
Once or twice Moraes saw the kick coming soon enough that he could quickly retract his leg.
There's a pretty serious athletic disparity between Matt Sayles and Sodiq Yusuff, but the tactics are there for Moraes to deal with his kicking game.
Other Boxing Notes
It's totally fair to say that Sheymon Moraes is, at times, a sloppy puncher. But when he's relaxed and disciplined, his game makes sense.
As a counter puncher, Moraes makes heavy use of feints to draw attacks or reactions from his opponent. If they cover up, he's banging the body. If they haven't, and they're still there, he's throwing heaters.
But against a more mobile opponent like Matt Sayles, Moraes had to follow his man and lead at times.
The body jab is an excellent weapon I hope to see more of. Moraes typically drops his level to load up on head strikes, his motion is fairly similar when he throws the body jab. Mixing up the two is a great way to confuse his opponent and create openings.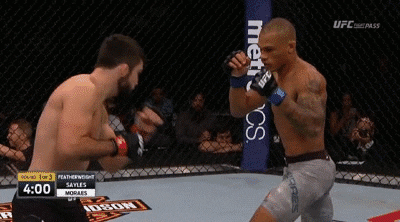 Moraes is most committed to combinations to the head when his opponent is swarming him or pressuring hard. He'll move back linearly until he sees the opening, plant and throw. It's not hard to get him to do this, and that's a habit that can be exploited. This is a flaw in his game, but it worked well against Sayles.
I don't foresee Yusuff making him uncomfortable in that fashion.
Sheymon Moraes vs. Julio Arce (2018)
Matt Sayles proved exceptionally durable and well-conditioned. Contrary to the opinions of the commentary team, Moraes didn't have a hard time landing, but his offense wasn't stopping Sayles from continuing to press him.
Julio Arce is much more put together as an offensive boxer than Sayles, complemented by a nice attacking grappling game. Moraes switches stances, but for most of the fight, he and Arce lined up in the open stance. This created spots for power right hands and rear-leg techniques.
Early on, Moraes implemented his usual game, encouraging Arce to walk in on him before planting. The open stance matchup made the straight right a reliable shot for Moraes.
On the occasions this worked, Arce was already on his way down before the left hook could follow.
Another nice wrinkle was the rear hand following the rear kick. That's going to be very useful in fights that take place at mid-range without an opponent who wants to consistently pressure. Moraes generally keeps active by slamming round kicks into the arms.
General Fight Notes
Sheymon Moraes often backs up linearly with a high guard when pressed with combinations. This would be more of a problem if he wasn't comfortable clinching with his back on the cage. Even so, Arce gave himself a much better shot at winning in the judges' eyes by holding Moraes in place for stretches. This could bite him someday. Sodiq Yusuff does blitz across the cage every now and then.
Most of the fight played out in the clinch, Arce had a ton of success working to the back and even attacked with a rear naked choke. But even though most of the control positions were Arce's, the offense (outside of that choke attempt) was all Moraes.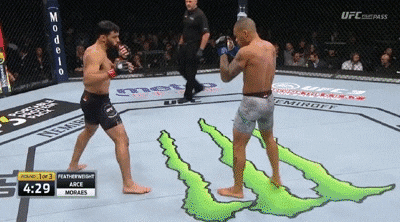 You might remember this fight for being horribly bloody. It all started with a short up-elbow against the cage. On rewatch, not a ton actually happened outside the moments previously highlighted.
Sheymon Moraes is not the type to stress volume if he already has an advantage. He knew he likely locked up the first two rounds with knockdowns and pretty much coasted. There were still some nice moments.
The newest trick Moraes showed was pausing in place after the naked round kick. As expected, Arce charged in, Moraes parried the lead hand, dropped inside the rear hand and attempted to smash him with a rear elbow.
To bet, or not to bet?
The purpose of this article was to question Sheymon Moraes' status as an underdog against Sodiq Yusuff.
This brief analysis is in no way an endorsement guaranteeing a Moraes victory.
There are many ways he could lose. The most obvious is if he pulls another Cody Garbrandt and gets clipped on the chin overextending an exchange.
However, I have good reason to have faith in Moraes. He's the more tenured fighter, clearly holds a deep skill set, and is quite an athlete. On top of that, his chin appears to be sturdy as hell.
Cardio could be an issue, but Moraes in no way falls apart when he's fading. Fatigue does encourage him to throw wider, more powerful shots, and to let his back hit the cage much more often.
A complementary piece on Sodiq Yusuff's strengths and weaknesses is likely necessary to make a confident prediction. Bet at your own risk.
Main Photo
Embed from Getty Images