There is a faction among combat sports fans who hold one technique above all others. To this modest, elite society, nothing beats the aesthetic of a fighter chopping down their opponent. For those who value the art of the lumberjack above all else, we present GIFs of the best Leg Kicks of July 2018.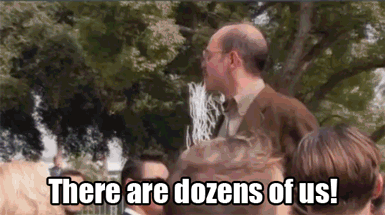 From Pedro Rizzo to Edson Barboza, low kick masters are consistently the most feared fighters in martial arts. A limping opponent can be rendered helpless as they're continuously battered.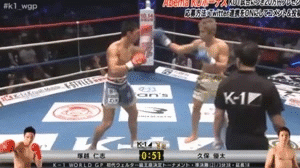 UFC commentator Joe Rogan has compared being hit full swing to the impact of a baseball bat. The entire complexion of a fight can be changed from just one kick.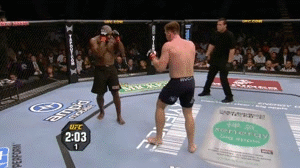 Check out the best performances of July 2018 that featured a heavy emphasis on punting the lower limbs. Big shouts to Mike Skytte and Ryan Wagner for contributing candidates, there are thousands of fights every week and no one can keep track on their own.
Lumberjacks: Best Leg Kicks July 2018

Featured Lumberjack: Israel Adesanya
(vs. Brad Tavares, TUF 27 Finale)
"The Last Stylebender" Israel Adesanya broke through to a new tier of fans after a dominant performance over a top ten opponent in Brad Tavares. Over five rounds Izzy timed the steps of his opponent, digging to the legs at just the right moment. Tavares was left a sitting duck for Adesanya's accurate combinations.
Valdrin Istrefi vs. Daniel Gallemore
(PFL #4)
After losing to the always exciting Jared Rosholt in his first PFL fight, Swiss-based striker Valdrin Istrefi put on a Dutch-style kickboxing clinic. Istrefi would move his feet, plant, and throw a left hook followed by either a wild rear hook or a chopping right low kick. Throughout two rounds, Istrefi repeated this pattern and hit Gallemore with everything. Tan Dan mercifully intervened.
Gaston Bolanos vs. Domenico Lomurno
(Bellator Kickboxing 10)
Known for his mastery of spinning elbows, Gaston Bolanos has bounced between muay thai, kickboxing and MMA. He last competed for Bellator Kickboxing in Italy, where he displayed masterful setups to pound the legs repeatedly.
Drakkar Klose vs. Lando Vannata
(UFC 226)
Michigan's Drakkar Klose has been a bit underwhelming at times in his UFC career. Against fan-favorite Lando Vannata, Klose crippled his flowy movement by slamming the calf repeatedly. These low calf kicks injured Vannata early on, each subsequent kick had a dramatic effect.
P.T.T. Petchrungrueng vs. Tun Naing Oo
(Thai Fight)
Experienced Thai standouts surely have a much stronger tolerance for low kicks than your average UFC fighter. That made it all the more impressive when P.T.T. Petchrungrueng immediately dropped his opponent, and finished in the first round via leg kick TKO.
Sodiq Yusuff vs. Mike Davis
(Contender Series Week 6)
Known for his power-punching game, James Vick training partner Sodiq Yusuff pulled off an entertaining upset against a talented prospect in Mike "Beast Boy" Davis. The low-calf kick was his weapon of choice. A wrestler and boxer, Davis's offense was limited when he could no longer put weight on his lead leg.
Eduard Folayang vs. Aziz Pakhrudinov
(ONE Reign of Kings)
Former ONE Championship lightweight champion Eduard Folayang had a worthy challenger in credentialed Sambo specialist Aziz Pakhrudinov. Folayang relentlessly pursued a low kicking strategy, throwing inside and outside, even mixing it up with low-line side kicks. The Russian's takedowns became increasingly less powerful, and Folayang was victorious.
Hakeem Dawodu vs. Austin Arnett
(UFC Calgary)
After falling far short of his potential in his UFC debut, Calgary's "Mean" Hakeem Dawodu put on a body punching and low kicking clinic against the tough but unrefined Austin Arnett. Most impressive were the three separate occasions that Dawodu leaned back to avoid a head kick and countered to the legs.
Kaito vs. Yoshiya Uzatsuyo
(RIZIN 11)
Young shootboxing prodigy Kaito was called up on just 24 hours notice to fill out the RIZIN 11 card. He faced a game but inexperienced teammate of Tenshin Nasukawa, Yoshiya Uzatsuyo.
Kaito was cool and composed the entire fight, walking his man down and absolutely lighting up his legs. He threw low kicks at a disrespectful volume, doubling and tripling up on some occasions. Once he had Uzatsuyo reacting and reaching to hip movements, Kaito went straight up the middle with a knee and broke his face.
Join the Cult
If this content speaks to your soul, there are ways you can contribute. We want to make sure every great leg kicking performance gets its time in the spotlight. Hit us up on Twitter, or in the comments with any noteworthy candidates you may come across!
July also featured a highlight video of Jose Aldo's best low kicks. Check that out to see more leg murdering goodness.
In the words of Dustin Ortiz, #StayChoppin.