The rear-naked choke is the most reliable submission in both Brazilian Jiu-Jitsu and Mixed Martial Arts, this is because it is applied from the most dominant position in either sport — the back mount. It takes less than 10-seconds to strangle an opponent unconscious, leaving no time to work on an escape, nor can a competitor tough it out like a joint lock.
The Rear-Naked Choke is the #1 Submission in MMA
ADCC 2017, 2019 and the UFC from Jan 1st to December 31st, 2020
The numbers on the previous two events of the premier no-gi Brazilian Jiu-Jitsu no-gi competition, ADCC, as well as the last year of the UFC, backs up the notion that the rear-naked choke being the most reliable submission.
Maia vs Masvidal
On May 13, 2017, at UFC 211, top welterweight contenders Jorge Masvidal and Demian Maia squared off in an age-old striker vs. grappler matchup. Maia was on a six-fight win streak over high-level competition and on the run of his career. In three of Maia's six consecutive wins, three came via a rear-naked choke, earning him the nickname "the human backpack" from UFC fans.
Masvidal was also coming into this fight red hot, winning his last three consecutively and finishing his last two by TKO. This included a stand-out performance vs. Donald "Cowboy" Cerrone in his hometown of Denver, Colorado, no less.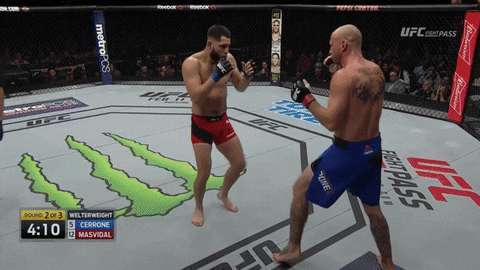 Masvidal's defensive tactics
Within a minute of the first round, Maia found a way to Masvidal's back. His first line of these great defences was to keep his hands on top of Maia's. This allowed Masvidal to be managing the hand-fight, instead of being the one whose hands are being controlled which would subsequently lead to the rear-naked choke.
The other main defensive action of Jorge Masvidal was to not get too fixated on Maia's strangle arm. Maia will often bring his arm around the chest and grab the shoulder threatening chokes. In response, fighters will use both of their limbs to deal with the apparent danger. This is a trap, as using a two-on-one grip will not prevent Maia's arm from getting tighter around an opponent's neck and allows the Jiu-Jitsu legend to make hand and arm connections, almost guaranteeing the rear-naked choke.
Many fighters, including Carlos Condit, Neil Magny, and Lyman Good all fell into the same trap. 
John Danaher's straight jacket system
For as dominant as the back mount is and all the advantages it brings, there is one drawback – a numerical disadvantage. The defender has three tools to protect himself with – both arms, and a chin to tuck while an attacker only has two offensive arms to attack with. That is until legendary Brazilian Jiu-Jitsu coach John Danaher developed his famous straight jacket system.
Broadly speaking, the straight jacket system was developed to overcome this numerical disadvantage by trapping one arm of the opponent inside a body triangle or behind his own back by the attacker's leg. The other hand of the opponent is then trapped with a "control hand." As a result, the defender will have just one defensive tool, the weakest – the chin to tuck. A tucked chin will never be able to fend off strangulation attempts, and the attacker will always achieve the breakthrough.
Gordon Ryan, who is John Danaher's stand-out student won gold medals in both his 99KG and the open weight absolute division at the 2019 ADCC event. In eight matches, Gordon managed six submissions, five being rear-naked chokes. Gordon is now the most successful back attacker in the history of the sport. It isn't a coincidence that the best back attacker we've ever seen uses the straight jacket system and it only has to be a matter of time before this carries over into MMA.